UF CASA's Mid-Autumn Festival 2017: Sweet & Sour Memories of MA
Oct 8, 2017 @ 6:00 pm

-

10:00 pm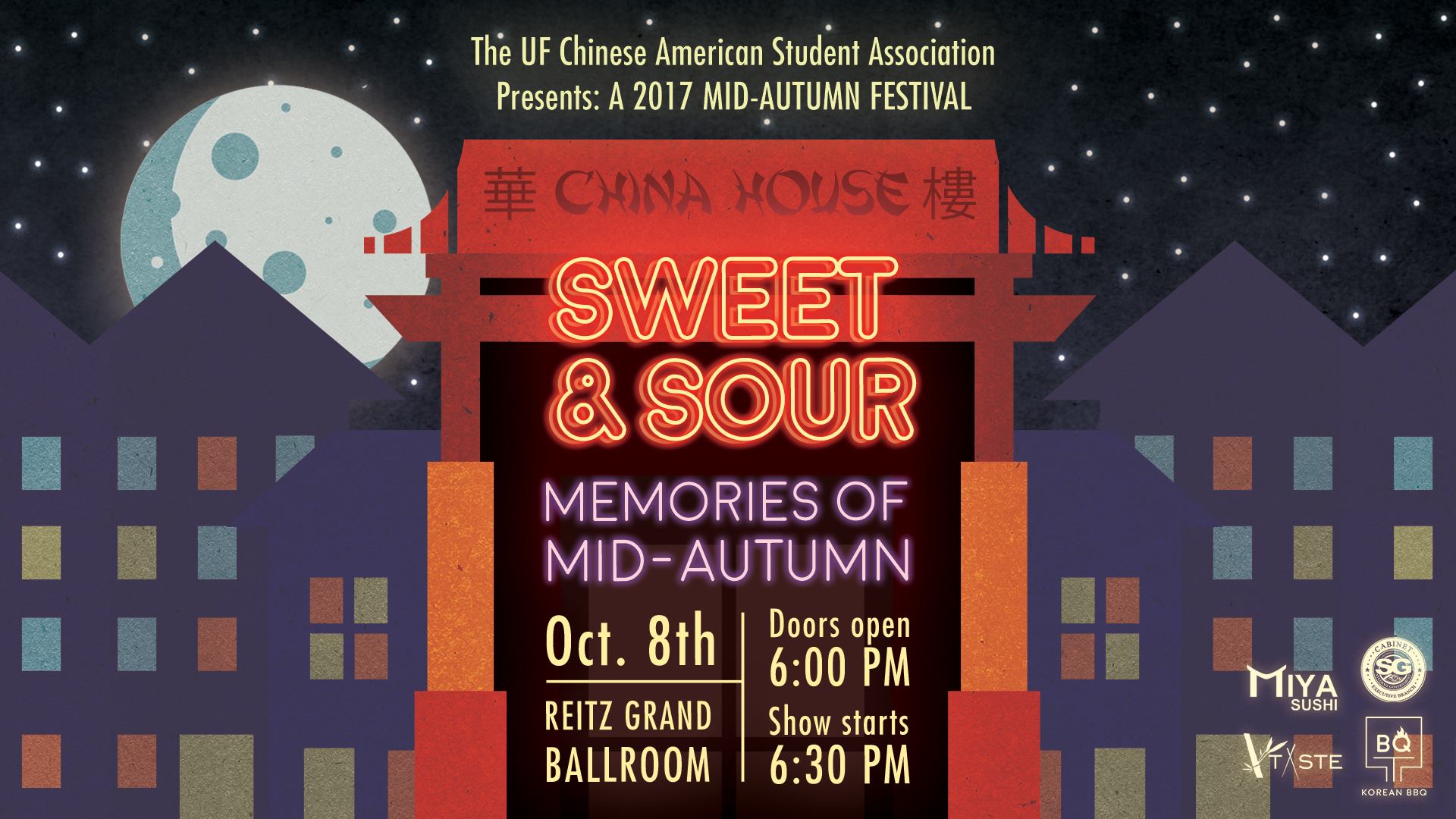 In China, the fifteenth day of the eighth lunar month is known as Zhōngqiūjié (中秋節) — the Mid-Autumn Festival. Analogous to the United States' Thanksgiving Day, it is a time for family and friends to come together under the full moon for a night of celebration and reunion, to give thanks for the harvest and to hope for continued blessings to come.
This year, at the Chinese American Student Association's Mid-Autumn Festival, we seek to embrace and celebrate those same aspects of community with the friends and family we have all found at the University of Florida. We invite you to celebrate Mid-Autumn with us as we proudly showcase the diversity of Chinese and Chinese American cultures through food, song, traditional and modern dance, skit/storytelling, and performances!
We hope to see you there!
☾ ☾ ☾ ☾ ☾ ☾ ☾ ☾ ☾ ☾ ☾ ☾ ☾ ☾ ☾ ☾ ☾ ☾ ☾ ☾ ☾ ☾ ☾ ☾ ☾ ☾ ☾ ☾ ☾
☽ Who: YOU and the Chinese American Student Association
☽ What: Mid-Autumn Festival
☽ When: SUNDAY, OCTOBER 8TH at 6:00 PM
☽ Where: J. Wayne Reitz Union Grand Ballroom
☽ Why: FREE FOOD (INCLUDING MOONCAKE), FREE SHOW, & FUN!
☾ ☾ ☾ ☾ ☾ ☾ ☾ ☾ ☾ ☾ ☾ ☾ ☾ ☾ ☾ ☾ ☾ ☾ ☾ ☾ ☾ ☾ ☾ ☾ ☾ ☾ ☾ ☾ ☾
The Chinese American Student Association (CASA) at the University of Florida strives to celebrate and raise awareness about Chinese and Chinese American culture in the Gator Nation and the Gainesville community. Our arms are open to members of all races and ethnicities; we are not exclusively Asian or Chinese. CASA is guided by its overarching pillars of culture, service, and leadership. As a "for student, by student" organization, we want to enhance your college experience through activities such as dance, sports, volunteering or event planning, and help you build your foundation as a student leader. Above all, we will help you find a home and family. CASA's logo is the Chinese character for "home/family" (家). CASA establishes itself as a home away from home for its members by fostering relationships among the members through camping trips, after socials, and the "Gege-Jiejie-Didi-Meimei" big-little pairing program. Add UF CASA to learn more!