VASA at UCF Presents: Tết- Tình Yêu Quanh Ta
Feb 10, 2019 @ 6:00 pm

-

10:00 pm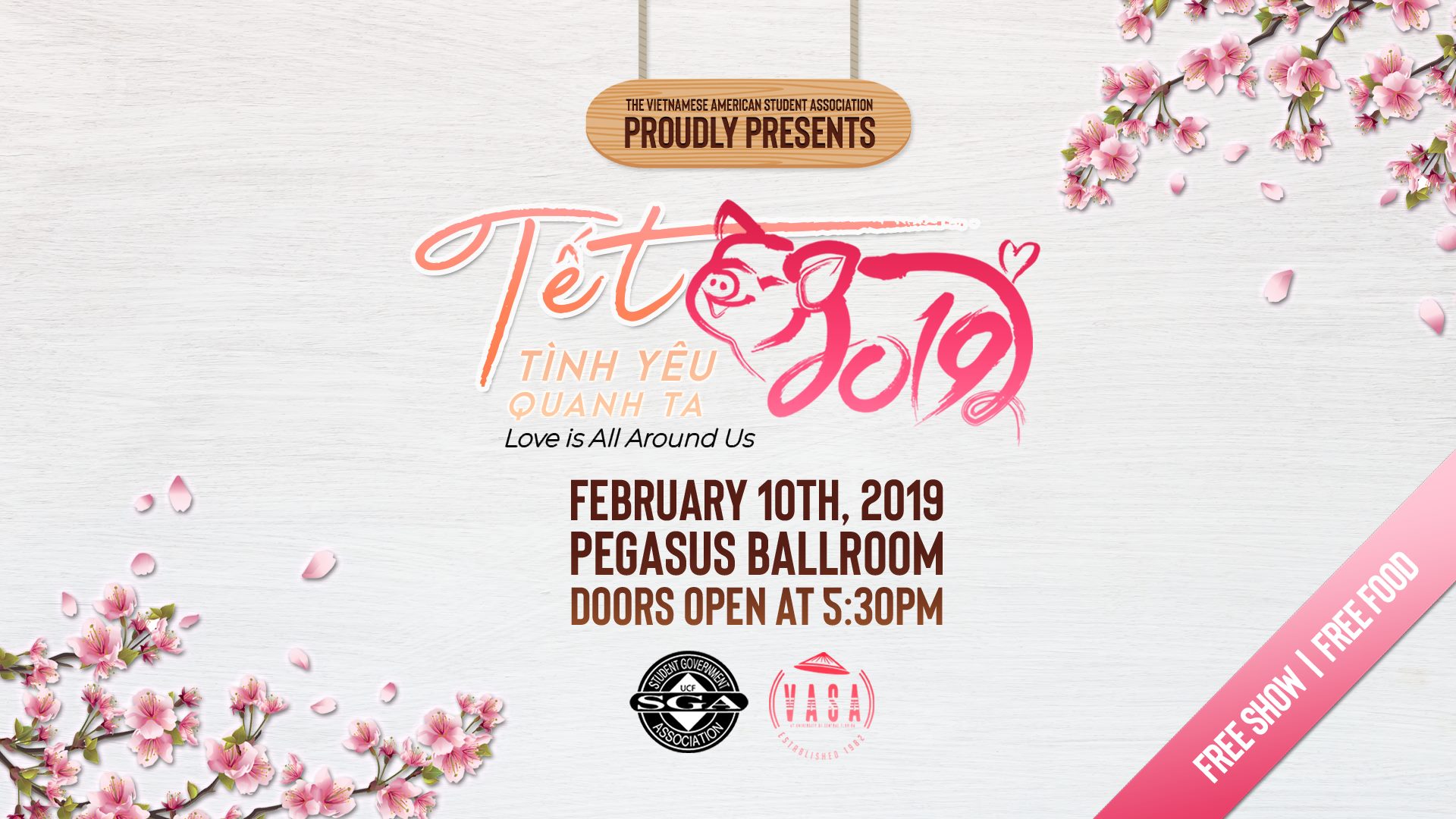 Xin chào!
The Vietnamese American Student Association at University of Central Florida would like to invite and welcome you all to our annual Vietnamese Lunar New Year showcase! This year our theme is Tình Yêu Quanh Ta which means "Love is all around us". No matter where we are or where we go, love is around us all, whether that be through a significant other, family, friends, pets, or even food. We hope we can showcase that to you all at our event.What is Tết?
In Vietnamese culture, Tết is a celebration where we welcome the new year, the new comings, and new beginnings. Tết is usually in the beginning of spring and is a time where we have family reunions together and to commemorate our ancestors. The celebration lasts for a week and during this time, many festivities all around Vietnam and Vietnamese communities all around the world happen and is celebrated with lots of food and quality time with family and friends!At our event, there will be FREE food as well as a program of amazing performances along with raffles throughout the show. Our event will be free and open to everyone so come out to enjoy some FREE food, show, raffles, and company. Raffle tickets will be given before the performance starts at the front doors so be sure to come out to win some prizes. There might be a special surprise at the end of our show so don't miss it!
Hope to see you there and Chúc Mừng Năm Mới!
Date: Sunday, February 10th, 2019
Time: 6:00 PM (Doors open at 5:30 PM)
Location: Pegasus Ballroom
————————————————————————
About VASA:
The University of Central Florida's Vietnamese American Student Association (VASA) was first established in December of 1982. Throughout these 31 years, VASA has served to help the Vietnamese community within UCF and the Orlando area. The organization was first established as a place for Vietnamese refugees attending UCF. It served as pillar of unity for refugees to feel welcome, safe, and loved in a new foreign land. As the years passed, VASA grew into an organization to promote Vietnamese cultural awareness as a newer generation of Vietnamese Americans emerged. Currently, the Vietnamese American Student Association's main goals are to promote cultural awareness and promote Vietnamese culture within the UCF community. We strive to instill pride and a sense of culture within Vietnamese Americans today.