VASA at UCF: Tết Trung Thu 2023 – Orlando
February 18 @ 6:30 pm

-

8:30 pm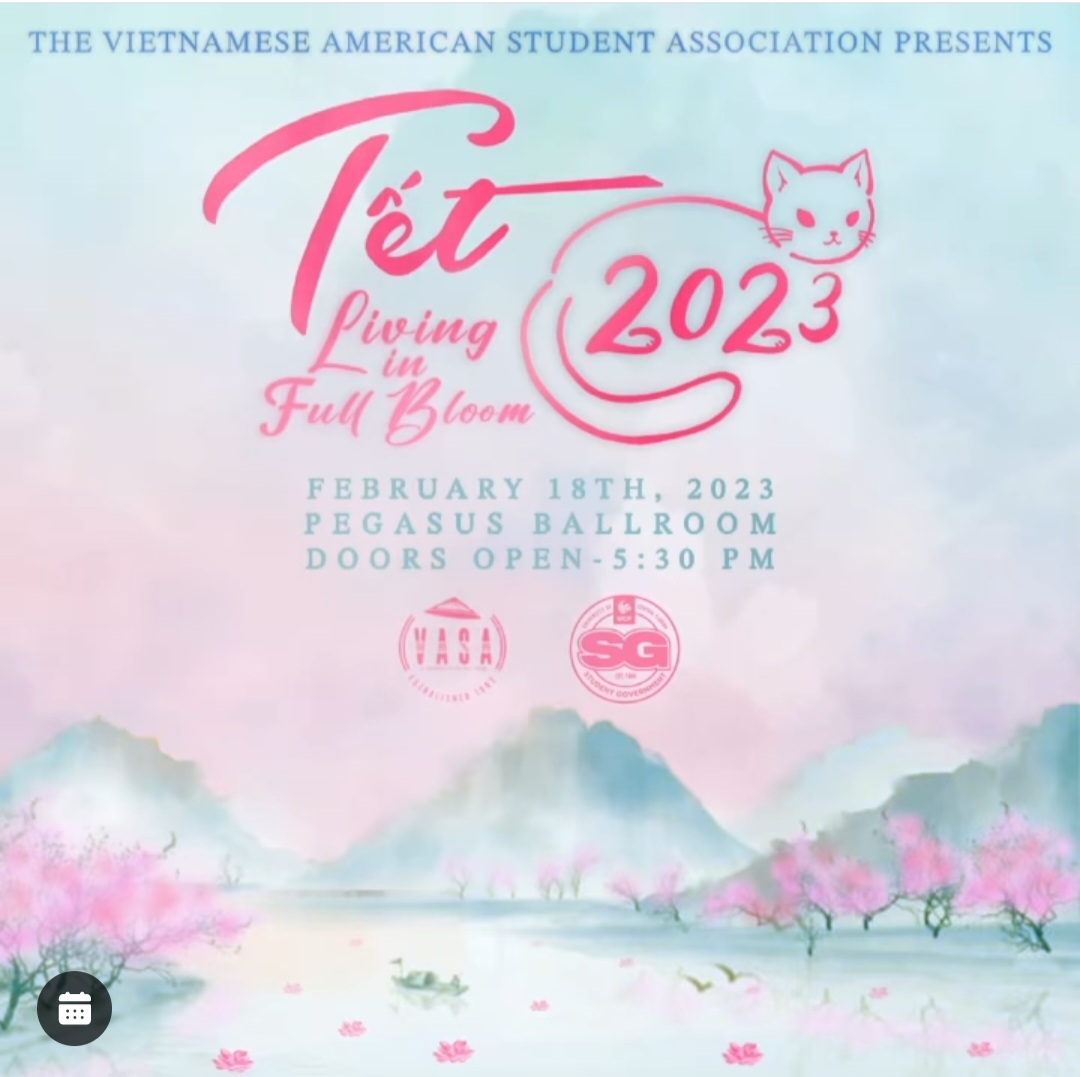 VASA presents: 𝐓ế𝐭 𝟐𝟎𝟐𝟑 "𝑳𝒊𝒗𝒊𝒏𝒈 𝒊𝒏 𝑭𝒖𝒍𝒍 𝑩𝒍𝒐𝒐𝒎"
❀。• *₊°。 ❀°。❀。• *₊°。 ❀°。❀。• *₊°。 ❀°。
The UCF Vietnamese American Student Association would like to invite you to our annual Lunar New Year showcase, 𝐓ế𝐭, on 𝐅𝐞𝐛𝐫𝐮𝐚𝐫𝐲 𝟏𝟖𝐭𝐡. This is our most anticipated event of the year and the largest Lunar New Year celebration at UCF! Come celebrate this tradition and welcome the year of the cat with us! Bring your friends and family to enjoy spectacular festivities, live performances, and free food!
❀。• *₊°。 ❀°。❀。• *₊°。 ❀°。❀。• *₊°。 ❀°。
To many people, 𝐓ế𝐭 represents a fresh beginning and the arrival of Spring. Spring is often seen as the season that brings transformation and a new start. After a cold winter, days finally become brighter and nature comes back to life. There is immense growth at this time of year as dormant landscape is now in full bloom. We chose this theme to symbolize our own life journeys and the growth that we welcome in 2023.
❀。• *₊°。 ❀°。❀。• *₊°。 ❀°。❀。• *₊°。 ❀°。
With the year of the cat, VASA would like to present 𝐓ế𝐭 𝟐𝟎𝟐𝟑 "𝑳𝒊𝒗𝒊𝒏𝒈 𝒊𝒏 𝑭𝒖𝒍𝒍 𝑩𝒍𝒐𝒐𝒎." The year of the cat represents perseverance and ambition, which is channeled in order to begin this new season. To live in full bloom means to thrive in high development and achievement. With this fresh start, we strive to reach full potential and transform into our best version. We hope this year brings you abundant growth and good health as you live in full bloom!
❀。• *₊°。 ❀°。❀。• *₊°。 ❀°。❀。• *₊°。 ❀°。
This event will be free and open to everyone! Please come join us on 𝐒𝐚𝐭𝐮𝐫𝐝𝐚𝐲, 𝐅𝐞𝐛𝐫𝐮𝐚𝐫𝐲 𝟏𝟖𝐭𝐡 in the 𝐏𝐞𝐠𝐚𝐬𝐮𝐬 𝐁𝐚𝐥𝐥𝐫𝐨𝐨𝐦 of the Student Union. Stay tuned for updates as well as the reveal of our emcees, performers, and guest headliner!
When: 𝐒𝐚𝐭𝐮𝐫𝐝𝐚𝐲, 𝐅𝐞𝐛𝐫𝐮𝐚𝐫𝐲 𝟏𝟖𝐭𝐡
Where: 𝐏𝐞𝐠𝐚𝐬𝐮𝐬 𝐁𝐚𝐥𝐥𝐫𝐨𝐨𝐦
Doors Open: 𝟓:𝟑𝟎 𝐏𝐌
Starts: 𝟔:𝟑𝟎 𝐏𝐌