VASA at UCF Tết Trung Thu, Mid-Autumn Festival 2018
Nov 4, 2018 @ 5:30 pm

-

9:00 pm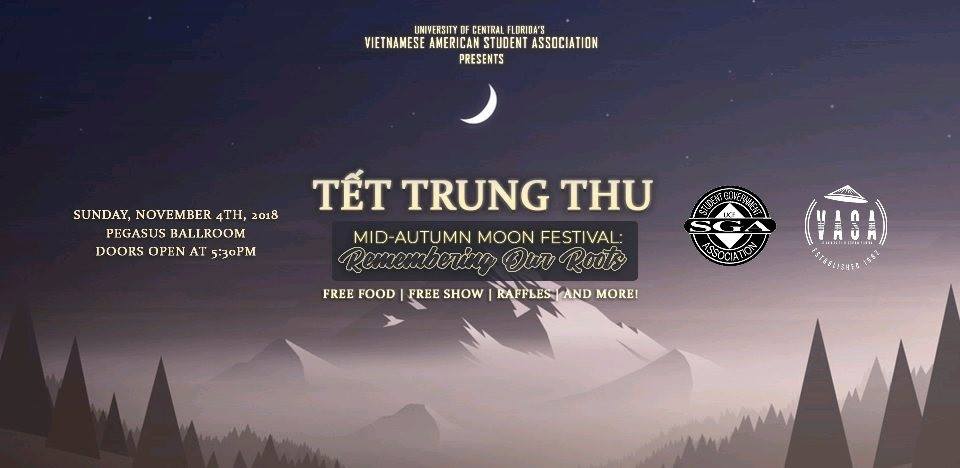 Tết Trung Thu, also known as the Mid-Autumn Festival, celebrates the successful harvest at the end of the year which brings unity and prosperity of life to families. This festival allows families and friends to eat mooncakes, watch pretty lanterns in the sky, and appreciate the moon as a symbol of family reunion. Colorful lanterns, and performances, such as drumming and lion dancing, are strewn across the land as Tết Trung Thu continues to spread the tradition of family togetherness as well as culture appreciation.
The Vietnamese American Student Association at University of Central Florida is proud to present to you our annual Tết Trung Thu showcase: Remembering Our Roots. The event celebrates not only the importance of family, but also the honor of our culture and traditions. Our event will be on Sunday, November 4th, 2018 in the Pegasus Ballroom at our Student Union. Doors will be opening at 5:30 PM and the show will begin at 6:00 PM.
Come out and see what this wonderful festival is all about! There will be an assortment of performances and talents along with free food and raffles! Bring your friends and family to experience how the Vietnamese culture is celebrated during Tết Trung Thu. We are very excited to share this excitement with you on one of our most memorable nights.
Date: Sunday, November 4th, 2018
Time: 6:00 PM (Doors open at 5:30 PM)
Location: Pegasus Ballroom
————————–————————–——————–
About VASA:
The University of Central Florida's Vietnamese American Student Association (VASA) was first established in December of 1982. Throughout these 31 years, VASA has served to help the Vietnamese community within UCF and the Orlando area. The organization was first established as a place for Vietnamese refugees attending UCF. It served as pillar of unity for refugees to feel welcome, safe, and loved in a new foreign land. As the years passed, VASA grew into an organization to promote Vietnamese cultural awareness as a newer generation of Vietnamese Americans emerged. Currently, the Vietnamese American Student Association's main goals are to promote cultural awareness and promote Vietnamese culture within the UCF community. We strive to instill pride and a sense of culture within Vietnamese Americans today.
---