VASA Presents: Tết Showcase – A Golden Tomorrow
Feb 27, 2022 @ 5:00 pm

-

9:00 pm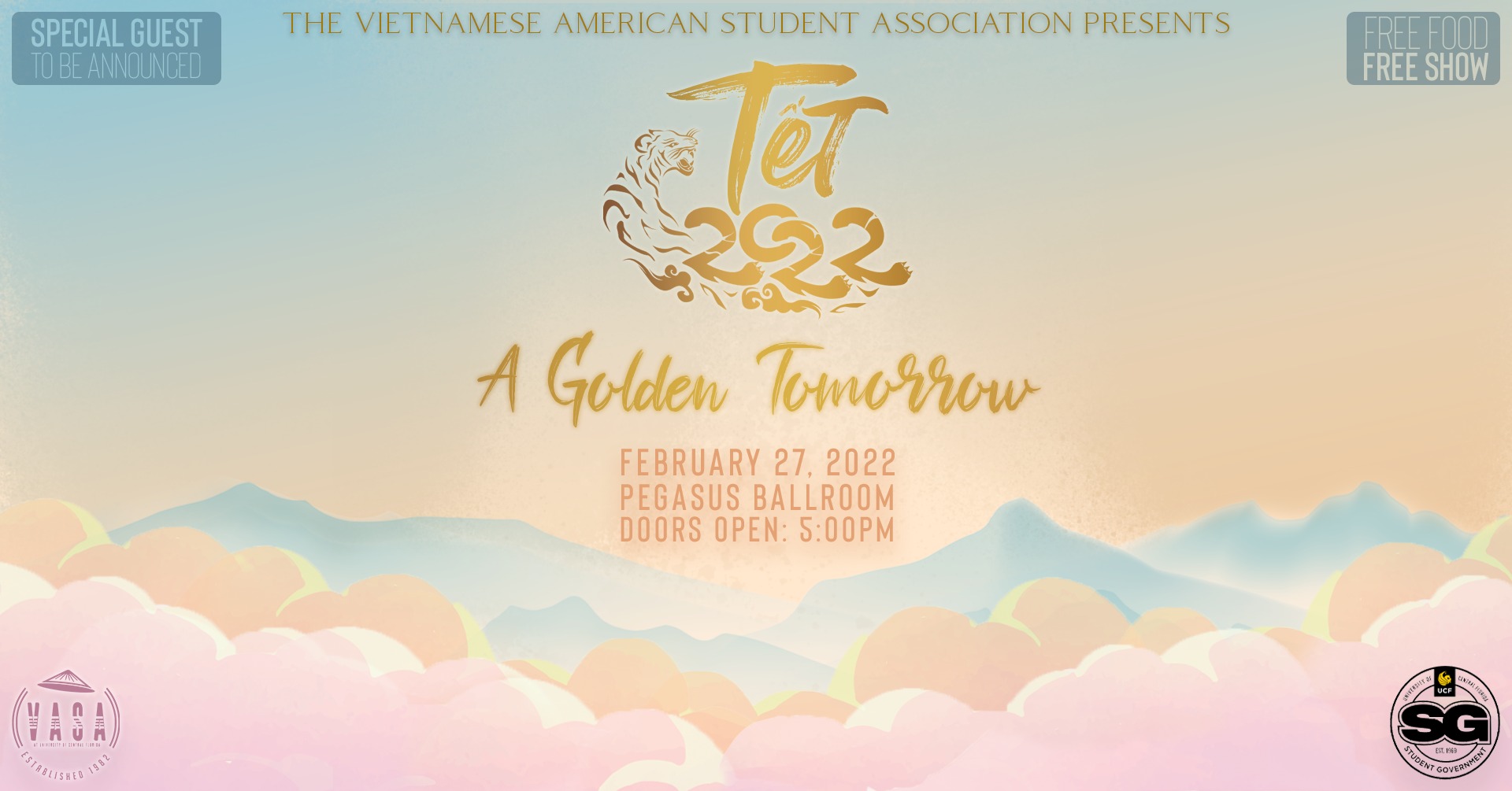 VASA Presents: 𝑻ế𝒕 2022 "𝑨 𝑮𝒐𝒍𝒅𝒆𝒏 𝑻𝒐𝒎𝒐𝒓𝒓𝒐𝒘"
⊱ ──────────── ⊰
The Vietnamese American Student Association at the University of Central Florida would like to invite you to our annual 𝐓ế𝐭 showcase! This is UCF's biggest celebration of the Lunar New Year! Come to 𝐓ế𝐭 and celebrate this tradition along with friends and family. Enjoy live performances and free food!
⊱ ──────────── ⊰
To many people, 𝐓ế𝐭 represents the opportunity of new beginnings. Many families celebrate 𝐓ế𝐭 by cleaning their homes to have a fresh start, letting go of old grudges, in the journey of cleansing their souls for the new year. This year, we came upon a theme that represents this tradition of taking on a new day, with a strong sense of resilience, and amelioration.
VASA would like to present 𝑻ế𝒕 2022 "𝑨 𝑮𝒐𝒍𝒅𝒆𝒏 𝑻𝒐𝒎𝒐𝒓𝒓𝒐𝒘". With the fresh start of the Year of the Tiger, we hope to build the strengths and courage to become as determined, and persevere just like the Tiger. We hope that this year will bring you growth and prosperity for you and your families!
⊱ ──────────── ⊰
This event will be free and open to everyone! Come out and join us on 𝐒𝐮𝐧𝐝𝐚𝐲, 𝐅𝐞𝐛𝐫𝐮𝐚𝐫𝐲 𝟐𝟕𝐭𝐡! Stay tuned for more information on our emcees, performances, and a 𝐬𝐩𝐞𝐜𝐢𝐚𝐥 𝐠𝐮𝐞𝐬𝐭 𝐡𝐞𝐚𝐝𝐥𝐢𝐧𝐞𝐫!
⊱ ──────────── ⊰
Where: 𝐏𝐞𝐠𝐚𝐬𝐮𝐬 𝐁𝐚𝐥𝐥 𝐑𝐨𝐨𝐦, 𝐒𝐭𝐮𝐝𝐞𝐧𝐭 𝐔𝐧𝐢𝐨𝐧, 𝐔𝐂𝐅
When: 𝐒𝐮𝐧𝐝𝐚𝐲, 𝐅𝐞𝐛𝐫𝐮𝐚𝐫𝐲 𝟐𝟕, 𝟐𝟎𝟐𝟐
Doors Open: 𝟓:𝟎𝟎 𝐏𝐌
Start: 𝟓:𝟑𝟎 𝐏𝐌