VASA at UCF Presents: Tết Khắp Mọi Nhà
Feb 17, 2018 @ 6:00 pm

-

9:00 pm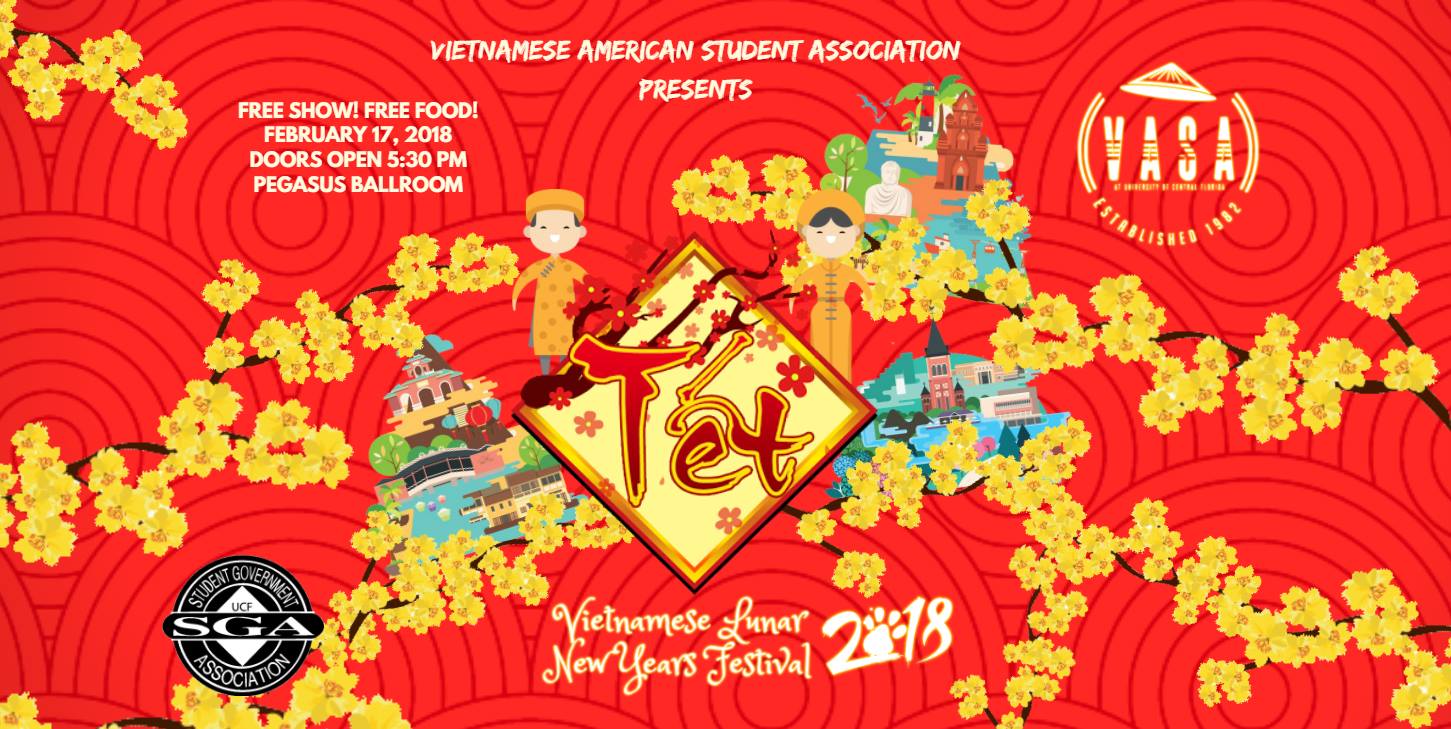 What better way to start off the Vietnamese Lunar New Year than with our annual Tết show! This year, we welcome you to our Tết Khắp Mọi Nhà, which means "Lunar New Year Among Every House"!
What is Tết?
Tết is the most important celebration in our Vietnamese Culture in which we celebrate the coming of Spring, family reunions, and commemorating our ancestors.
The celebration usually lasts a week and has an ample amount of food, games, and quality time spent with not only friends, but more importantly, Family.
We would like each and every one of you all to come join OUR VASA family and celebrate the New Year with us at our annual Tết show!
There will be FREE food provided along with a diverse array of performances that will definitely have everyone smiling and enjoying the night. Our event is FREE to anyone that would like to come out and experience a fun, cultural show! Not to mention, there will be raffles throughout the night, so don't miss your chance to win some prizes! So come early and get your raffle ticket! And who knows, there might even be a mystery guest performer!?
We are excited to host our event in Pegasus Ballroom on February 17th. Doors will open at 5:30 and the show will start promptly at 6pm!
We hope to see you all there, Chúc Mừng Năm Mới!
* Mission Statement:
The Vietnamese American Student Association (VASA) at the University of Central Florida was founded in 1982 with the purpose of fostering the values of leadership for the community, diversity and inclusiveness through Vietnamese-American culture, & lifelong friendships. Along with our traditions, we hope to accomplish this purpose through our community service events, cultural shows, fun-filled meetings, and heart-warming socials. We believe that by understanding our pasts, we can build on stronger foundations for the future, bettering our lives, our community, and our culture together.
---