VIRTUAL TOWN HALL: Empowerment through Education – include AAPI history to Florida curriculum
Jul 22, 2021 @ 7:15 am

-

8:15 pm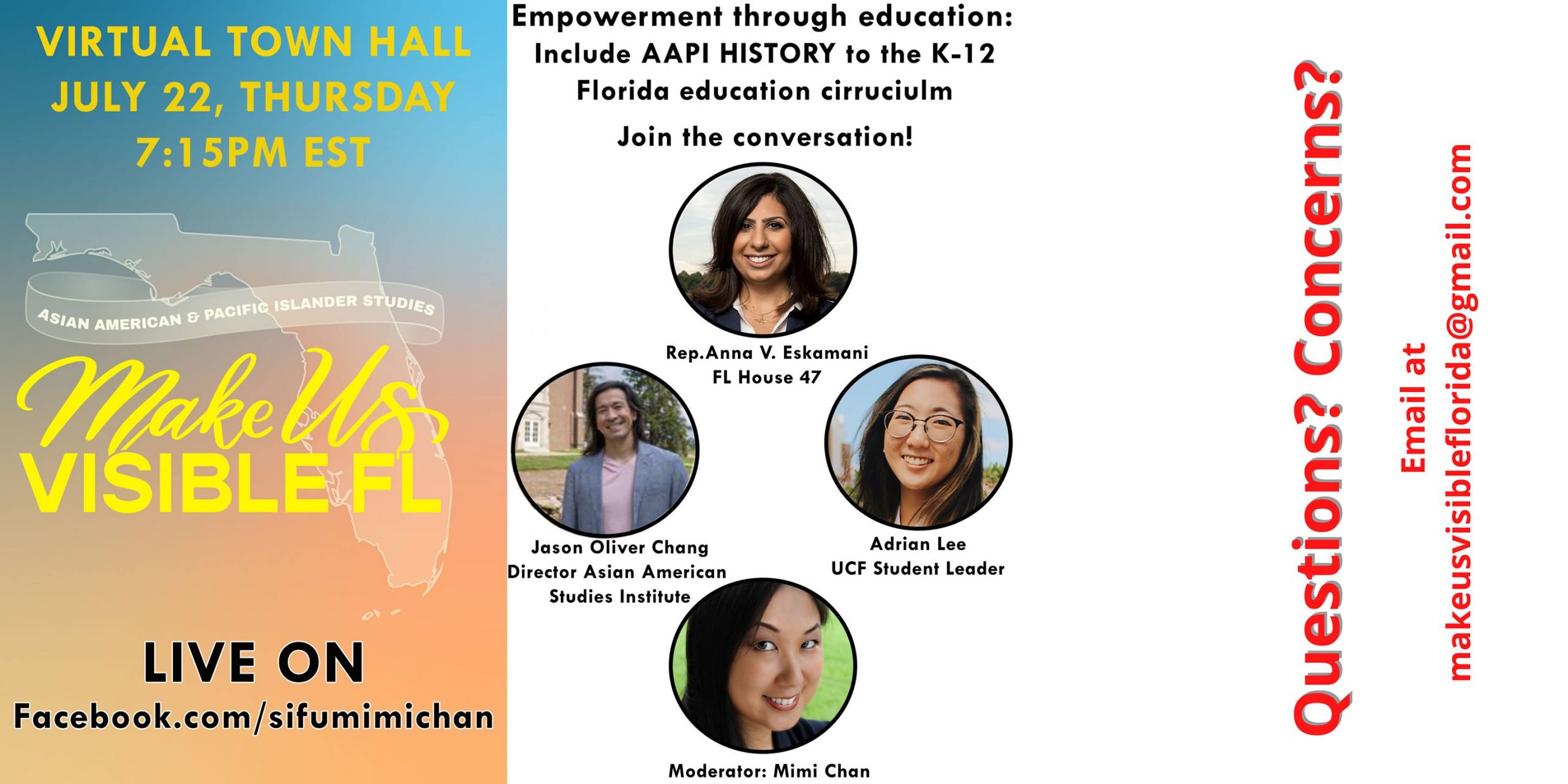 JOIN the virtual town hall to hear from our panel the importance of including AAPI History to our education curriculum.
Join REP. Anna V. Eskamani and a panel of educators and students in a discussion and Q&A.
Our children need to learn about the history, plight, and contributions of Asian Americans as part of their public education. It has never been more important.
It's no secret that Asian Americans are under attack in the United States. We've seen an explosion of hatred and even instances of physical violence befall the Asian American and Pacific Islander community.
All of this built up to the appalling shooting in Atlanta, which claimed the lives of eight people, six of whom were Asian women.
The true tragedy of this horrifying reality is that it could have been avoided. It was born of ignorance and fear, and that fire was stoked by those who sought to pass the blame for the COVID-19 pandemic off of themselves. It stands to reason then that knowledge is the best weapon against ignorance. If the public were more aware of Asian American history and the struggles Asian Americans undergo every day, might we have avoided all of this?
Unfortunately, the history of Asian Americans, including their struggles and ongoing contributions to this great country has never been taught in our public schools. As a result, our children grow up learning a false narrative, and we've seen firsthand how this lack of information can be dangerous.
The time is now to educate our youth, and that starts with including Asian American history in the Florida public schools curriculum.
But we can't do it alone.
We need your support to help make this dream a reality, to create a foundation of knowledge that can hold back the stain of ignorance, racism, and hate.
Please consider joining our petition so that we can show our elected officials that Floridians care about this appalling lack of knowledge. With your support, we can arm our youth with education and empathy, and hopefully, stop Asian hate in its tracks.
We already have the support of Rep. Anna V. Eskamani of Florida House District 47 and Rep. Darren Soto of Florida's 9th Congressional District. By banding together, we can create more support for this vital cause and see this important bill signed into law before the year's end.