VSO Tết 2018: Embark on a New Year
Jan 27, 2018 @ 6:00 pm

-

10:00 pm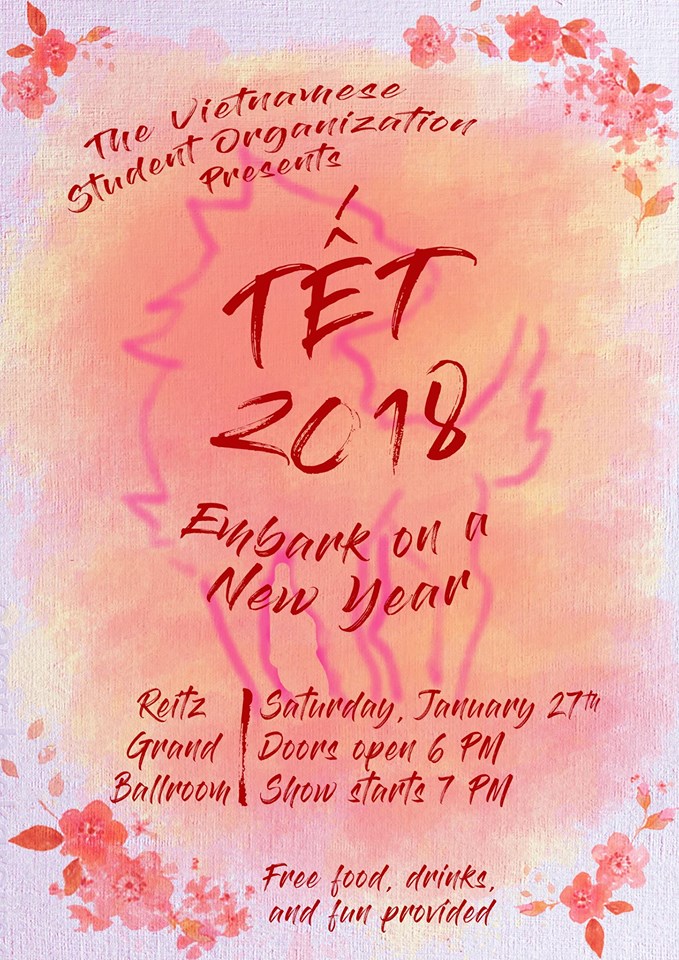 With the start of the new year comes our annual cultural show, Tết! Tết is the most important national holiday in Vietnam and marks the first day of spring. It also marks the beginning of the new year in the lunar calendar. Tết gives people the opportunity to spend time with their families and pay their respects to their deceased ancestors. Children receive lì xì, which is lucky money that can bring good fortune to the new year. Families will often clean their homes before the new year to symbolize sweeping away the bad luck to give room for good luck. Tết also introduces a new animal in the Vietnamese zodiac, as each is year is related to one of twelve animals in the zodiac. This year's show theme is "Embark on a New Year," which represents the dog in the zodiac. The theme, which is not only a play on words on dogs, but also represents the fresh beginnings that come with the new year. The dog, which represents faithfulness and loyalty, is what one should aspire to attain in the new year.
The Vietnamese Student Organization would like invite you, your friends and family to our annual lunar new year show, Tết. The show will feature several spectacular performances, including several skits and acts of singing. Witness our dancers perform traditional and modern dances that they have spent weeks practicing for. Be amazed at our amazing models as they show off Vietnamese ao dais in our modeling show. There will also be FREE food and raffle prizes!! Don't miss out our biggest event of the semester!
————————–————————–—————
***********************DETAILS***********************
————————–————————–—————
Date: Saturday, January 27, 2018
Location: Reitz Grand Ballroom
Address: 686 Museum Rd, Gainesville, FL 32611
Doors Open: 6:00PM
Show Starts: 7:00PM
————————–————————–————–
~~~~~~~~~~~~~What is VSO?~~~~~~~~~~~~~
————————–————————–————–
The Vietnamese Student Organization (VSO) is a cultural organization founded in 1973. Through our pillars of philanthropy, dance, culture, sports, family, and leadership, VSO aims to celebrate and promote awareness of Vietnamese culture and unity. From cultural shows to pho fundraisers, VSO hopes to bring together people from all sorts of backgrounds. Through VSO, people can make everlasting bonds with each other. With an emphasis on "Phamily" and Vietnamese culture, the Vietnamese Student Organization is not exclusive of any single person and invites anyone to become a part of our organization.