VSO Tết Trung Thu 2017: Coming Full Circle
Nov 5, 2017 @ 7:00 pm

-

10:30 pm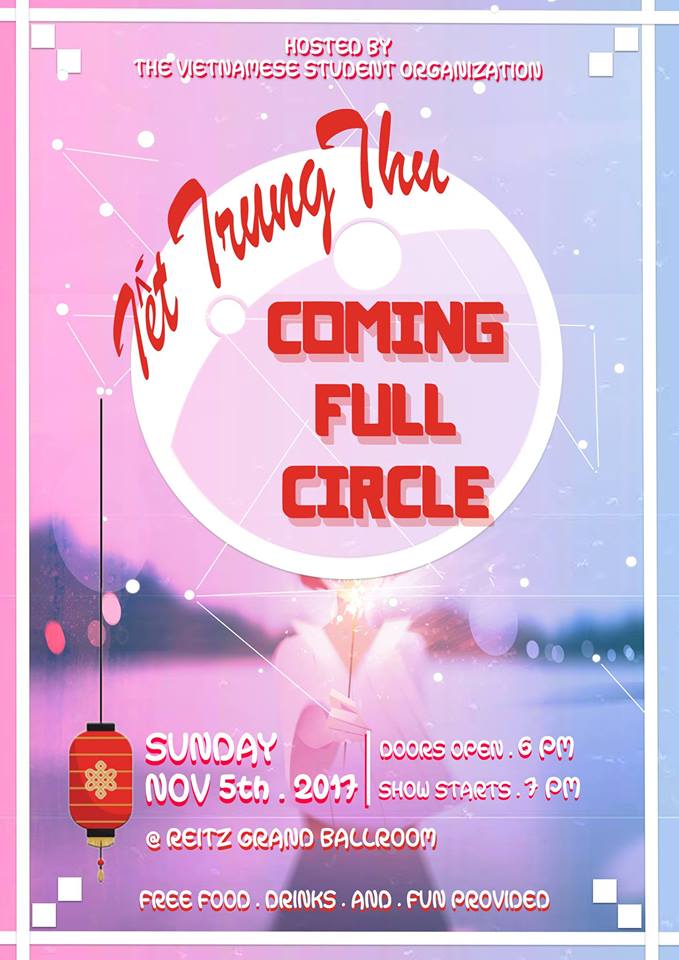 The Vietnamese Student Organization would like to extend a warm invitation to you, your friends, and your family for our annual Mid-Autumn Festival cultural show, Tết Trung Thu.
Tết Trung Thu is traditionally held on the 15th day of the 8th Lunar Month. It is celebrated as a way for parents to make up lost time with children after harvest season. This holiday is usually celebrated under a full moon to emphasize fullness and prosperity of life. To celebrate this special occasion, we will be hosting our cultural show on Sunday, November 5, 2017, at the Reitz Union Grand Ballroom. The theme of the show this year, "Coming Full Circle," adds emphasis not only to the celebration of children, but the sentiment of giving back. Children, out of respect and honor, should give back to their parents for their hardship and sacrifice, thus "Coming Full Circle." So join our circle of friends and phamily as we embark on this celebration.
The show will feature several performances, including singing, traditional and modern dances, as well as a look at Vietnam's vibrant ao dais in our modeling show. There will also be FREE food and raffle prizes!! We hope to see you there!!!
————————–————————–—————
***********************DETAILS***********************
————————–————————–—————
Date: Sunday, November 5, 2017
Location: Reitz Grand Ballroom
Address: 686 Museum Rd, Gainesville, FL 32611
Doors Open: 6:00PM
Show Starts: 7:00PM
————————–————————–————–
~~~~~~~~~~~~~What is VSO?~~~~~~~~~~~~~
————————–————————–————–
The Vietnamese Student Organization (VSO) is a cultural organization founded in 1973. Through our pillars of philanthropy, dance, culture, sports, family, and leadership, VSO aims to celebrate and promote awareness of Vietnamese culture and unity. From cultural shows to pho fundraisers, VSO hopes to bring together people from all sorts of backgrounds. Through VSO, people can make everlasting bonds with each other. With an emphasis on "Phamily" and Vietnamese culture, the Vietnamese Student Organization is not exclusive of any single person and invites anyone to become a part of our organization.