YV Art Museum Collection Exhibition
Apr 25, 2022 @ 10:00 am

-

May 4, 2022 @ 3:00 pm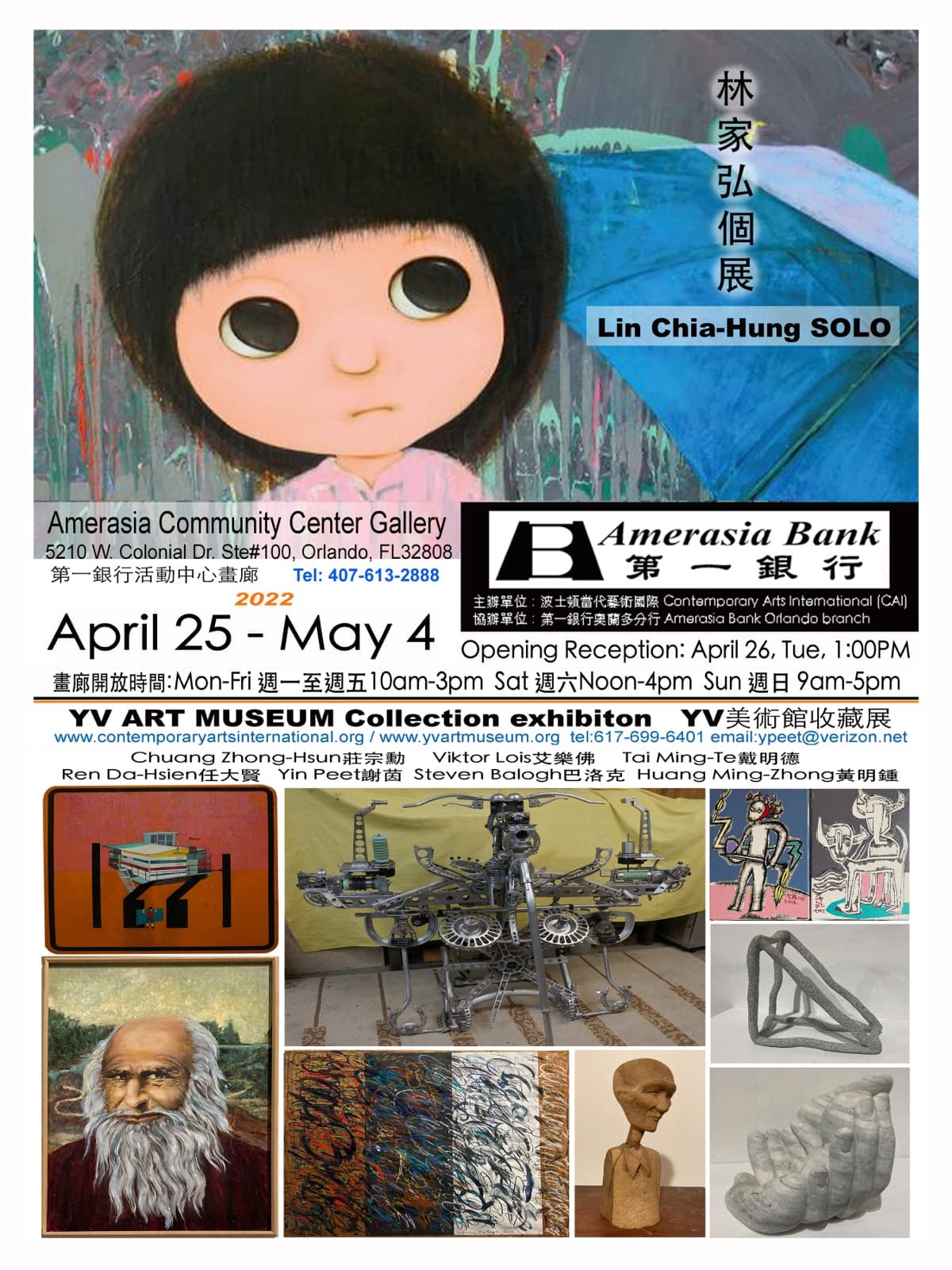 In collaboration with Amerasia Bank Orlando Branch, Contemporary Arts International (CAI)/YV Art Museum is presenting paintings and sculptures by eight artists, six from Taiwan and two American with Hungarian origin. This exhibition entitled "Lin Chia-Hung and YV Art Museum Collection". The exhibition has two sections. The major section is a "Solo Show" of twenty-two paintings by Lin Chia-Hung. The other section is a selection of paintings and sculptures from YV Museum's collection which includes artwork from Ming-Te Tai, Chong-Hsun Chuang, Da-Hsien Ren, Ming-Zhong Huang, Yin Hsieh Peet, Steven Balogh and Viktor Lois. The exhibition will run from April 25, 2022 to May 4, 2022. The exhibition site is the Amerasia Activity Center Gallery located at 5210 W. Colonial Dr. Ste#100, Orlando, FL 32808.
Gallery opening hours are Mon-Fri 10AM-3PM; Sat Noon-4PM; Sun 9AM-5PM An opening reception will be held on April 26 Tuesday at 1:00PM, during which Viktor will demonstrate his unique musical sculptural instrument "AFTER NIRVANA".
First Section: "Lin, Chia-Hung Solo Show"
Lin's twenty-two paintings occupy three quarters of the exhibition space and are clearly the
anchor of the show. He has won many awards in international Art Expos and has paintings in the collection of National Taiwan Museum of Fine Arts. But when meeting with the public, he appears to be shy, quiet, and humble. Like his signature figure, he projects a quiet space for his audience to create their own context. This is a humble motivation, and quite effective. We might compare Lin Chia-Hung to famous Japanese artist Yoshitomo Nara in that, on the one hand, the manga/cartoonish style of Lin's characters manifests the young generations bantering attitude/humor; while on the other hand, the emotional layers under the seemingly serene surface are reminiscent of the subtle aesthetics of classic humanism. We might say that Lin's work is the Taiwanese Yoshitomo.
From Far East classical aesthetics, the 3D likeness of a portrait is not from the contrast of light and shadow, which is a technique universally valued in the West. This is most famously shown through the paintings of Caravaggio, who was a master of the technique chiaroscuro, which cast sharp light against darkness. Furthermore, there was rarely a single light source or single perspective in 2D or 3D work in the Far East tradition. In fact, prior to Westernization, shadows in a painting read as dirty smudges that a painter would not do. Furthermore, using multiple sides in sculpture has been a common tactic to articulate the artist's ideas long before Cubism appeared in the West. Carrying on this tradition, Lin gave his portrait a clean universal look without shadows and individuality.
In Japan and Taiwan, while the Pop Art movement permeates into all forms of traditional art, their societies are known for being so repressed with rules and discipline to be cautious and play it safe. By employing Pop Art, a seemingly indirect, non-political form of expression, artists can criticize society.
Like Murakami whose artwork stands on the shoulders of sophisticated prints from fine art in the emperor's court down to the fabric design in the common marketplace and tactfully blends fashion, commercial objects, advertisements, and even Western performance, Lin's painting strives to continue the similar Pop Art movement in the Far East, constrained, but liberated nevertheless. Furthermore, Lin's manga-style painting is the meeting place where painterly tradition merges into the digitally animated world, a 21 st century Far East phenomenon that westerners now have noticed and recognized its value.