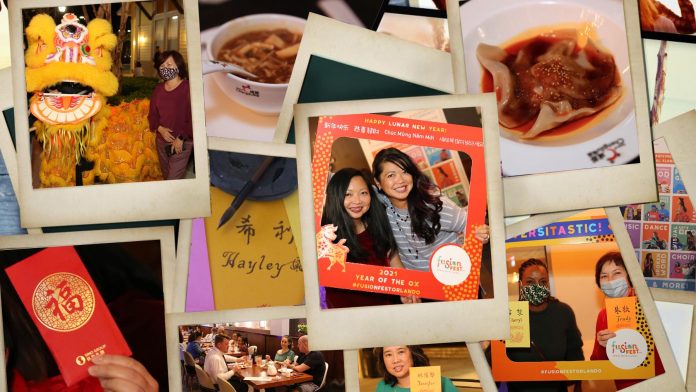 This year, Lunar New Year's Day took place on Feb. 12., marking the beginning of the Year of the Metal Ox. FusionFest, an Orlando cultural organization, celebrated Chinese New Year through Chinese cuisine throughout the month of February for its monthly Diversitastic! Dining Experience.
On Feb. 25, FusionFest hosted an in-person event at Orlando restaurant Taste of Chengdu to immerse patrons in the traditional Chinese culture and food. The event featured never-ending delicious and spicy Sichuan dishes, performances of lion dance and lucky red envelopes.
The lion dances are performed by students from the University High School Asian Students Association. The lion dance is one of the most important traditions of the Lunar New Year. It is performed to bring prosperity and good luck for the upcoming year. The lion dance is also a way to create a festive atmosphere and bring happiness.
Patrons "fed" the red envelopes to the lion's mouth during the lion dances, this is supposed to bring good luck. The event also allowed participants to get personalized Chinese calligraphy by Peter Lau from Asia Trend Community Learning Center.
Each month FusionFest will offer patrons a chance to immerse themselves into exploring the tastes, sights, sounds, and mindsets of another part of the world. In March, FusionFest will dedicate an event celebrating the Irish culture and food with Harp & Celt Irish Pub and Restaurant in Orlando.
Join FusionFest Diversitastic! Dining for more great culinary and cultural immersions in Central Florida. Guests will receive a full meal from an Orlando restaurant and learn about the food and eating customs from the chef. Entertainment, presentations and performances about the culture, and more will be featured throughout the event.
Comments