In an effort to promote Taiwanese culture and cuisine, Florida Taiwanese Business Association hosted a special culinary event on August 24th in Valencia College Walt Disney World Center For Culinary Arts and Hospitality in Orlando. The event was part of the "2023 International Tour of Taiwan Gourmet Cuisines", organized by the Overseas Community Affairs Council (OCAC). The event featured two distinguished Taiwanese chefs, Ko-Chin Chang and Kai-Yuan Lu, who demonstrated several exquisite Taiwanese dishes and treated guests to a delectable luncheon. Among the 60 distinguished guests in attendance were Florida Orange County Commissioner Maribel Gomez Cordero, Alex Erdmann, Dean of the Valencia College School of Culinary Arts and Hospitality, Wendy Givoglu, Campus Provost of Valencia College Downtown Campus, Congressman Darren Soto's Office Director, Aides to Commissioner Emily Bonilla, and Alicia Chea-Junga from FusionFest Inc. General Director Charles Chou from TECO in Miami, accompanied by Deputy Director Frank You and OCAC Secretary Maria Liu, also joined the event.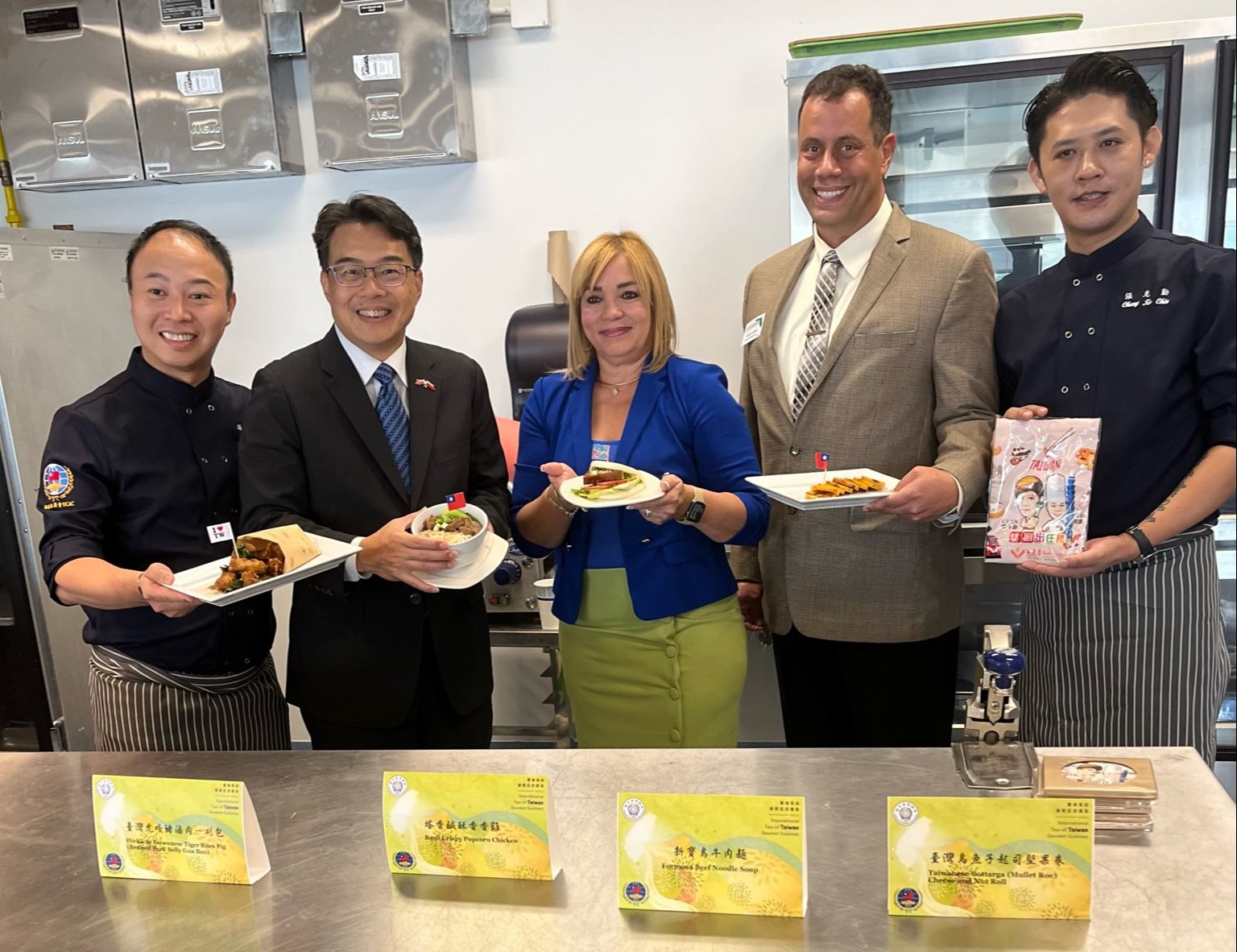 In his opening speech, DG Chou expressed his gratitude to Valencia College for providing this excellent venue. He emphasized that food possesses a magical ability to bridge cultures and connect people from diverse backgrounds, while also serving as a vehicle to preserve cultural heritage. He hoped that this event would serve as a window for guests to explore Taiwanese culture, bringing Taiwan's traditions and values closer to them. To provide an authentic taste of Taiwan, these two talented Taiwanese chefs were invited to demonstrate their culinary skills. The guests not only had the opportunity to learn how chefs expertly utilize various ingredients, spices, and methods to cook Taiwanese food, but they also could enjoy the traditional Taiwanese dishes. DG Chou's dedication was evident as he drove all the way from Miami to Orlando just to participate in the event.
The event, hosted by OCAC Associate Adviser, Owen Deng, kicked off with the chefs presenting a fusion of Eastern and Western flavors in the "Taiwanese Bottarga (Mullet Roe) Nut and Cheese Roll." Chef Chang invited Alex Erdmann, the Dean of the Culinary school, to join him on stage in preparing Taiwanese mullet roe and distributed samples to the attendees who have never tried it before. The use of locally acquired ingredients such as shredded cheese, mixed nuts, and cranberries showcased a creative approach that impressed the audience. The second demonstration featured the famous "Taiwanese Braised Pork Belly Gua Bao." Chef Lu explained the use of Shaoxing wine in braised pork, citing the ancient Chinese poet Su Shi's famous line to describe the patience required to achieve the deliciousness of braised pork. Chef Chang elaborated on the origin of the term "Tiger Bites Pig" for the Gua Bao, given its resemblance to a tiger's mouth (steamed lotus bun) with a hearty bite of braised pork. The third demonstration showcased the "Basil Crispy Popcorn Chicken." Chef Chang demonstrated various chicken breading techniques and revealed the secret ingredient of white sesame seeds to enhance the aroma and crunchiness of the fried chicken. The guests took notes with the goal of refining their skill and replicating the authentic tastes of Taiwan in their own home kitchens.
In line with the theme of this year's tour, "Indulge in the rich flavors of Taiwan: A global feast for foodies", the chefs thoughtfully prepared a luncheon after the demonstration, featuring not only the dishes showcased earlier but also an additional dish, the "Formosa Beef Noodle Soup." The soup represented the harmonious fusion of flavors resulting from the diverse immigrant groups in Taiwan, mirroring Florida's embracing diverse immigrants and cultures. The rich and meaningful luncheon allowed guests to both savor and appreciate the offerings. The chefs personally presented souvenirs to the VIPs and engaged in discussions with attendees, sharing their insights of creating Taiwanese dishes by using local ingredients.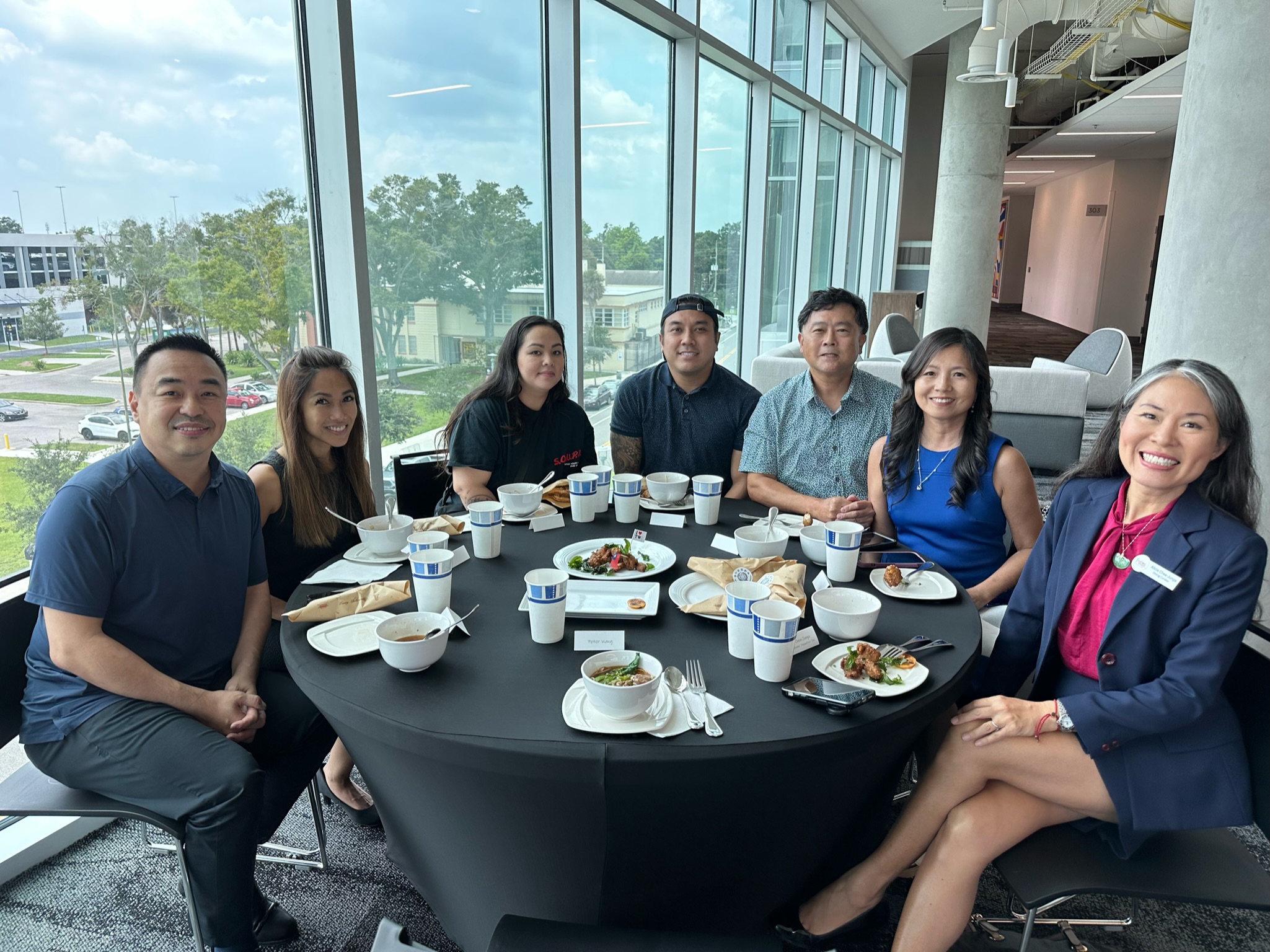 This year, Orlando had the privilege of inviting renowned chefs Ko-Chin Chang and Kai-Yuan Lu to demonstrate various Taiwanese dishes. The two chefs possess distinct personalities and skills, but they are very compatible. Chef Chang, a charismatic and outgoing culinary expert, has numerous gold awards in various international culinary competitions, including being crowned champion of the World Championship of Cookery. With a profound understanding of Cantonese cuisine, he currently serves as the Executive Chef of the 'Badasan Aboriginal Restaurant,' pioneering a fusion of Cantonese culinary techniques with indigenous Taiwanese elements, bringing this unique combination to international level. In addition to his two bestselling cookbooks, he is a brand ambassador for notable seasoning brands and contributes as a dedicated mentor, lecturer, and competition judge.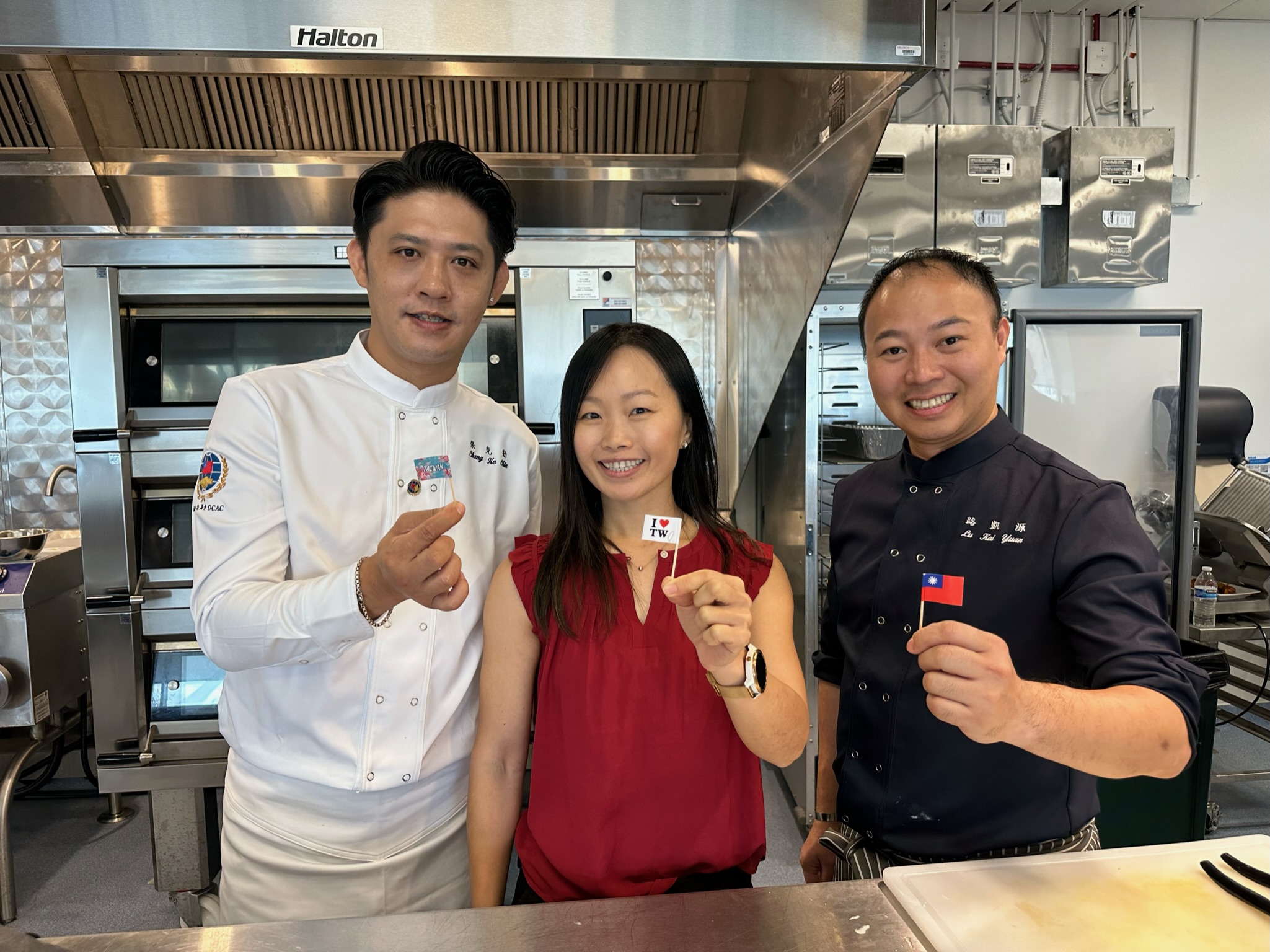 On the other hand, the genteel and knowledgeable Chef Lu was honored with the award from Le Cordon Bleu. His belief in the storytelling essence of Shanghai cuisine and its lively vibe led him to dedicate over two decades to refining the delicate art of Shanghai cuisine. Presently the Executive Chef at Taipei's Hamp Court Palace Hotel's 'Mansion 7 Shanghai Cuisine,' he merges French culinary techniques with the elegance of Shanghai cuisine, bringing new life into traditional Shanghai dishes. Chef Lu's profound understanding of each dish's historical context allows him to effortlessly integrate anecdotes into his culinary creations, leaving guests enchanted.
Both chefs also shared their journeys to success during the event. They stressed the value of setting early goals and sticking to them with dedication, even when facing tough challenges that require keen attention to details. Their passion keeps their work feeling fun, always refreshed by its excitement. They encouraged young talents to find what they love early, put their heart into it, and bravely pursue their dreams. The event wrapped up smoothly after their cooking demos and a tasty Taiwanese lunch at Valencia College.
Comments