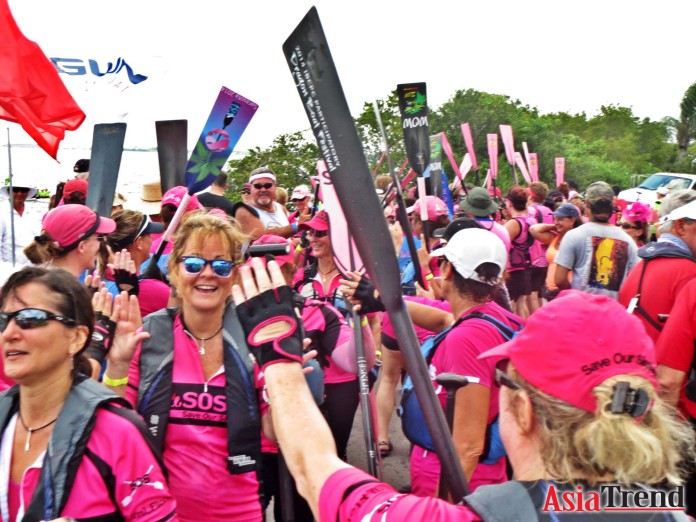 WHAT IS A DRAGON BOAT FESTIVAL?
The Walgreens Space Coast Dragon Boat Festival is an event for people of all ages who embrace life, enjoy healthy competition and want to be part of an active and eco-friendly environment. The Festival is a one-day event that brings together 2,000 recreational & elite dragon boat athletes and spectators. The event offers an exhilarating combination of racing in concert with a complete festival experience showcasing corporations, community organizations and families.
The GWN's Walgreens Space Coast Dragon Boat Festival will take place at Manatee Sanctuary Park in Cape Canaveral, Florida on April 16th.  The hours of the event are from 8:00am – 4:00pm.  Last year, there were over 800 participants and 1,000 spectators, providing the exhibitors the opportunity to interact with over 1,800 individuals.
Every year the event attracts a wide range of vendors and concessionaires that appeal to all of our attendees.  Some of the event highlights include a packed beer garden, live music performances, a large athlete's village, a family zone, a bustling vendor/expo village and more.
WHY BECOME AN EXHIBITOR?
The Walgreens Space Coast Dragon Boat Festival provides a unique opportunity for Vendors, Exhibitors or Concessionaires to sell or feature their products or brand. Whether your focus is retail sales, food & beverage or product sampling, the Festival puts you in front of a diverse group of consumers and the corporate community. The captivating environment offers a truly unique community event providing strong marketing and sales opportunities.
Dragon boating is a unique and high-spirited water sport where teams of 20 people paddle in unison to the beat of a drum against other teams.  With a total expectation this year of well over 1,800+ participants and spectators, this is a great opportunity for you to get involved in and become a vendor!
GWN Dragon Boat
T. 1.855.GWN.BOAT (496.2628)
[email protected]

Comments