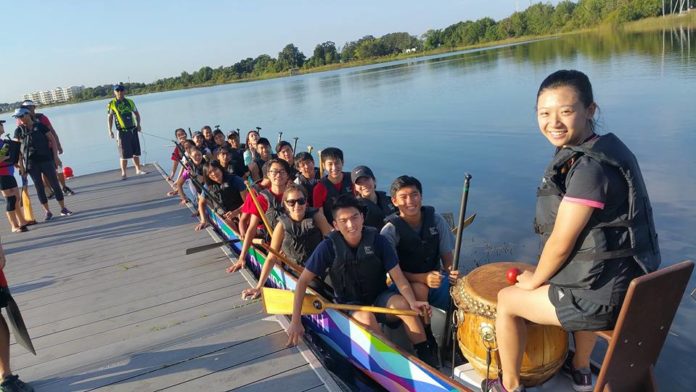 The day I learned to dragonboat, it was a hot, muggy Saturday morning.  I nervously stood as I watched CHARGE paddlers demonstrate the basics of dragon boating.  Until then, I had no clue about how to paddle or even how to hold a paddle.
That was over two years ago.  Today, I have come to appreciate the teamwork and endurance that dragon boating fosters.
While there are many speculations about the origin of dragon boating, the story best known in modern China revolves around the death of the poet and minister Qu Yuan during the Zhou Dynasty. He was banished by the king and accused of treason after he opposed one of the king's political decisions.  When a new king came to power after Qu Yuan's exile, Qu Yuan drowned himself in the nearby river as a protest against political corruption.  According to legend, the local fishermen paddled their boats up and down the stream to scare the fish and keep them from eating Qu Yuan's body.  Many people credit this as the origin of dragon boating, as the fisherman fastened dragon heads onto their boats to scare the fish and evil spirits away.
Since then, dragon boating has evolved into a highly organized sport worldwide.  Popular among people of all ages and ethnic backgrounds, a dragon boat crew consists of one drummer, one steersperson, and twenty paddlers in one boat.  Although it is not yet an Olympic sport, it has become one of the fastest growing team water sports, with millions of participants in various organizations and clubs in nearly eighty countries.
As a new paddler, dragon boating taught me many valuable lessons, including the importance of teamwork. One of the most interesting characteristics about dragon boating is the extent to which it is a team sport.  While does require individual endurance, the most important aspect of dragon boating is synchronization, not physical strength.  If the paddlers do not have perfect timing and their paddles enter the water at a different time from the lead paddlers', the "out of stroke" paddlers slow the boat down and cause it to rock.  With perfect synchronization, the paddlers in the back of the boat can know that their paddles will enter the water at the same time as the paddles in the front of the boat. This reduces the drag of the boat, increases its speed, and allows it to glide on the water.
However, the success of the team also depends on each individual.   Dragon boating requires individuals to work hard, have endurance, and maintain a focused mindset.  Paddlers continually push themselves to improve their technique and synchronization on the boat.
This year, I am one of the co-captains for REACH's (an Asian youth organization in Central Florida) dragon boat team.  While I have learned so much about dragon boating by just participating in REACH's dragon boat team, I have come to appreciate dragon boating so much more by actually engaging in the work that goes into figuring out the dynamics and details of the team.  I can honestly say that dragon boating has been one of the best experiences I've been through, and I can't wait to see how REACH will grow as a team.
If you'd like to learn more about dragon boat and see paddlers in action, I encourage you to attend the upcoming Walgreen's Orlando International Dragon Boat Festival at Turkey Lake.  Held once a year, this festival attracts recreational and competitive teams from all over North America and has been the catalyst for many new team start-ups in the Orlando area.  Come  and watch this exciting event, with cultural performances in between races! For more information, visit http://asiatrend.org/asian-cultural-expo/
Also, if you'd like to try out dragon boating, we welcome you to paddle with CHARGE.  CHARGE is an Orlando-based dragon boat team consisting of mostly Asian-American members.  One of the top teams in the Orlando area, they paddle twice a week and compete in several races a year.  Visit http://www.chargedragonboat.org/ to learn more.
Comments