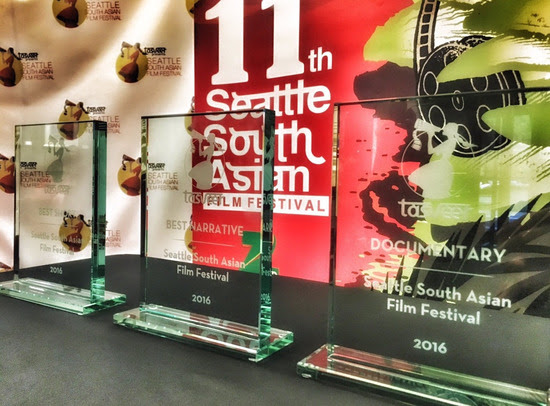 Bangladeshi Urban Thriller AYNABAJI Takes Top Honors
Best Documentary CITIES OF SLEEP & Short Film SYAAHI Voted Audience Favorite
Mostofa Sarwar Farooki Honored for Significant Contributions to the Cinema of Bangladesh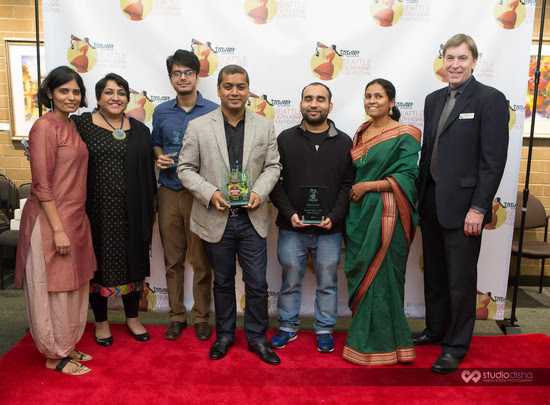 SEATTLE (October 24, 2016) – The 11th Seattle South Asian Film Festival closed Sunday with a screening of the tender comedic drama WAITING (2015) from Indian director Anu Menon (LONDON PARIS NEW YORK, X: PAST IS PRESENT). Short filmmaker Saad Khan was on site to talk about his short film BROTHER, OMAR MATEEN (2016), which engages with the intersection of sexuality, religion, and extremism in the aftermath of the 2016 Orlando nightclub shooting.
After a filmmaker Q&A and before the festive Closing Night Gala that followed, the SSAFF 2016 Audience Awards in three categories were announced:
Accolades for Amitabh Reza Chowdhury's debut feature AYNABAJI (2016) bracketed the Festival – thrilling Opening Night crowds with Bangladeshi superstar actor Chanchal Chowdhury in attendance, and receiving Best Narrative at Closing Night ceremonies. AYNABAJI cuts deep into the colorful urban landscape and shadowy underbelly of Dhaka with the story of a talented actor (masterfully portrayed by Chanchal Chowdhury) who takes on the personas of convicted criminals and collects money for serving their prison time.
"Any award is inspiring but the satisfaction of the audience inspires me the most," says AYNABAJI Director Amitabh Reza Chowdhury. "I dedicate this award to the movie lovers in Bangladesh."
"Thanks to Tasveer for hosting the Festival," adds Producer Ziauddin Adil, who was on hand to receive the audience award, "and to the audience for voting for AYNABAJI. We are expecting AYNABAJI will win many more awards around the world and bring glory for Bangladesh."
For Best Documentary, SSAFF audiences chose CITIES OF SLEEP (2016) from Indian filmmaker Shaunak Sen, whose film follows a renegade homeless man through the darkened streets of Delhi and documents his unending quest for a safe place to rest his head each night. This documentary reveals the realities of living without a home in Delhi, including the infamous "sleep mafia" and innovations in finding a resting place that must be seen to be believed.
The stunning coming-of-age tale SYAAHI (2015) from director Varun Tandon is the SSAFF audience's choice for Best Short Film. Director Tandon was in attendance for the duration of the Festival and commented, "It's an incredible Festival with a very passionate and warm team running it."
In the director's own words, "SYAAHI is a simple coming of age story I always wanted tell. As the final film took shape, it took be back to my childhood and became more than a story to me." Upon receiving the award, he added, "Our whole team of Syaahi is so happy about winning the Best Short Film award at SSAFF. I am also glad that I could be present there in person to collect it."
Tasveer conferred its Tasveer Emerald Award upon Mostofa Sarwar Farooki (ANT STORY, TELEVISION, THIRD PERSON SINGULAR NUMBER) this year for significant contributions to the cinema of Bangladesh. Bangladesh was in the spotlight at SSAFF 2016 with an exceptional program of comedies, dramas, and shorts from one of Asia's most dynamic and densely populated nations, presented throughout the twelve-day Festival.
Audiences engaged with dozens of screenings and events at the 11th iteration of the largest South Asian film festival in the United States, with filmmakers present at the majority and stimulating Q&As and conversations peppered throughout. A symposium titled Race, Sexuality, and Censorship: Film, Art and Activism in India and Beyond included short and feature-length films with panels of international filmmakers and activists to a packed room for a full day, hosted at the University of Washington.
"This year's Festival was a great success thanks to the outstanding films and filmmakers, volunteers, and community engagement," says Tasveer Co-Founder Rita Meher. "We look forward to continuing the conversation in the coming months and years."
Festival Director Kiran Dhillon comments, "The theme of #LoveWins appeared in so many of the films we selected, a vital reminder for everyone hoping to engage with their neighbors in a caring and constructive manner in our society today." Festival Co-Director Madhuri Kudaravalli adds, "With so many dialogues following the Festival's incisive and provocative films, audiences engaged in an unprecedented manner – which is a first step toward fulfillment of the #LoveWins theme and Tasveer's mission."
Known for films that provoke thought, engagement, discussion, and action, the 11th Seattle South Asian Film Festival did not disappoint. Filmmakers were present at the great majority of screenings, arriving from around the world. SSAFF 2017 is slated for next autumn.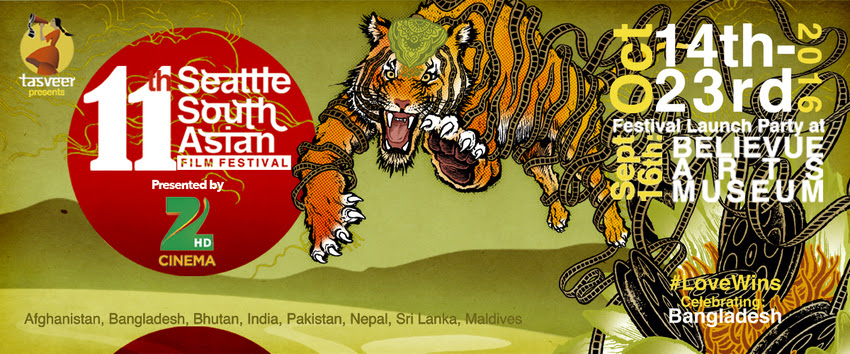 About SSAFF and Tasveer
Running Friday, October 14 through Sunday, October 23, SSAFF 2016 includes 23 feature films and 22 shorts representing nine countries to inspire, inform, and provoke audiences throughout the Festival.
Founded in 2002 by Rita Meher and Farah Nousheen, Tasveer strives to curate thought-provoking artistic work of South Asians through films, forums, visual art, and performances that engage and empower the community.
Tasveer presents three keystone events each year: AAINA, a women-focused arts gathering (spring); South Asian International Documentary Festival (spring), and Seattle South Asian Film Festival (fall).
The purpose of Tasveer is to increase awareness of South Asian countries and cultures from Afghanistan, Bangladesh, Bhutan, India, Maldives, Nepal, Pakistan, and Sri Lanka; to provide a platform for South Asian filmmakers and artists; to initiate dialog that bridges communities; to provide an alternative to corporate media; and to employ independent South Asian film as a vehicle to give voice to marginalized communities.
Comments