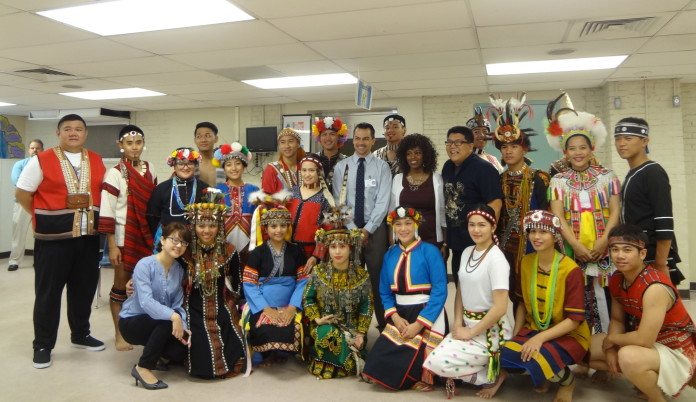 May is Asian Heritage Month and in support of it the dance troupe of the College of Indigenous
Studies at National Dong Hwa University is touring the United States. This is the tenth year
anniversary of the group and it is the first time
they have come to the United States. The dancers are all from tribal communities from across Taiwan and represent to the diversity of the Taiwanese people. The troupe visited Tampa and performed at Robert Lee Elementary and Muller Elementary for students on May 13th. The first show was at Lee Elementary in the morning and was attended by over three hundred students. The second show was in the afternoon at Muller Elementary to a crowd of over two hundred students. The live performance of song and dance dressed in elaborate attires was very impressive and exciting. For their final song the troupe invited the students to get stand up and have some fun dancing a song called Makapahay. This word is in the language of the Ami tribe which means "beautiful" or "handsome". This song reminds us that we are all beautiful. By singing and dancing together with the troupe, the students were able to create beautiful memories and have a joyful cultural experience.
The show also included a short video that
featured many pictures from all over Taiwan. It showcased the food, scenery, and people, giving students a taste of Taiwan. After the performance the troupe split up and visited classrooms where their shared more dancing and traditional arts and crafts of the tribes. They taught the students how to make colorful braided key chains using strings of three different colors. Such braids are commonly found as decorations especially on clothing. They also gave out braided floral headpieces to the students who loved them.
After Tampa, the troupe will head to Washington D.C. and other cities to bring their wonderful performances to new audiences and spread more Taiwan love.
Article: Jacqueline Collier
Comments