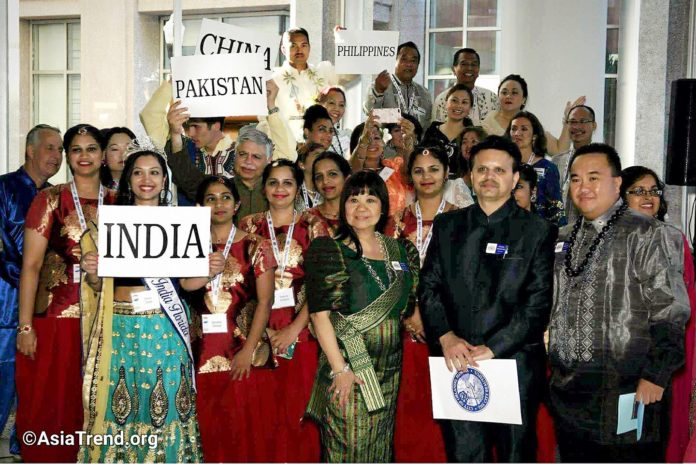 The Asian American Chamber of Commerce of Central Florida – AACC Celebrates "Asian Pacific American Heritage Month" at Orlando City Hall on May 3, 2017.  What a great way to kickoff this month of celebration.  Mayor Buddy Dyer gave welcome remarks, Commissioner Robert Stuart read the Proclamation; and Commissioner Patty Sheehan also gave words of welcome.
Monica Joelle Ortiz started us off  with the singing of the National Anthem.  She was first runner-up in the 2015 Miss Teen Florida.  This year she plans on competing in the Miss Florida USA pageant.
Adrian Kierulf from Mayor Theresa Jacobs office read the Proclamation from Orange County.
Introductions were made by Coco Johnston, Chairperson for this 8th Annual Event, of the AACC Board, special guests, the participating restaurants and the vendor tables. Music was provided by Keylo Entertainment.  Kannan Srinivasan, President of the AACC thanked and acknowledged our Corporate Partners: Universal Orlando Resort, Walt Disney World Resort, Orlando Health, Orlando Magic, Florida Hospital, Visit Orlando, Darden, TD Bank, JP Morgan Chase, OUC, Publix, Lim & Associates and our newest partners – Northwestern Mutual and Tupperware Brands.
The entertainment for the evening was colorful and riveting.  "Dance Troupe" with the Filipino Student Association at UCF performed 2 dances.  The "Binasuan" which uses the graceful movements and tricks with glasses half-filled with water.  Then the popular traditional "Tinikling" was performed using bamboo poles and speedy foot movements maneuvering between the clapping of the bamboo poles was a crowd pleaser.
India was well represented with the Mrityun Dance Studio, founded by Naveena Murugesan, performed "Senthoora" a fusion performance with lots of style and footwork.  The costumes were stunning.
Last but not least the Parade of Asians took place with participants representing the countries of China, Philippines, Vietnam, India and Pakistan.  Winners were: India for the best dressed female and the Philippines for the best dressed male.
Mark your calendars for the next signature event:  2017 Golden Dragon Awards on October 14th at Disney's Contemporary Resort.
Article by Kannan Srinivasan, President and Coco Johnston, Past President
Photos: Justin Chu, and Gary CK Lau (To view the photo albums at www.facebook.com/asiatrend)
Comments