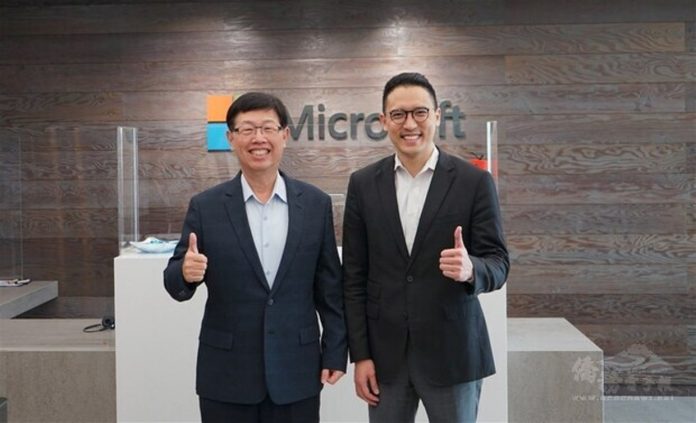 Taipei, March 2 (CNA) U.S.-based tech giant Microsoft Corp. announced on Tuesday it has teamed up with Taiwan's Hon Hai Precision Industry Co., the world's largest contract electronics maker, on smart manufacturing development.
Under the partnership, Hon Hai, known as Foxconn internationally, hopes to accelerate the upgrade of its cloud technology by using Microsoft's services, including Azure AI (artificial intelligence) applications, Microsoft said in a statement Tuesday.
Hon Hai will link its more than 20 manufacturing sites through the Azure services to optimize the management of its operations from its headquarters.
It is also expected to use Microsoft's digital data bank in combination with cloud-based technology to boost its ability to innovate and develop products, Microsoft said.
Others area of cooperation, according to the company, will be to strengthen environmental, social and governance (ESG) practices in pushing for corporate sustainability and develop a strong electric car ecosystem.
Microsoft is one of the members of the MIH Open Platform promoted by Hon Hai for the development of electric cars.
The MIH Open Platform was initiated by Yulon Group subsidiary Hua-Chuang Automobile Information Technical Center Co., and Hon Hai formed a joint venture with Hua-Chang in February 2020 called Foxtron Vehicle Technologies Co. to strengthen the platform, which provides hardware and software to other automakers.
Hon Hai has said it plans to build the platform into the "Android of the electric car industry" as part of its efforts to penetrate the global electric vehicle market.
Hon Hai will also build a new hybrid workplace model by adopting Microsoft 365, designed to help a company achieve more with innovative Office apps, intelligent cloud services, and world-class security, so that it is better able to adapt to a changing environment.
Ken Sun, general manager of Microsoft Taiwan, said Hon Hai is one of the world's leading manufacturers, and hoped cooperation between his company and the Taiwanese firm will continue for a long time.
Hon Hai Chairman Liu Young-way said his company has been pushing its "3 plus 3" initiative and the cooperation with Microsoft is expected to help his company transform its original manufacturing focus into hardware and software integration.
Liu said Hon Hai aims to work with its partners like Microsoft to develop technologies for smart living.
Hon Hai's "3 plus 3" initiative refers to three emerging sectors — electric cars, robots and digital healthcare — that are being developed through AI, semiconductor and communication technologies.
Comments