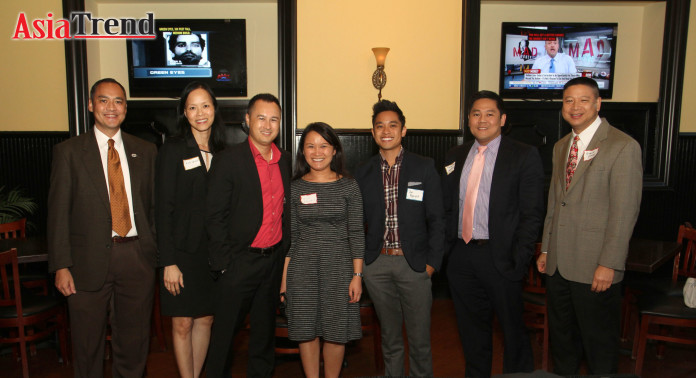 The Greater Orlando Asian American Bar Association (GOAABA) recently celebrated five years as a voluntary bar association at a 5-year celebration event held October 22, 2014 at 310 Lakeside Restaurant in Downtown Orlando.
About 50 attendees participated in the happy hour event recognizing the initial charter members, membership growth, contributions to the local community, and support of its guests, including many of GOAABA's founding Charter Members, local judges, and sponsors.
Photos: C.K. Lau (To view the photo album, visit www.facebook.com/asiatrend)
Current GOAABA President Wanda Reas recognized and introduced GOAABA's Charter Members: Agnes Chau, M. Delton Chen, Min Cho, Steve Chong, Edward Dimayuga, Lisa Gong, Jessica Hew, Sunny Hillary, Christine Ho, Donna Hung, Hon. Linh Ison, Robert Lee, Glenn Leong, Gregory Maaswinkel, Angela Miller, Christy Nash, Don Nguyen, Huyen Ta Nguyen, Kim Nguyen, Truong Nguyen, Joe Panyanouvong, Amy Lynn Perez, and Tae Shin.
Many local judges have supported GOAABA over the years. Among those in attendance included the following members of the judiciary: Judge Steve Jewett, Judge Thomas Turner, Judge John Kest, Judge Sally Kest, Judge Kenneth Barlow, Judge Greg Tynan, and Judge Janet Thorpe.
GOAABA appreciates the support of its members and guests, including special guests and sponsors in attendance representing Authentic Web Inc., Asia Trend Magazine, and 310 Lakeside.
GOAABA is a voluntary bar organization incorporated on October 19, 2009 to represent the interests of the Asian community, serve as a legal bridge between the various Asian communities, and promote the professional growth of its members in the Greater Orlando area.
The genesis of GOAABA began several years ago, when attorneys Jessica Hew and Stephen Chong discussed the idea and the need for Orlando's first-ever Asian American bar association. Other attorneys, including Sunny Hillary, Glenn Leong and Kim Nguyen, similarly raised the idea.
In March, 2009, Glenn Leong called up an informal planning meeting with Jessica Hew, Kim Nguyen and Sunny Hillary at Dexter's in Winter Park. This Planning Committee identified unmet legal needs within the many and diverse Asian American communities and discussed obstacles, including language barriers, cultural wariness, and other impediments to full legal assistance and access to the courts. The Committee noted the existence of the Hispanic Bar Association, serving Hispanic attorneys in Central Florida, and the Paul C. Perkins Bar Association, serving African- American attorneys in Central Florida. But no voice or organization unified Orlando's growing Asian American legal community.
After much research, GOAABA developed an email distribution list of over 40 (and still growing) potential interested parties. The first organizational meeting was held on May 19, 2009, at the Orlando law offices of Lowndes, Drosdick, Doster, Kantor & Reed, P.A., where 15 members participated.
GOAABA has an Affiliation Agreement with the National Asian Pacific American Bar Association (NAPABA) and is the fourth affiliated chapter in Florida. (The other three chapters are located in Miami/South Florida, Tampa and Jacksonville.) However, GOAABA is completely autonomous and serves our local community.
For more information regarding GOAABA, including membership and its activities and events, please visit the GOAABA website at www.goaaba.org or its Facebook page at https://www.facebook.com/GreaterOrlandoAsianAmericanBarAssociationgoaaba.
Article: Christine Malamanig Berk/GOAABA
Comments