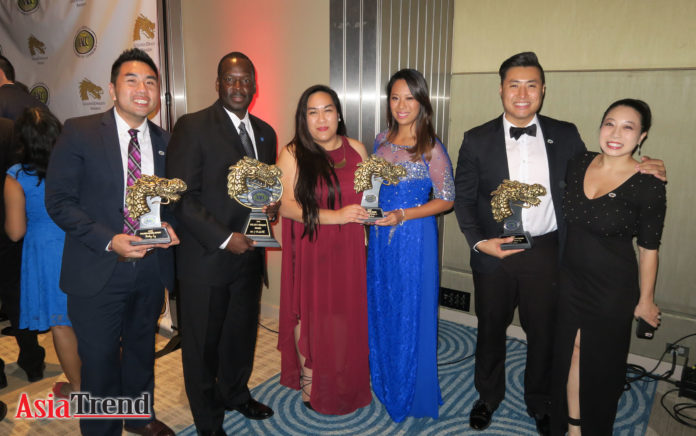 The Asian American Chamber of Commerce of Central Florida hosted the 7th Annual Golden Dragon Awards on October 1st at the Disney's Contemporary Resort.  The Banquet and Awards show honors outstanding leadership and initiatives by individuals, small and large businesses, non-profits and governmental agencies. The Cocktail Reception and Silent Auction welcomed the attendees as  Orlando Taiko Dojo drummers led the guests into the Banquet room.
This year's Golden Dragon Awards emcees were reporters Racquel Asa – who is of Filipina descent – and local weatherman Brian Shields, both of WFTV – Channel 9 News.  The special performances included Orlando Taiko Dojo, FSA Filipino Student Association Dance Troupe, Acrobatics performed by Liang, and Laksha Dance Academy.  The National Anthem was performed by Monica Joelle Ortiz.
Congratulations to the Asian American Chamber of Commerce 7th Annual Golden Dragon Awards recipients: 90.7 WMFE Orlando – LaFontaine Oliver for the Golden Dragon Award, Sus Hi Eatstation – Robert Ly and Teresa Ly for the Asian Entrepreneur Of The Year Award, Tupperware Brands for the Diversity Champion Award, Ricky Ly – Tasty Chomps! for the Golden Hands Award, and Pearl White Events – Kim Tran and Judy Thị Lê for the Rising Star Award. And the AACC Board of Directors: Ann Catris and Marie Aguilar for the AACC President Award.
AWARD CATEGORIES:
GOLDEN DRAGON AWARD
As the Asian American Chamber's highest honor, the Golden Dragon Award recognizes an individual, entrepreneur, small or large business that has made the most significant positive impact in Central Florida, improving the quality of life for the many.
DIVERSITY CHAMPION AWARD
For an individual, company or organization which, by both word and deed, has actively fostered and encouraged diversity and inclusion in its business model and day‐to‐day practices.
GOLDEN HANDS AWARD
For an individual or group who embodies the highest spirit of caring and self‐giving, recognizing exemplary contributions of time, energy and dedication to a cause, project or community without expectation of financial gain.
RISING STAR
To showcase and inspire future leaders of the business community, the award recognizes a Central Floridian who embodies the Asian American Chamber of Commerce core values ‐ Dream. Believe. Achieve. ‐ By demonstrating outstanding leadership and commitment to community.
ASIAN ENTREPRENEUR OF THE YEAR
For an individual entrepreneur of Asian heritage doing business in Central Florida whose track record of innovation and success can serve as a role model to aspiring Asian entrepreneurs.
Photos: C.K. Lau (To view the photo album, visit www.facebook.com/asiatrend)
Comments