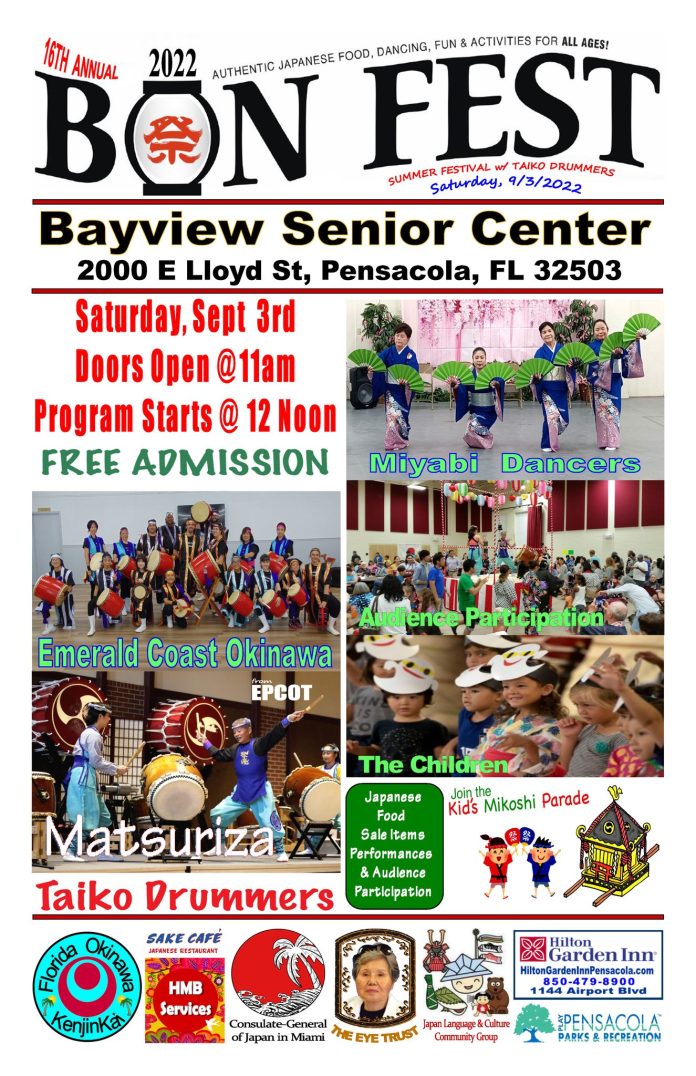 The 16th Annual BonFest Pensacola is set to take place on Saturday, September 3 from (doors open) 11 a.m. to 4 p.m. at Bayview Senior Center, located at 2000 E. Lloyd St. The festival's doors open at 11 a.m. and admission is complimentary.
BonFest Pensacola is a family-friendly event inspired by traditional Obon festivals in Japan and offers authentic Japanese food, fun activities, superb cultural performances, items for sale, and fun activities for guests of all ages to experience and enjoy. Taiko Drummers from EPCOT's Matsuriza group will be the highlight of the festival with two dynamic performances at the beginning and towards the end of the festival.
Other highlights include: the children's Mikoshi Parade, where participants experience the ritual of carrying a portable Japanese Shinto shrine; a drum, dance and martial arts demonstration by Emeral Coast Okinawa; a dance demonstration by Miyabi Dancers; and the Bon Odori dance competition, which also encourages audience participation. The festival closes with a drum workshop from Taiko Dojo in which audience members will have the chance to participate and drum along the group.
The 16th Annual BonFest Pensacola is sponsored by the Consulate-General of Japan in Miami, HMB Services, Sake Café Japanese Restaurant, Florida Okinawa Kenjinkai, The Eye Trust, Japan Language & Culture Community Group, Hilton Garden Inn Pensacola and Play Pensacola Parks & Recreation.
For more information, visit https://bit.ly/3wiSQgq or contact [email protected] and 850-602-4385.
Comments