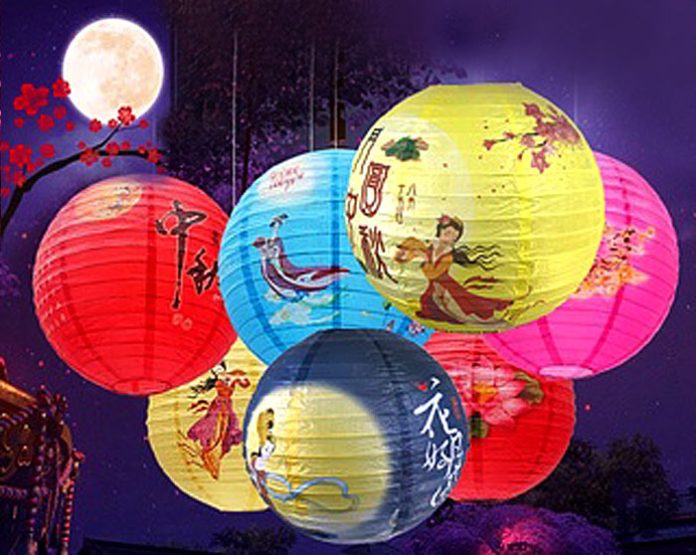 In Chinese: "中秋節" pronounced as Zhong Qiu Jie
In Japanese: 月見(つきみ)?
In Korean: 추석 (Chu sok)
In Vietnamese: Tết Trung Thu
Moon Festival is a traditional festival celebrated in many Far East and Southeast Asian American communities.
WHEN IS MID-AUTUMN FESTIVAL
This tradition is celebrated in various forms throughout China (Mid-Autumn Festival), Japan (Tsukimi), Korea (Chuseok), and Vietnam (Tết Trung Thu).The festival is held on the 15th day of the 8th month according to the lunar calendar, when the full moon is brightest and fullest. It is a festival of gathering, thanksgiving, and prayer during the mid-Autumn harvest season. This year festival is celebrated on September 10, 2022. On this day the full moon is at the years' roundest and brightest, which symbolizes family unity and togetherness.
During the Mid-Autumn Festival, children are delighted to stay up past midnight, parading multi-colored lanterns into the wee hours as families take to the streets or city parks to moon-gaze. This day was also considered a harvest festival since fruits, vegetables and grain had been harvested by this time and food were abundant. For generations, moon cakes have been made with sweet fi llings of nuts, mashed red beans, lotus-seed paste or Chinese dates, wrapped in a pastry. Sometimes a cooked egg yolk can be found in the middle of the rich tasting dessert. Nowadays, there are hundreds of varieties of moon cakes on sale a month before the arrival of Moon Festival. It is also a romantic night for lovers, who sit holding hands on hilltops, riverbanks and park benches, captivated by the brightest moon of the year….
In China, this special occasion is also considered a harvest festival since farmers have just finished gathering their crops and bringing in fruits from the orchards. Overwhelmed with joy when they have a bumper harvest and quite relaxed after a year of hard work, they feel it is a time for relaxation and celebration.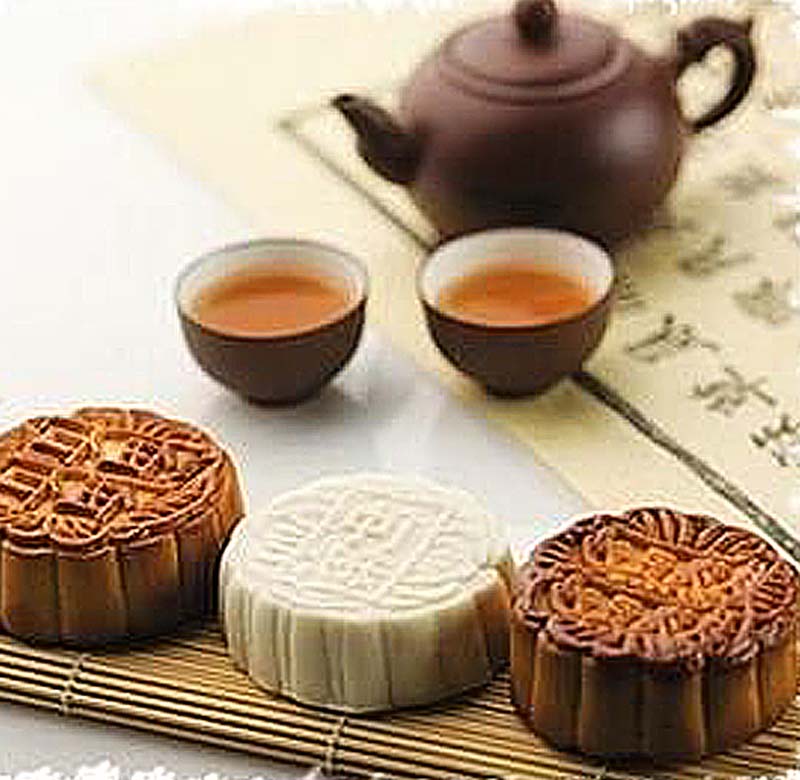 Moon cakes, different types of fruits like pomelo, watermelons, oranges, apples, grapes and so on — used as food offerings — are placed on an altar. Basking under the moonlight, the families will then sit together and take turns to admire the moon, whilst chatting and sharing moon cakes.
Mooncakes are a popular snack to be eaten during Mid-Autumn Festival and here is where to buy them in stores and online:
Mei's Supermarket: 10681 E Colonial Dr, Union Park, FL 32817 · (689) 208-1888
Costco Wholesale: Winter Park · Gardens Park Blvd · Water Bridge Blvd
Dong-A Supermarket: 816 N Mills Ave, Orlando, FL 32803 · (407) 898-9227
Lotte Plaza Market at Orlando: 3191 W Colonial Dr, Orlando, FL 32808 · (407) 499-1115
Saigon Market: 1232 E Colonial Dr, Orlando, FL 32803 · (407) 898-6899
iFresh Market: 2415 E Colonial Dr, Orlando, FL 32803 · (407) 228-9899

Enson Market: 5132 W Colonial Dr, Orlando, FL 32808 · (407) 292-3668

Tien Hung Market Oriental Foods: 1110 E Colonial Dr, Orlando, FL 32803 · (407) 422-0067

New Golden Sparkling Supermarket: 5600 W Colonial Dr #306, Orlando, FL 32808 · (407) 730-3936
Eastside Asian Market: 12950 E Colonial Dr, Orlando, FL 32826 · (407) 615-8881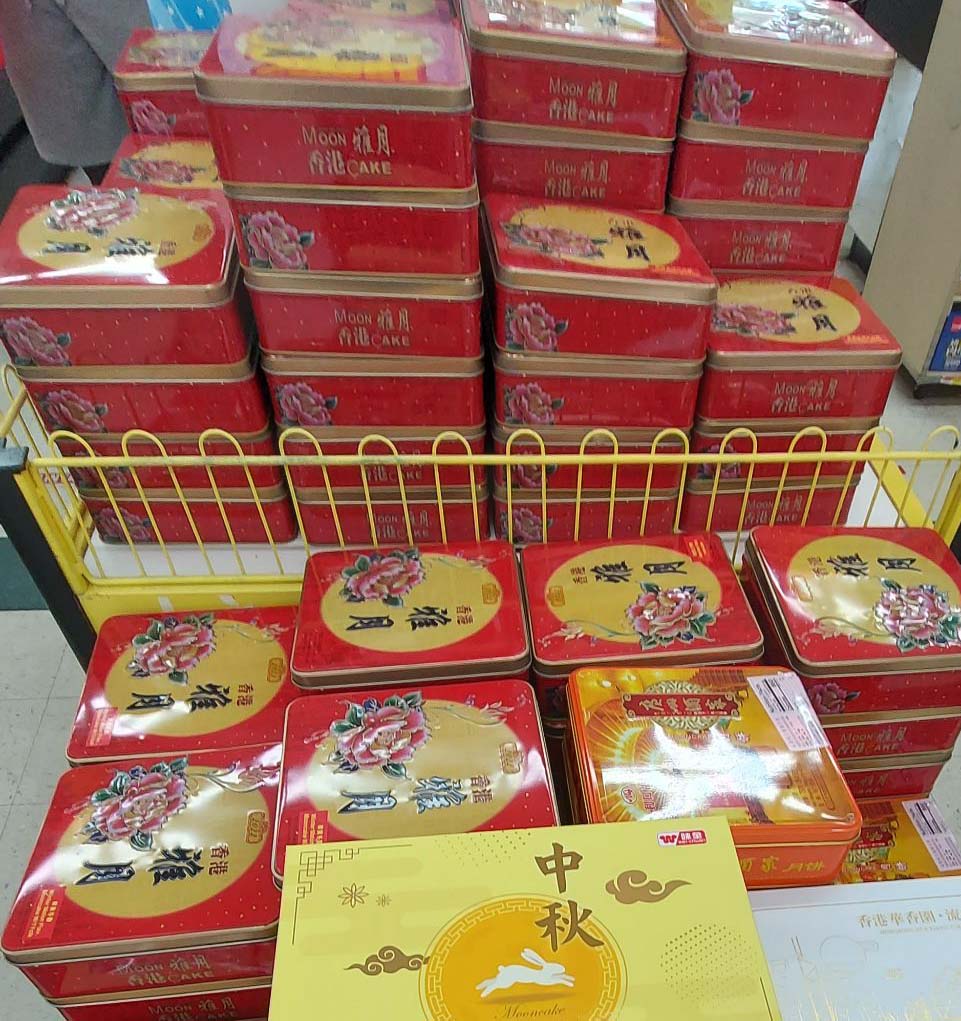 Best Places to Celebrate the Mid-Autumn Festival in Florida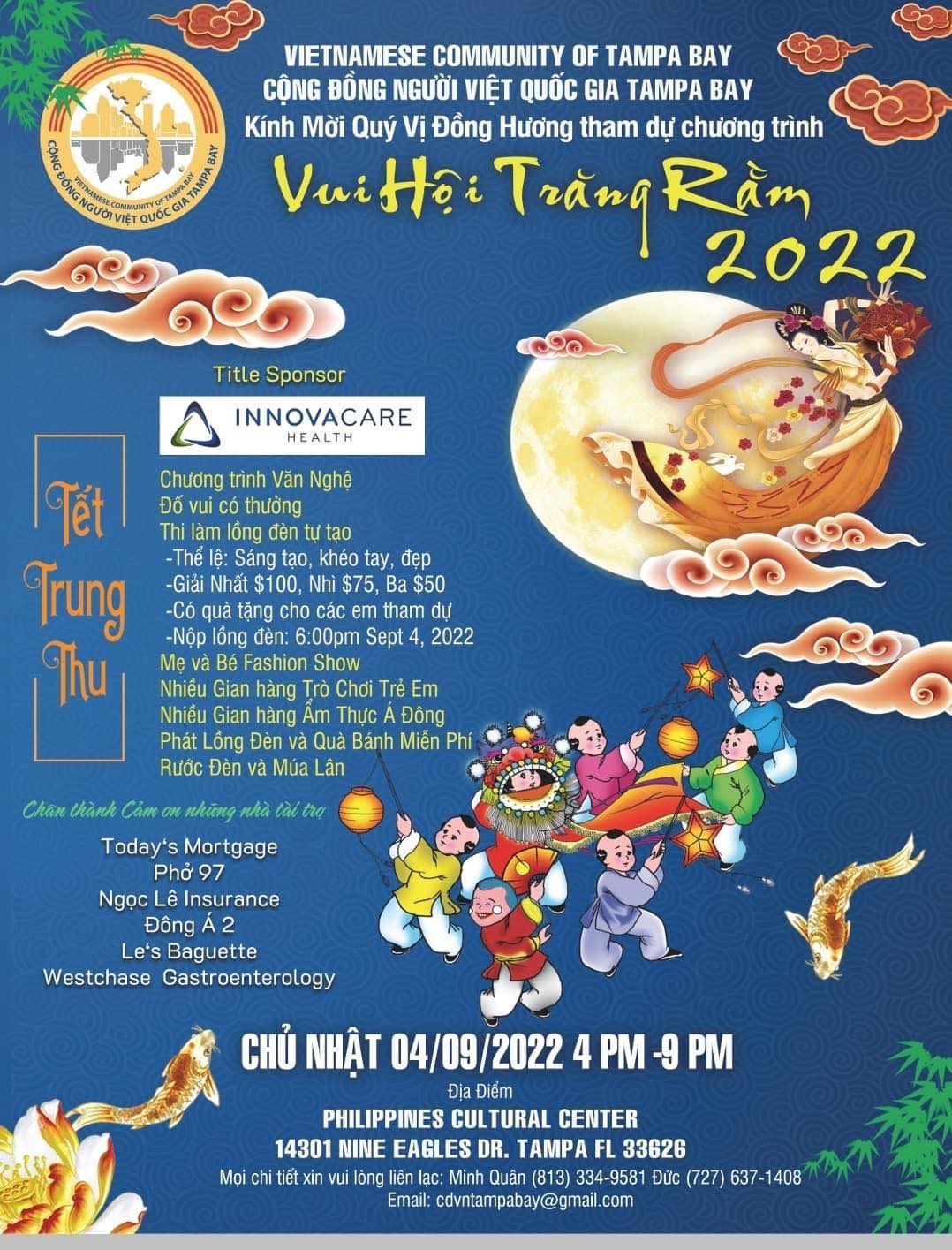 Vietnamese Community of Tampa Bay hosted the Vietnamese Mid-Autumn Festival on September 4th Sunday, 4 PM -9 PM at the PHILIPPINES CULTURAL CENTER in Tampa.
more info at https://asiatrend.org/event/vietnamese-community-mi-autumn-festival-in-tampa/
---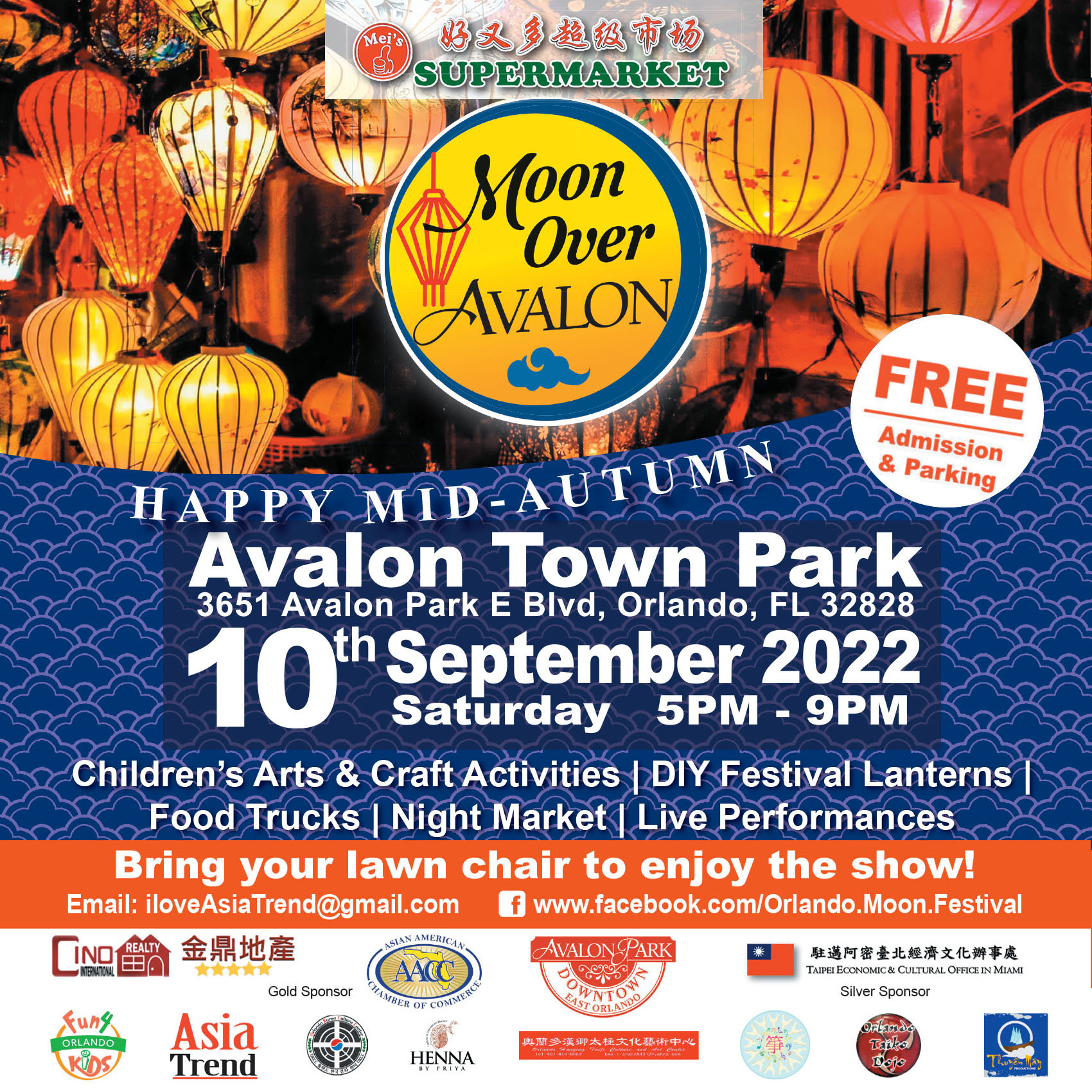 Asia Trend proudly presents the first annual Moon Over Avalon in partnership with Avalon Park Orlando and various non-profit organizations to bring joy, friendship and harmony in the Avalon Park district. You are invited to be part of this program as a participants. This 4-hour evening event includes children's arts & craft activities, DIY festival lanterns, origami, authentic foods and drinks, a night market, and live performances. Event is good for all ages and has free admission/parking. Please bring a lawn chair or blanket for the best experience.
more info at facebook.com/Orlando.Moon.Festival/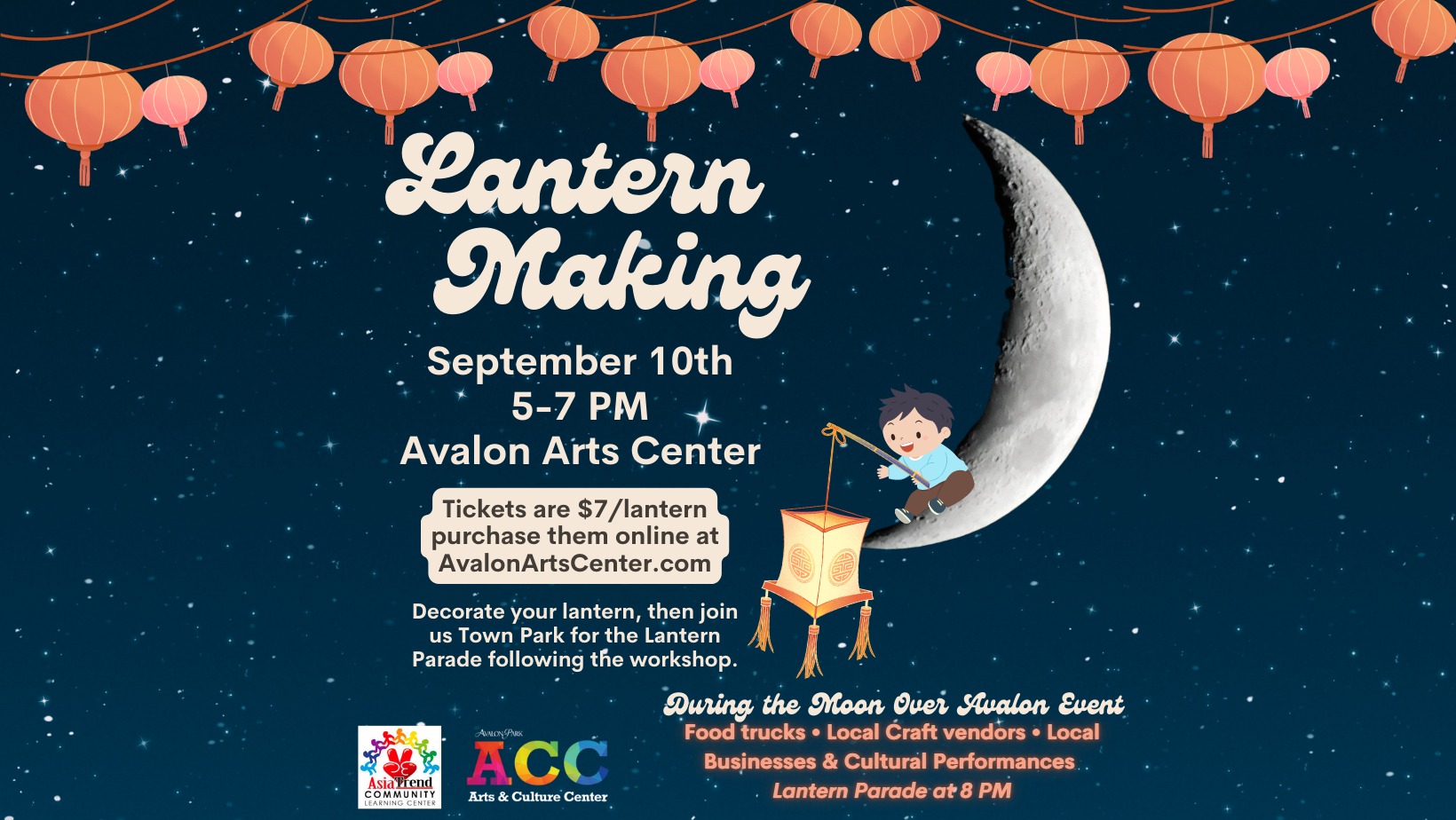 ---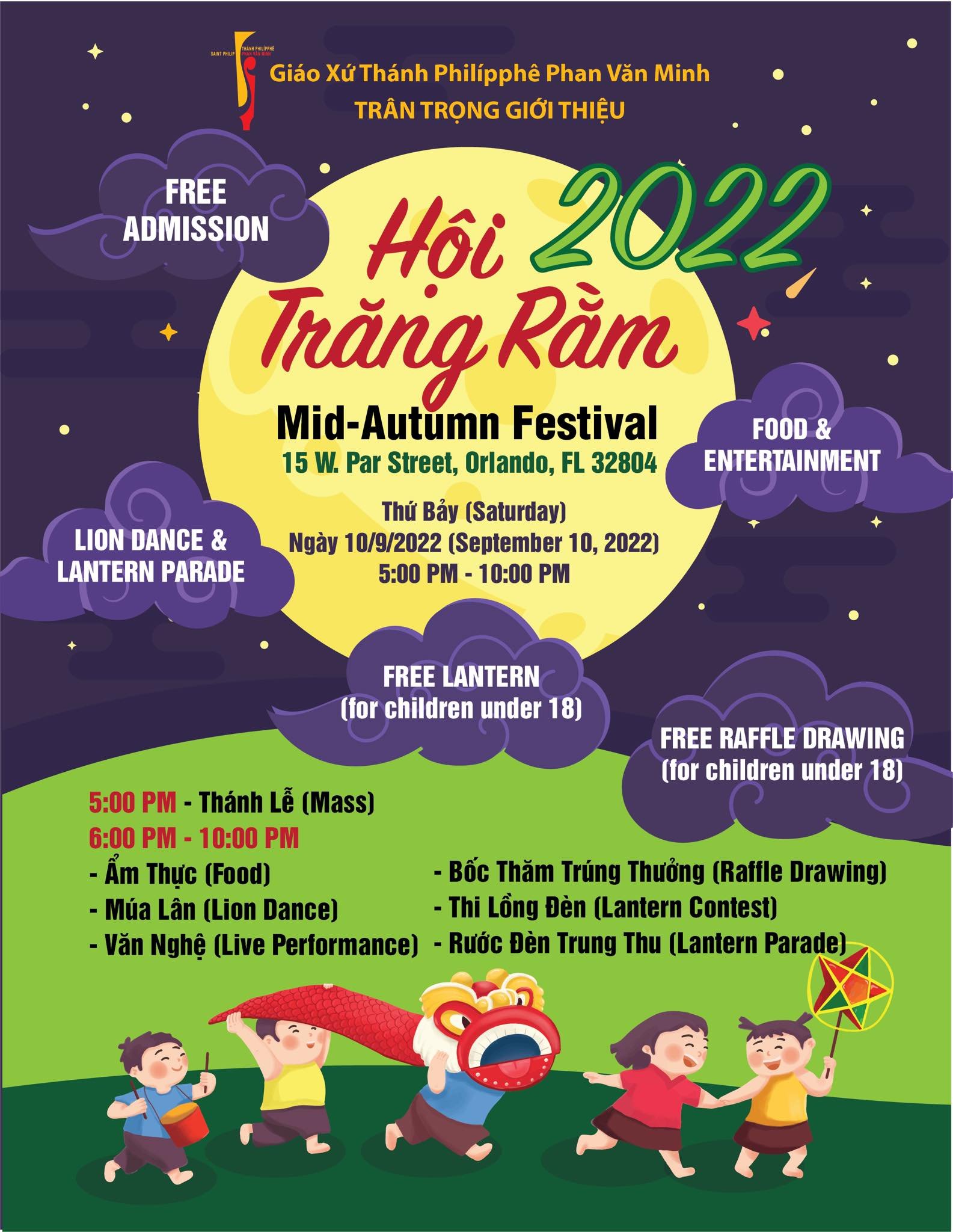 Mid-Autumn Festival on September 10, 2022 hosted by Giáo Xứ Thánh Philipphê Phan Văn Minh (Saint Philip Phan Van Minh Catholic Church) in Orlando.
more info at https://asiatrend.org/event/saint-philip-phan-van-minh-catholic-church-mid-autumn-festival/
---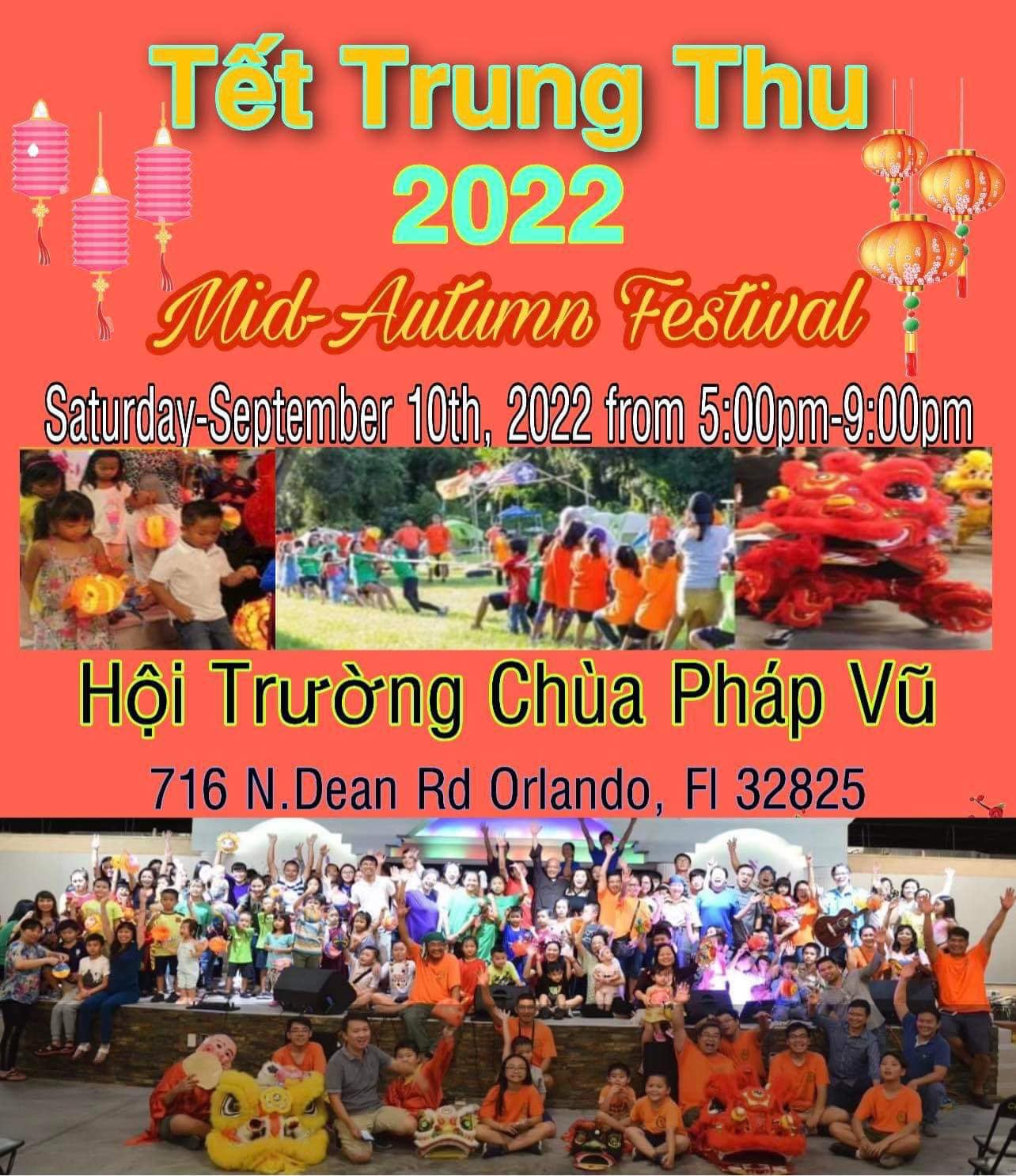 Mid-Autumn Festival at Phap Vu Temple Orlando on Sep 10, 5pm to 9pm
address: 716 N. Dean Road, Orlando, FL 32825
more info at https://asiatrend.org/event/tet-trung-thu-2022-at-phap-vu-temple-orlando/
---
ORIGIN & MYTHS, BELIEVE IT OR NOT
The Moon Festival legend about a love story of Hou Yi and Chang E. Once upon a time, there were ten suns rising in the sky, which scorched all crops and drove people into dire poverty. A legendary hero named Hou Yi was troubled by this. Channeling his superhuman strength he drew his bow and shot down the nine blazing suns one after another, ordering the remaining sun to rise and set according to time. For this, he was respected and loved by the people but angered the Jade Emperor. As punishment he banished Hou Yi and his beautiful wife Chang'e to live as mere mortals on earth. Both unhappy over the loss of their immortality, Hou Yi decided to venture on a perilous quest to find the elixir of immortality so that the couple could be immortals again. At the end of his quest he met the Queen Mother of the West who agreed to give him the potion, but warned him that each person would only need half the elixir to become immortal. Hou Yi brought the elixir home and stored it in a case. He warned Chang'e not to open it and then left home for a while, Chang'e became curious and opened up the case, found the elixir, then swallowed the entire elixir. Her body floated off the ground, drifting out the window and flew towards heaven. Chang'e kept on floating until she reached the moon.
WHAT TO DO
On the 14 of lunar August, one day before the moon festival evening, we call this evening the "Moon Welcoming". The moon has almost reached its roundest and fullest shape. People will start walking on the streets with color paper lantern in the shapes of animals, and more recently, in the shapes of planes and spaceships.
On the 15 of lunar August, the moon festival, the moon is in the best shape this night. Families will get together to have dinner for a reunion. We will then gather and talk, enjoy moon cakes, which made of ground lotus and sesame seed paste, egg yolk and other ingredients (very much like having turkey at Thanksgiving) and various kinds of seasonal fruits. Besides, many people today like to go out to attend special performances in parks or on public squares.
On the 16 of lunar August, the day after moon festival, people still go on the street or beaches to enjoy the "moon-bathe". We called it "Moon chasing".
AFTER THE FESTIVAL
People usually have to stay home and finish up all the leftover food and go on diet if you have put on too much weight after eating all those mooncakes.
From the writer: The reason I like this festival the most is the romantic side of it. For nowadays busy life, it is wonderful to get together with the ones we love and we miss for all year long.
Comments