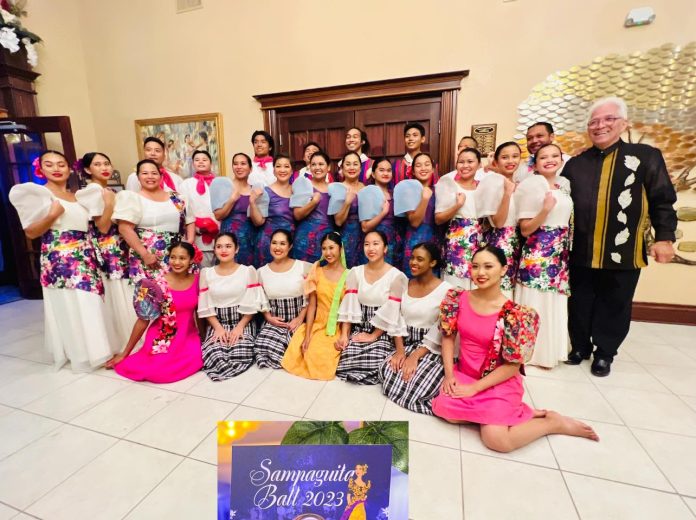 Saturday, September 23, 2023 – Tampa, Florida. The Bayanihan Arts and Events Center of the Philippine Cultural Foundation, Inc. (PCFI) of Tampa was the gathering of beautifully dressed to impress ladies, many in their Filipiniana gowns and some even with their husbands in spectacular matching "Barong Tagalog," the national shirt for men in the Philippines, designed by the best couturiers in the Philippines.
The event was the 29th anniversary of the annual Sampaguita Charity Ball of PCFI, now considered one of the grandest balls on the East Coast, if not in America. The theme of the evening was "Elegansia Filipiniana."
Four hundred eighty guests from all over Florida and other states attended this year's ball. There were also representatives from the National Federation of Filipino-American Associations of America (NaFFAA) Southern Region, headed by Melviona Thomson, President. Beauty queens who added glitter and glamour to the already elegant evening ambiance were also in attendance. The newly crowned Miss Filipina International 2023 Matea Mahal Smith, who will represent Florida in the next Miss Universe Beauty Pageant in Manila next year, was also in attendance. So was Victoria Johnson, who was crowned as the Miss Earth Philippines Florida 2023 at the Fiesta Mo Sa USA last July and will be competing for the Miss Earth Philippines in Manila next year. Past and recent winners of the "Pageant for a Cause" from Fiesta Mo Sa USA were also present in abundance.
Many attend the Sampaguita Ball of Tampa because of the unique concept of the event compared to many Filipino events all over America. The ball is planned for one year by selected hard-working members of the Sampaguita Ladies Society and committees. Only reservations are accepted, and there are no tickets for sale for the ball. People are required to pay as they reserve. If payments are not received, reservations are released to another guest. The evening is strictly a formal event wherein long evening or long Filipiniana gowns and Barong Tagalog or Tuxedo are strictly required to attend the ball. But despite all these reminders, a handful of people came in short cocktail dresses and some bright-colored suits. There is a misunderstanding about a cocktail dress and a formal evening gown. When it is a formal event, a tuxedo or dark-colored suit with a bow tie is always the look, and the ladies are in long evening gowns. The Sampaguita Ladies have pledged to strictly enforce this dress code next year.
At 7 pm sharp, they started with singing the national anthems of the United States and the Philippines, followed by the theme song of PCFI with original lyrics composed by Atty. Roberto Ruelo, and original music composition by Nhick Ramiro-Pacis, sang by the ever so talented Philippine Choral Group conducted by Connie Chanrasmi.
Then Arnell Biglete, Chairman of the Board of PCFI, and his wife, Lissa Biglete, Chairman of the Sampaguita Ladies Society and Sampaguita Ball 2023, gave their welcome speeches. The "Rigodon de Batangas" welcome dance was choreographed by Ren Candelario and performed by PCFI officers and community leaders. The Rigodon presentation has been a tradition at Sampaguita Ball since its start Twentynine years ago.
The $125-$150 per person event includes complimentary valet parking, a live Filipino band, a Deluxe Open Bar all night, seven-course Chinese laureate dinner, a spectacular kaleidoscope of songs, music, and dances, as the entertainment presented by the three cultural arms of PCFI, the Musikong Kawayan-Bamboo Ensemble, the Philippine Choral Group, and the Philippines Performing Arts Company dancers, all in one specially choreographed by Kamille Janess and Ren Candelario entitled "Pastoral Suite," with musical arrangement and lyrics by Nhick Ramiro-Pacis, PCFI Director of Cultural Affairs and conductor and composer of the Musikong Kawayan Bamboo Ensemble.
Next year will be the 30th anniversary of the Sampaguita Ball. Reservations open as early as February 2024. Please mark your calendars for next year's Sampaguita Ball; it will be another sold-out event and will take place on Saturday, September 28, 2024. The Sampaguita Ball Committee will start planning as early as January. There will be three chairpersons for next year's 30th anniversary: Dr. Ma. Bissonnette, Mrs. Marly Balderama, and Mrs. Nenita Sweet.
Photos by ARIEL SINCO PHOTOGRAPHY and JOJO FLORES
Comments