Fusion Fest was a great experience for me to partake in. I had never been there before, and I didn't know what to expect. All I was told was that it was the blending of cultures through music and food. Upon arriving I saw many people colorfully dressed in their native garbs. What surprised me was when I would look up and see the culture of one country mashing with the music from another. That was exciting and the creativity of all these performers left me with a smile.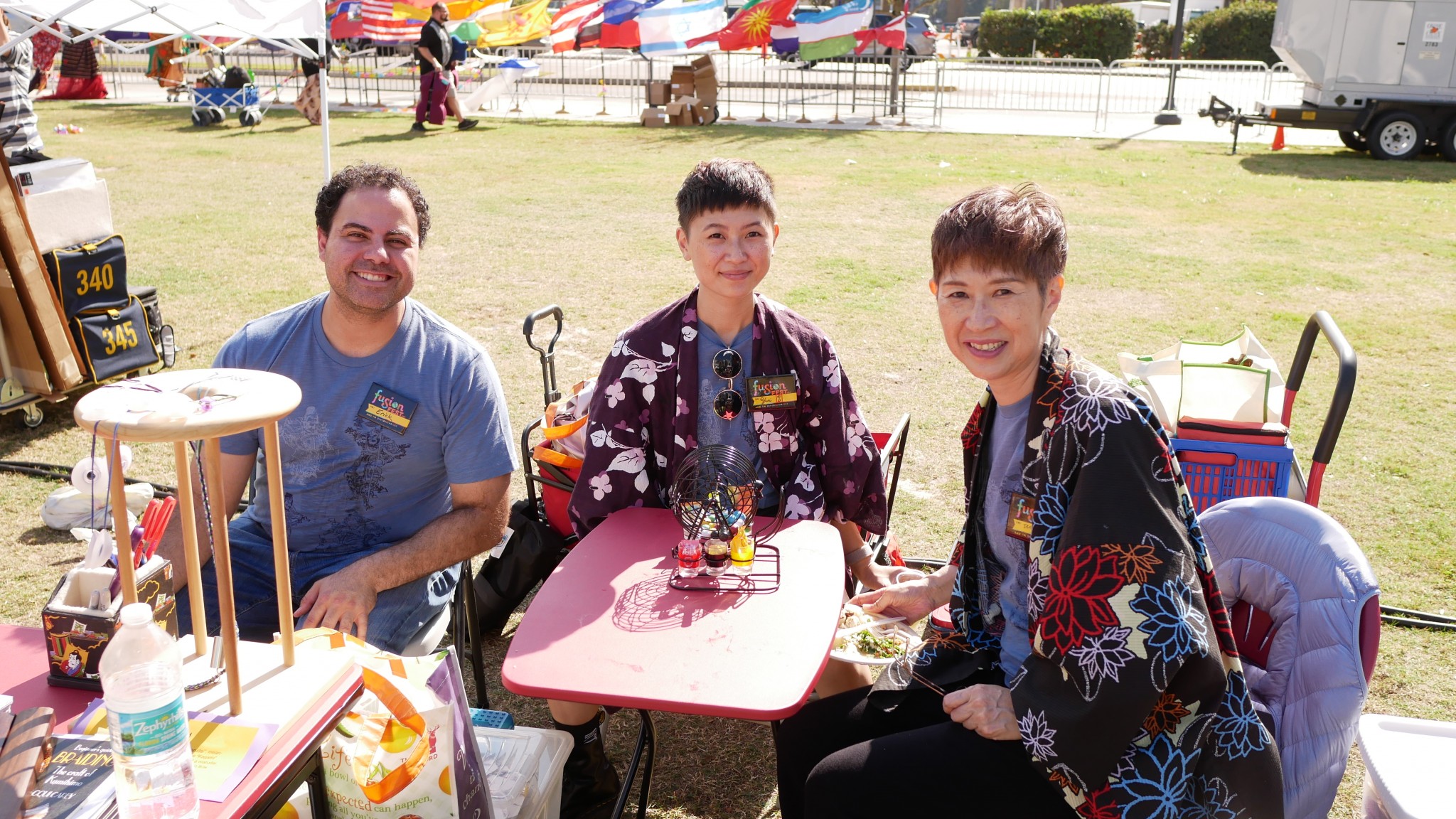 I was helping Yuni and Izumi Sakurada. They had their booth promoting Japanese heritage. Izumi would give out a parchment of Japanese calligraphy and Yuni would play bingo and other games for Japanese candy. My job was to bring people to the booth, talk to them about Japanese culture, specifically the calligraphy, and open the minds of people to what this corner of the world had to offer. We had many people stop by asking for their names in Japanese. They were all amazed at the proficiency and attention to detail that Izumi-san had. I loved talking about the differences between the Japanese language ad English and seeing people reactions to it.
The token system was an ingenious way to do the currency. It simplified their menus and made deciding what to eat much quicker. The hard part was going back for more tokens. There were many different countries to try and different dishes to savor. I didn't get to see the other two stages because I had to work, but the main stage never disappointed. The music sifted through the stalls and kept everyone lively and in a good mood. Especially with the wind being against us.
The wind was so strong that three people holding down a tent could hardly do it. The wind did have two positive roles; one, it kept the day from being too hot, and two, it showed us how people always come together to help their fellow man. We had people from two different booths come and help us keep our tent from flying away or worse breaking. Then we had 4 more people come and help take down a bigger tent that was being unused as it loomed over the vendors. These people helping each other showed what fusion fest was about. I left this festival with great memories, a full belly, and a craving to come back next year and see what's new.
FusionFest organized by Terry Olson, Director of Orange County Arts & Cultural Affairs in 2018. more info at fusionfest.org
Comments