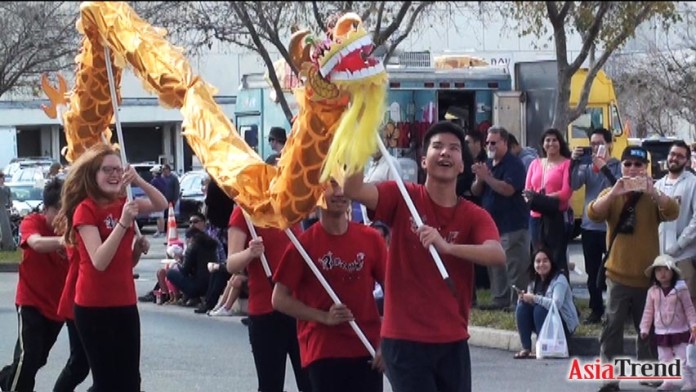 REACH (Recognizing Experiencing Asian Cultural Heritage) was one of the four organizers to host the 2016 Dragon Parade Lunar New Year Festival. REACH collaborated with various middle schools and high schools from all parts of the central Florida in an effort to create the 80+ volunteers that helped to make the festival run smoothly and efficiently.
There is a long list of responsibilities and tasks REACH completed for the event. This includes decoration for the parade and preparation and set up for the venue on the day before. On the day of, REACH managed the set up, stage support, 3 booths, parade, emceed the parade, and assisted in breaking down the event. These tasks are just part of one event among the several REACH participates in throughout the year.
REACH is an organization that mobilizes our members to get involved in the local community by volunteering. Besides the Lunar New Year Festival, REACH members also volunteer at the Asia Cultural Festival, participate in a county wide toy drive for Frontline Outreach and Harbor House, and compete and volunteer at the Annual Orlando International Dragon Boat Festival, and more!
REACH brings together students from central Florida and also the Asian Student Associations from all over Orange County Public Schools to volunteer at the various events. REACH provides a platform for officers and members to build teamwork, to demonstrate leadership and responsibility, and to give back to the local Asian community. If you attend middle school to high school and would like to get involved in the local community or participate in the events we do, please join REACH by signing up at ww.reachocf.org. I look forward to seeing you at the next event!
Article: Corey Hsiao / President of REACH of Central Florida 2016
Comments