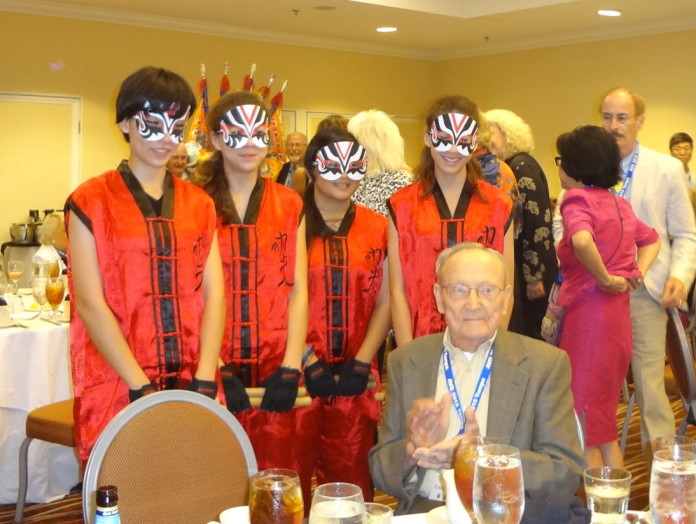 May 15th and 16th were special nights for attendees of the 74th annual reunion honoring WWII heroes, the American Volunteer Group (AVG) Flying Tigers. The Flying Tigers Association (FTA) held their annual reunion in Tampa.
The association was formed right after the end of of WWII to support AVG members and their families, as well as keep the legacy of the Flying Tigers alive. The Flying Tigers are a group of volunteers that served in the Chinese Air force during the WWII era and were a great help to the Chinese military in its fight against invading Japanese forces. The soldiers were stationed in Kunming, Yunnan province between December 1941 and September 1945. Over the course of four years the Flying Tigers shot down 2,600 Japanese military planes, destroyed 44 warships and killed 66,700 Japanese soldiers.
On the 15th, the Taiwanese Chamber of Commerce held a welcome banquet attended by 70 members of the FTA and 30 members of the local Chinese community dined together at Hong Kong House. Frank Losonsky and Ed Stiles, two of the four surviving members of the Flying Tigers, attended.
Frank has also written a book about his experiences during the war titled Flying Tiger – A Crew Chief's Story. He flew the famous Camel Peak Aviation Route across the Himalayas, the so called "death route," delivering urgently needed military supplies to support China's War of Resistance. After the war, he returned to China and flew goods between India, Burma and China.
The next night the FTA and SACA organized a dinner show. The Tampa Chinese School provided an exciting performance with lion dancing, drumming, and dancing by San Tai Zi (Third Prince). It was a heart warming night. Several heartwarming stories were shared by the AVG families and the Chinese community about the impact of the Flying Tigers.
The families of the Flying Tigers are very grateful for the warm reception. You can visit www.flyingtigersavg.com to learn more about their legacy and support the association.
Thank you to Hong Kong House for the banquet. 1120 East Fowler Ave., Tampa, FL 33612
Article: Jacqueline Collier
Comments