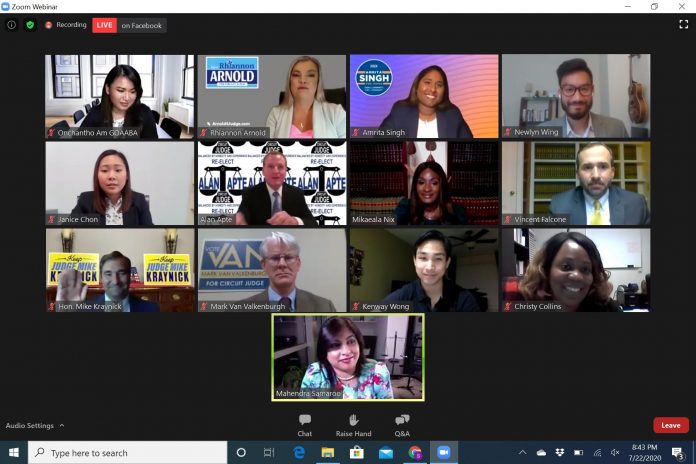 Greater Orlando Asian American Bar Association ("GOAABA") and the National Association of Asian American Professionals ("NAAAP") hosted the 2020 Judicial Candidate Forum on Wednesday, July 22 from 7:00 p.m. to 8:30 p.m. via Zoom and Facebook Live.
The purpose of the Judicial Candidate Forum was to give Orange & Osceola County voters, including the Asian American Pacific Islander ("AAPI") community an opportunity to hear candidates discuss the issues of importance to them in this election. The event was free and open to the public. The candidates also answered questions from the public during this moderated event. The forum was moderated by GOAABA board member, Avita Samaroo of Samaroo Law and the NAAAP President, Newlyn Wing. Ms. Samaroo lead the discussion portion. While Mr. Wing led the Q&A portion. Many community members submitted questions for the candidates.
The other team leaders include GOAABA President, Onchantho Am, who led the ceremony; GOAABA President-Elect, Kenway Wong, chaired the community questions; and GOAABA board member, Janice Chon, served as time keeper.
The guest speaker for the evening was the Honorable Chief Judge Myers. He shared with the community his role as Chief Judge and further explained the integral role of a Circuit Judge. According to the Ninth Circuit Court website, there are currently 66 judges presiding over 590,000 new cases each year.
Although there are a total of 8 candidates, only 4 seats are open for election. That means within each group there are 2 candidates competing for the seat. The candidates are:
This event was sponsored by the Florida Bar Young Lawyers Division and Samaroo Law.
---
Stay tuned for the upcoming events:
Comments