Orange County Fire Rescue Department is in the midst of its largest hiring initiative to date, and it recently announced its Go Beyond campaign to recruit prospective firefighters. One of its firefighters/paramedics, Joshua Ritter, has dedicated himself to recruiting people, especially those of Asian descent like himself.
"When I became a firefighter 15 years ago, I was the extreme minority as far as Asian Americans were concerned, and I wondered why this was the case," said Ritter, currently of engineer rank with Engine 44 Battalion 7. "I quickly realized it was a cultural thing, so I set out to change perceptions."
Ritter, whose mother is Korean and father is German-American, began reaching out to the local Asian community, and he found third- and fourth-generation Asian Americans tend to be more open-minded about choosing careers in public service, so he decided to spread the word about the benefits of a career in the fire department.
"They don't think they can do it, but I tell them they can and that the opportunities are there," he said. "These kids are hitting adulthood and realizing they don't have to be a doctor or lawyer like their parents want. My mom was devasted when I told her I was joining fire rescue, but today she brags about me all the time."
The memory of 9/11 was still fresh in Ritter's mind when he graduated high school in 2005, and the sacrifices those firefighters made had a lasting impact on him. A hurricane also came through Central Florida at that time, and he remembered firefighters removing debris and helping residents. He joined Orange County Fire Rescue straight out of high school and has since broadened his experiences by serving four years in the Air Force and volunteering on a seven-month National Science Foundation mission to Antarctica as a proud representative of OCFRD.
Today, Ritter's community outreach ties in nicely with his current training assignment working with new fire recruits during a 10-week orientation program. "Bringing people in and getting them excited about this job has become my mission," he asserted. "It sounds cliché, but what I love the most about this job is having the opportunity to help people, and I want to make others aware that they can do this, as well."
"Our goal is to build a department with the best possible firefighters for the job and part of that effort is to be a department that also reflects the wonderful diversity within the community that we serve," said Fire Chief James M. Fitzgerald.
Although outreach into the Asian community is a newer initiative, the County is committed to it, and Ritter is happy to be an ambassador in that regard. "I tell young people if they want excitement and action, and the opportunity to be a hero and help people, the fire department is the way to go," he said. "Welcoming more representation from the Asian community is a great thing for the department."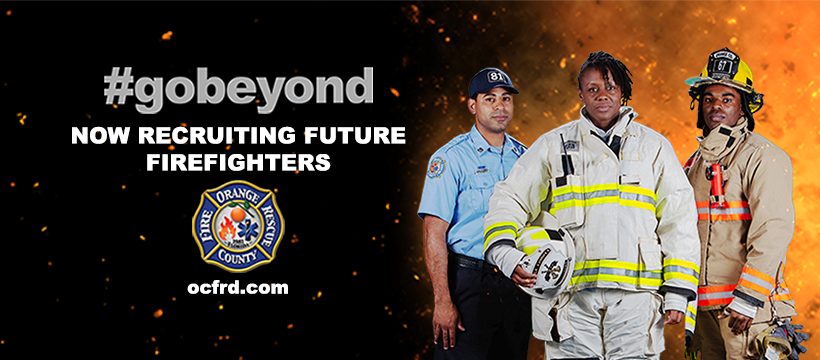 Interested candidates should submit their interest to recruitment via ocfrd.com/interestcard.
Orange County Fire Rescue Department, Florida Facebook: https://www.facebook.com/OCFireRescue/
Orange County Fire Rescue Department, Florida instagram: https://www.instagram.com/ocfirerescue/
Comments