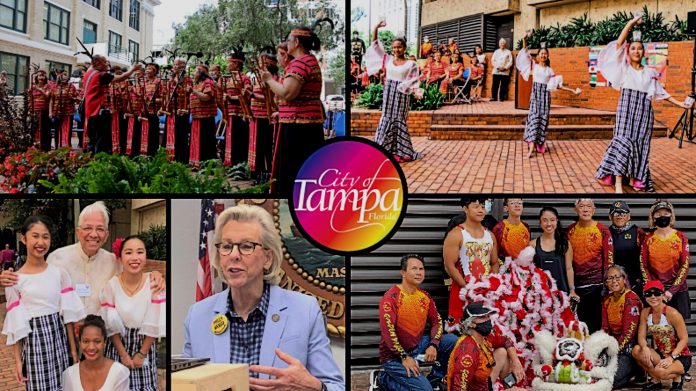 On May 20, the City of Tampa hosted the first Asian American and Pacific Islander Heritage Month Celebrations on the grounds of the old City Hall and the Tampa Municipal building downtown.  
City Of Tampa Mayor Jane Castor invited Tampa Asian communities to join the AAPI Heritage Month of May. Event featured the Philippine dancers and the members of the Musikong Kawayan-Bamboo Ensemble representing the Philippine Cultural Foundation, Inc. (PCFI) and the Philippine community of Tampa Bay.  Members of the different Asian community were also present including the ever enjoyable Lion Dance from the Suncoast Association of Chinese Americans (SACA). 
Tampa Mayor Janet Castor who gave a very inspiring speech. Event emcees were two Filipina ladies Raquel Pancho and Zarra Elias who were alternating as emcees in introducing all the special guests. Joey Omila, the PCFI Director of Cultural Affairs, introduced the Philippine performers starting with the three lovely young dancers from the Philippine Performing Arts Company namely Selena Nicor, MarianaLynn Canent Togado who is the current titleholder of the National American Miss, and Dominique Fernandez who performed the skilled Philippine dance called "Binasuan" where the girls were balance glasses on their heads and palms while dancing and rolling on the floor. They were immediately followed by two musical pieces from the Musikong Kawayan Bamboo Ensemble arranged by Nhick Ramiro-Pacis that were enjoyed by everybody.
Event photos by: Mariben Anderson, Nhick Ramiro-Pacis, and Lynn Canent.
Comments