The tenth Annual Central Florida Dragon Parade Lunar New Year is back in person this year after it was canceled in 2021 because of the pandemic. Dragon Parade has returned to ring in the Year of the Tiger, bringing unity and solidarity among the Asian American community as well as the Central Florida community. Dragon Parade is an annual event put together by Mills 50 –  City of Orlando Mainstreet District, Asia Trend, REACH of Central Florida and YESS.  This year also marked the return of the parade to the Mills 50 District, an integral hub for the Central Florida Asian-American community and a hotbed of trendy small businesses and urban art.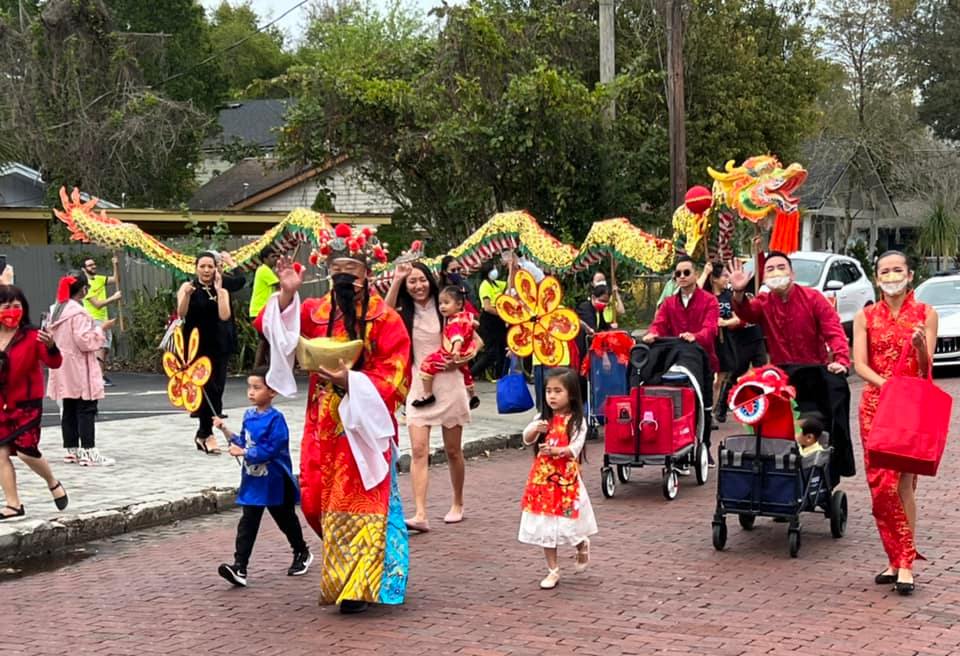 Since outdoor events are very much in the mercy of the weather, when the forecast showed it was going to rain in the morning on Sunday 13th February, everybody was getting worried! Well, it did rain in the morning on the day but thank Goodness, the sky started to clear up about an hour before in downtown Orlando where the 10th Annual Dragon Parade Lunar New Year would take place along N Thornton Ave! Whilst the organizers were prepared to delay the start but by around 11am the parade was able to set off as scheduled – Hurray!
This year, there were a total of 53 parade teams from various sectors such as the City of Orlando Mayor, City and Orange County elected officials, local police officers, sheriff deputies, local business owners, and over a dozen of Asian Associations joining this hour-long community parade.
Highlight of the parade would naturally be the dragon and the lion dances with the powerful sound of drums; also the Japanese drums (katsugi) of their delightful sound and pleasing formation! Another group that caught my eyes was the young students from the karate academy who did a wonderful display under the command of their Sensei! The colorful dresses worn by the members of the Ancient Chinese Costume Society was a new addition this year along with the Maid Cafe Mikkusu brought to you by Wasabi Anime!
Seeing all the smiling faces of the kids and adults alike on both sides of the road, the photos and videos taking and hand waving, I trust this is another very successful Dragon Parade! May there be many more to come!
To learn more information about the event, visit the website: CentralFloriDadragonParade.org

To view additional photos and videos of this year's festivities, visit their Facebook and Instagram page: www.facebook.com/Orlando.Dragon.Parade and www.instagram.com/dragonparadecfl 
Comments