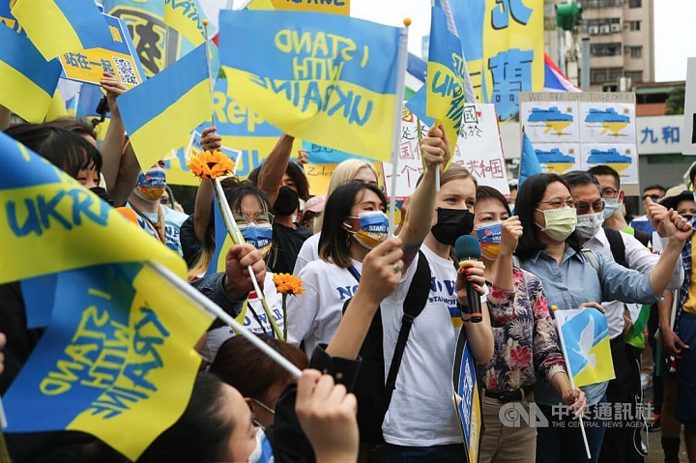 (CNA) Hundreds of people of different nationalities participated in a march in downtown Taipei on March 13 to show solidarity with the Ukrainian people as Russia's invasion of the eastern European country entered its third week.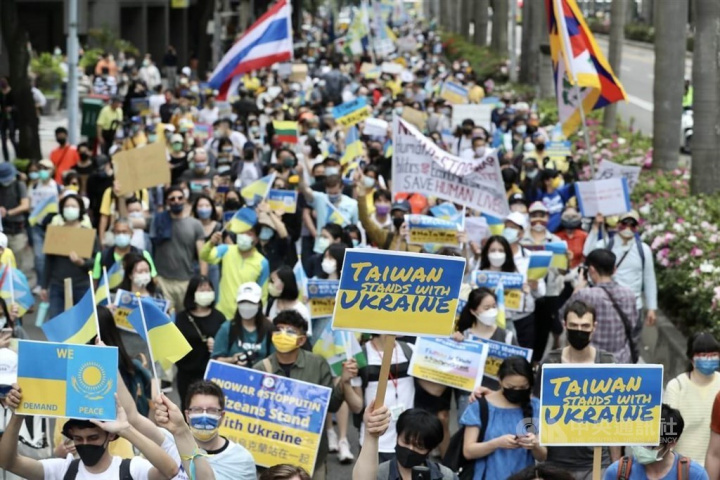 The event began at Da'an Forest Park at 1:30 p.m., and featured speeches made by Ukrainians in Taiwan and their Taiwanese supporters, as well as a performance of the Ukrainian national anthem.
After chanting slogans such as "Taiwan stands with Ukraine," the group then headed north along Xinsheng South Road, before turning left and walking west on Ren'ai Road until they reached Ketagalan Boulevard in front of the Presidential Office.
Speaking at the march, Ukrainians Alex Khomenko and Daria Zheng thanked Taiwan's people for their support at a time when Ukraine is facing this serious crisis.
Khomenko, one of the march's organizers, said his mother was currently in the United States, but she has heard about the plight of one of her friends in their hometown in eastern Ukraine.
"She heard that one of her friends is still stuck in a five-story apartment building that has been badly damaged by bombings. They could not leave because their 90-year-old grandmother is still with them," he said, describing that as the reality faced by his countrymen every day.
Calling the situation in Ukraine "heartbreaking," Khomenko called on people in Taiwan to continue to support Ukraine and keep the momentum going.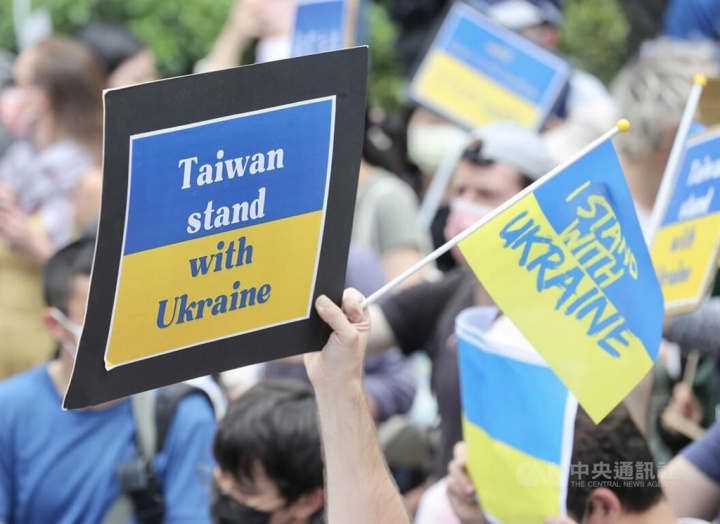 "Please act, please donate, please talk to your Taiwanese government representatives, talk to companies that still refuse to pull out of Russia," he said.
The march came after Taiwan has announced a series of measures to show its support for Ukraine.
A Taiwan government-designated account has received NT$578 million (US$20.32 million) in donations in just a little over a week since it was established on March 2.
Large amounts of supplies have also been brought or sent to the Ministry of Foreign Affairs' (MOFA's) Taipei headquarters after the agency opened a donation drive on March 7 asking people to provide goods and medical supplies for Ukrainian refugees.
The government has also said it would join in international sanctions against Russia, but has yet to detail any specific products sanctioned, and has not moved to stop the import of its biggest import items from Russia, including coal and natural gas.
MOFA did announce on Friday, meanwhile, that it was opening Taiwan's doors to Ukrainian refugees who have family members in Taiwan.
Ukrainian nationals can apply for a special visa to travel to Taiwan if they have relatives in the country who are either Taiwan nationals or alien residents holding Ukrainian passports.
The eligible individuals under the plan must be Ukrainian passport holders and be able to present documents proving they have relatives in Taiwan, according to the ministry.
Previously, only foreign spouses and minor children of Taiwanese citizens or legal residents were allowed to enter Taiwan due to the COVID-19 pandemic.
Khomenko told CNA he applauded the government's decision to open its doors to Ukrainian refugees, and said he has shared the information through his network.
According to Khomenko, there are around 250 Ukrainians who have residency in Taiwan.
Khomenko hoped, however, for a more comprehensive opening by Taiwan to foreign nationals in general, especially students, professionals, and businesspeople, in a move he said would also be beneficial to Taiwan.
Zheng, who has lived in Taiwan for over five years after marrying her Taiwanese husband, also felt that the latest MOFA announcement on opening its doors to some Ukrainians was very much welcomed.
She said her mother and her 13-year-old younger brother have left Ukraine for Poland, before moving again to Germany because Poland has been overcrowded with refugees.
Zheng said her mother and brother are not likely to apply for visas to Taiwan because they want to stay closer to home and be able to return as soon as the war is over.
But she believed the policy will be very helpful for those who have the need because it offers an extra destination for Ukrainians who have left their country to escape Russia's attacks.
Sunday's march concluded with singer Kimberley Chen's (陳芳語) performance of John Lennon's famous hymn for peace "Imagine."
Also Sunday, the opposition Taiwan Statebuilding Party held a rally in Kaohsiung to show support to Ukraine that was attended by about a dozen Taiwanese and one Ukrainian living in the southern city.
Comments