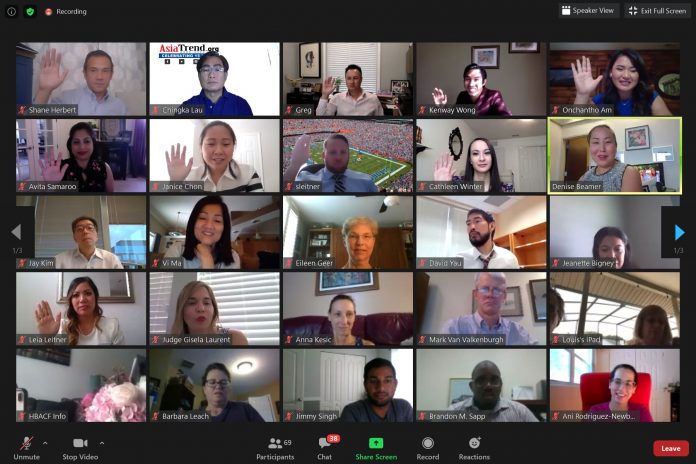 July 2, 2020, marked a special celebration for the Greater Orlando Asian American Bar Association ("GOABBA"). With over 70 Zoom attendees spread across the United States they witnessed Judge Denise Beamer induct the following GOAABA members to the Board:
Onchantho Am, President;
Kenway Wong, President-Elect;
Shane Herbert, Secretary;
Scott Leitner, Treasurer;
Janice Chon, at-large board members;
Cathleen Winter, at-large board members;
Avita Samaroo, at-large board members;
Greg Maaswinkel, at-large board members;
Shante Pressley, at-large board members; and
Leia Leitner, Immediate Past President
GOAABA shared a video montage of all the past events from 2019-2020 highlighting all the hard work accomplished by the Board during Leia's year as President. The ceremony also consisted of the passing of the Gavel "Red Envelope" which all 10 of the Past Presidents shared words of wisdom and encouragement as they passed the red envelope to the next President. They include Glenn Leong, Jessica Hew, Kim Gray, Sunny L. Hillary, Wanda M. Reas, Lisa Gong Guerrero, Christine Berk, Vanessa Braga, Annie Kwong, and Leia Leitner.
Prior to the Incoming President's speech, the (Former) Florida Supreme Court Justice Barbara Pariente introduced Onchantho. Her kind heartfelt remarks were profound and left the room in awe. The President, Onchantho, started her speech teary-eyed but with much conviction. She shared her story of overcoming the challenges of aging out of foster care to graduating from the University of Florida and Stetson Law. She contributes her achievement to people she met along her journey. These people served as support pillars to her bridge. Each person she met built upon each pillar to create a stronger foundation of her bridge to a better future.
Onchantho's focus for this year is to follow in the footsteps of the prior Presidents to support the mission of GOAABA but she wants to take it one step further and hopes GOAABA will serve as a support pillar to the Asian American Pacific Islander Community. She ended her speech by giving tribute to her Board for committing to this journey. She gifted them each a Red Envelope Pin explaining that the significance of the red envelope was actually the red color, not the money inside. Onchantho said proudly to her Board "What I hope you gain from this journey is far more valuable than money – it's that although this journey may have its unique challenges during these unprecedented times, we will face them boldly together." Leaving them with this quote "Leadership is building a bridge that connects the vision with the purpose, in order to empower those who are around us." — David Walker
---
About GOAABA
GOAABA's mission is to represent and advocate the interests of the Asian Pacific American community of the Greater Orlando area, to encourage and promote the professional growth of the members of GOAABA, to facilitate client referrals and to broaden professional opportunities for Asian Pacific American attorneys, to foster the exchange of ideas and information among and between the members of GOAABA and other members of the legal profession, the judiciary and the legal community, and to coordinate legal services to Asian Pacific American communities in the Greater Orlando area.
GOAABA already has many upcoming event which align with GOAABA's mission statement and Onchantho's vision. They include:
7/22/2020 7-8:30 pm — Judicial Town Hall
8/5/2020 7-8 pm —— Orange County Sheriff Candidate Forum
9/9/2020 7-8 pm —— General Elections – Voting 101
If you want to know about GOAABA please email [email protected] or follow them on Facebook, Twitter, Instagram.
Comments