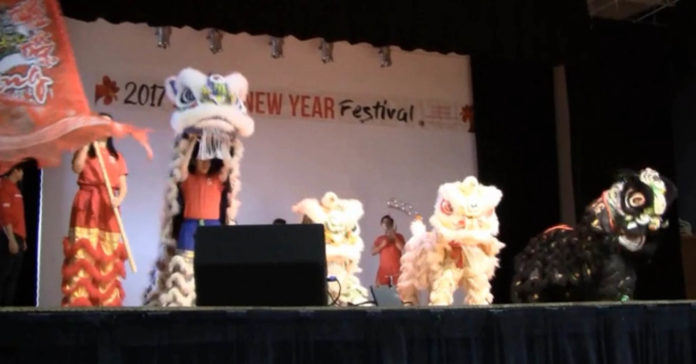 Thousands came out to see the dancing lions and dragons to welcome the Lunar New Year at the Chinese Community Center in Houston, Texas on January 28. 2017. Many of Houston's VIPS also participated in the celebration with greetings in Mandarin and English.
"I'm so glad to be here. I've come here every year for about 10 years or more to join all of you in celebrating the new year.  This is the year of the rooster. Such a great year," said Miya Shay, emcee of the opening ceremony and performances.  Shay, who was born in China, is a KTRK-TV news reporter.
As the nation's fourth largest city geared up for Super Bowl LI, Houston Mayor Sylvester Turner also officially proclaimed the celebration day as "The Chinese Community Center 2017 Lunar New Year Festival Day in Houston."
"This is one of the most favorite times of the year. It represents new beginnings and new endeavors. There is something magical about Houston, our spirit and our commitment to diversity. Speaking from experience, I know that Houston is the type of city where you can start from anywhere and become anything. Certainly this community
knows something about that. Over the years, the Houston Asian community has given us great public servants and business leaders and I want to thank all of you for that," said Mayor Turner.
"This is a time to cheer on our culture, our food and our history for friends and our family… and to pass it on to future generations.  You have a Happy New Year! Hsing Nin Qi Loh!,"  said State Representative Gene Wu of District 137.
The Chinese Community Center's  Lunar New Year celebration also included Chinese Xiang Xiang  folk dances, a Yo-Yo performance, Japanese Kendo, Hawaiian Hula and Tahitian Dance, Ballroom Cha-Cha, Mariachi in Chinese, Kung Fu, Indian and Mongolian dances,  the North American Youth Chinese Orchestra and the Houston Symphony String Duo.
There were other activities in thel center.  Senior citizens sold colorful Chinese lanterns to raise money for the cultural center while visitors tried out Chinese calligraphy and games in the center's classrooms.  A Lunar New Year's feast also was on display to explain what each dish symbolized.
Minh Thu Vo and Siovon Ha, who are Chinese Vietnamese,  brought their children to the festival to perform in the lion dances.  The two women came to the United States as immigrants and became American citizens.
"It's a time for us to remember our culture because we've been here a long time and we forget our culture.  It is a time to remind us of our culture,"  Vo said.
"We're used  to the U.S. traditions here and so a celebration like this brings back our home. It reminds us how we celebrated in our home when we were younger,"  Ha said.
Outdoors, a diverse great wall of visitors filled the bazaar area for Asian food, free giveaways, arts and crafts.  The Rooster Bean Bag game was very popular with families and children.  As lion dance performers weaved through the crowd, Houston Police officers also were there to keep this Lunar New Year celebration safe for everyone.
Comments