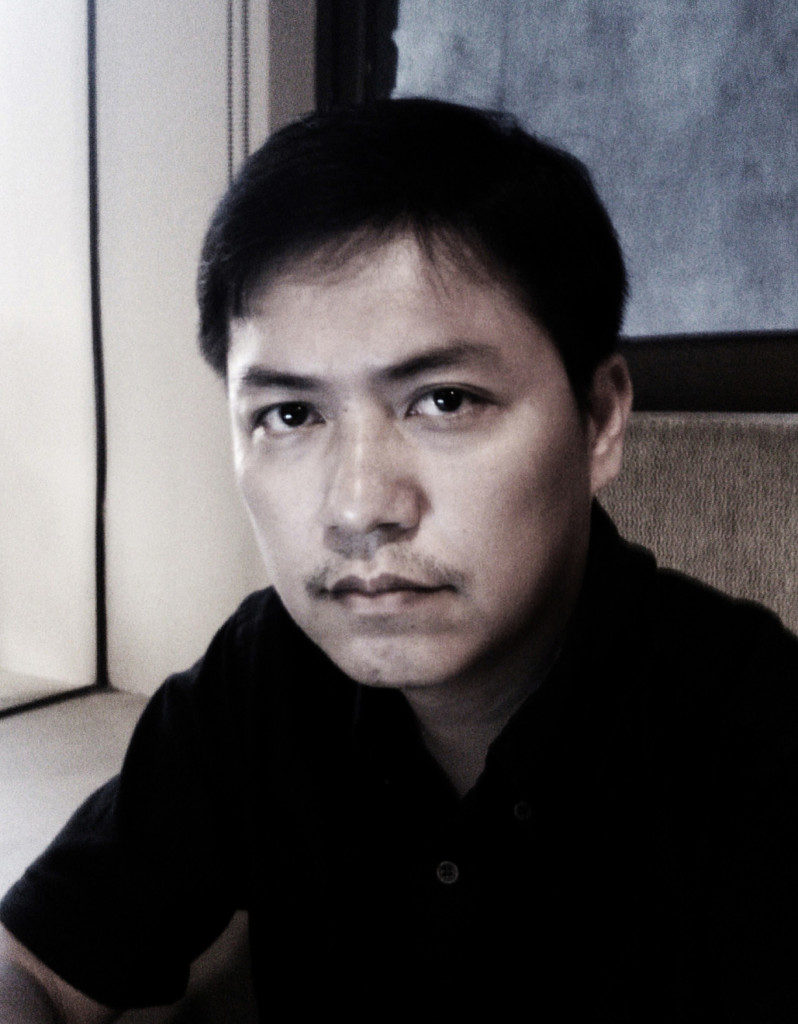 When I met Professor Wu, Ming-yi (吳明益), he was sweating profusely as he pulled up on an old bicycle. It was no wonder he was so exhausted, after riding this bicycle through busy traffic and rainstorms for ten hours. He had given a lecture for his fans at a small bookstore in Chiayi (嘉義) during the previous day, and was meeting me for an interview before his lecture and book signing event at the Lingo Bookstore (林檎二手書室) in Tainan City (台南市). I was ready to snap a few photos for the interview, but he sharply declined. He didn't allow me to take his photograph during the entire interview session, but he gave me permission to take a photo of his bicycle. I was taken aback by his directive, but I later understood that this was an important part of his mysterious marketing style.
In this day and age, where novelists pursue fame and book sales through publicists, media, international book fairs and social media, this internationally-reknowned author's approach has been atypical. Wu, Ming-yi spent his Summer vacation promoting his new book, The Stolen Bicycle (《單車失竊記》), in a dramatically simple way. The novel was inspired by this environmental activist's love for bicycles and Taiwanese history. Professor Wu designed his islandwide book promotion campaign consisting of lectures at small, independent bookstores throughout Taiwan. He would ride an antique bicycle around the island to visit each location, which is not an easy feat during a Taiwanese Summer.
"Why would you endure this torture, as part of your promotional campaign?" I asked. This soft-spoken academic replied that he wanted to get his readers back to the simpler times in Taiwanese history, when life moved more slowly, and people spent more time face-to-face with friends and neighbors. It was a time when bicycles were the preferred method of getting around, and cycling allowed people to digest and appreciate the details of the world around them. It was also a time when society wasn't damaging the environment as much.
We proceeded with the interview, and I learned about his background. The professor is a literary academic who found his gift for sharing his knowledge, experience and ideas in a thought-provoking and entertaining way. He didn't begin his career as a novelist. Wu, Ming-yi enjoyed sharing the knowledge that he learned about Taiwan's flora and fauna in his research papers, and started building a following of people who appreciated his message of ecological conservation. Eventually, he began toying with the introduction of creative fiction to enhance his message, and his career as a novelist developed. Success growing a fan base in Taiwan was not easy, until he partnered with a talented literary agent and translator, who helped him to generate unexpected success overseas.
Before we concluded our interview, Wu revealed to me why we were meeting in a tiny bookstore with barely enough room to conduct an interview. He described his promotional style as something I would translate as "retro" or "grass-roots." He preferred to connect personally with his fans, so he only chose small venues and limited the attendees of his lecture/book signing events to a maximum of 30 people.
"People appreciate the opportunity to connect with me more intimately," the author said, "and I don't have to worry about marketing myself with social media, when my readers are so passionate about what I share that they do a great job of promoting the books with existing technologies." Indeed, the author has a substantial presence on social media and the Internet, thanks to his fans. He said it was ironic that he was a marketing major in college, and he has chosen to go against everything he learned about marketing and promotion. When I witnessed the standing-room-only crowd in the tiny Lingo Bookstore, I saw people who were thoroughly engaged and mesmerized by the magical words of Professor Wu. I understood that these people were treated like friends and family by the author, and not like customers. As a result, Wu did not build a following of fans, but a growing team of passionate advocates for his message and for the environment.
I still wondered how this former marketing major was able to achieve this type of loyalty by shunning the modern marketing tools at our disposal. Why did a well-respected, successful author choose a slow, grueling, sweaty book promotion schedule at small venues around Taiwan while riding an antique bicycle? And why did he stop me from taking a photo with him? I was still sore about that. But, I noticed that none of his fans were allowed to take his photo, and they didn't seem to mind. It furthered his reputation as an approachable man who preferred to have a meaningful discussion over coffee rather than take a selfie with a fan. As I walked out the door, I understood that Wu, Ming-yi was a GENIUS in his unconventional choices. He didn't need fame or recognizability, as his always-intriguing, yet consistent, message was what mattered to him and his fans. And his message always involves getting back to the basics, to return to our basic humanity, which in turn, restores the world as well. Can this message of getting back to the basics really be conveyed by the messenger using computers, YouTube, tablets, and smartphones? I finally got it, and I bet Professor Wu will endure more heat and sweat to make sure more people get it, too.
Article: Tony Coolidge
Comments