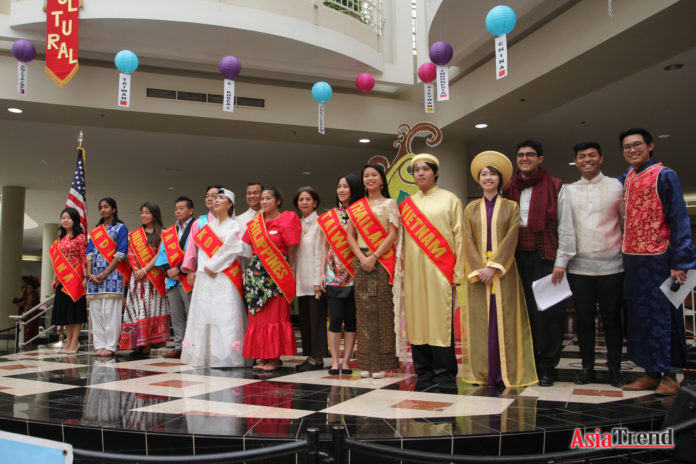 On May 27, 2017, the Asian American Heritage Council (AAHC) hosted their 2017 Asian Cultural Festival, an immersive cultural experience of taste, sights, and sounds. This annual festival commemorates May as Asian Pacific American Heritage Month and features related international food, multi-cultural entertainment, hands-on activities, cultural goods, and festivities at the core of Orlando Fashion Square Mall. Snaking through the food vendor-lined halls, a bustling crowd encircled a black and white checkered stage and was treated to a full international program of thirty international performance numbers featuring nine different Asian and Pacific Island countries. There is no reason to be hungry at the festival. I found more food than my ever-dwindling stomach could handle at very reasonable prices. Entering the mall from theater-side, I turn right for homemade chicken and Pad Thai and left for Vietnamese spring rolls. If not enough, there was Chinese food, vegetarian options, and so much more.
The 11:00 am–4:00 pm entertainment was a crowd-pleaser, opening with a festive performance by the Orlando Young Lions. The MCs kept the audience involved and relevant with cultural trivia and novel activities such as riddles and prizes à la gameshows, Facebook Live activities, and audience waves. Traditional dances covered a good portion of the program, offering not only beautiful entertainment but also cultural repertory overflowing with historic and symbolic depth. India, Indonesia, Philippines, Taiwan, Thailand, and Vietnam are but a few of the many participating groups that offered traditional dances and storytelling spectacles. China, Japan, and Vietnam additionally featured various martial art styles and traditions of Tai Chi Chuan, Karate, and Vovinam. Chinese Yoyo and Filipino Tinikling were also varieties among the program. Korea also made the first appearance in the program with wonderful folk songs soon following. I hope that the new addition of Korea to the program will be but the first of many more countries and performing groups to come.
There is simply not enough time and space to mention each performance, all equally enjoyable and educational! The performances are worth every chance of explaining, and even more worthwhile when having the chance of firsthand experiences. Fortunately, this is an annual event for those who have and will come to AAHC festivals.
But the AAHC Asian Cultural Festival has lasting values and effects beyond food and entertainment. Every sponsor, participant group, and board member who worked so hard to unify this successful event must be credited as integral perpetuators of traditional Asian heritage and culture in the face of our ever-modernizing society. I mean this as a second-generation Asian who has grown up witnessing and experiencing the first-hand cultural diversity my generation (and subsequent ones) are facing, sandwiched in between our parents' Asian traditions and our socially inherited, Americanized customs. Sometimes, our native language falls to the byway with English vernacular and our heritage and culture deemphasized in our daily, time-governed lives.
It does not have to be that way. I do not have to choose one culture over the other but rather, I must understand my cultural position as an Asian American. But to see myself in both cultures, I must first truly know what my cultural heritage is. The Asian Cultural Festival helped me understand how and why I appreciate my cultural heritage, and the potpourri of international performances taught me how to appreciate each culture.
I must stress that the Cultural Festival is not only one day's worth of cultural immersion. Everything that unfolded onstage was a product of weeks and months of preparation as well as inter- and intracommunity involvement. Imagine how each group gets together every week to practice for this one moment. Within each practice session or day are the often-overlooked aspects of interpersonal, lingual, and cultural translation and transference between group members. Older, more culturally experienced adults pass on customs and traditions to younger generations with love and guidance. These unspoken acts translate pieces of culture and custom, day-by-day and over time to my generation and beyond.
The AAHC Asian Cultural Festival positively encourages this relationship and preserves culture on so many different levels. It raises intercultural and intracultural awareness, promotes heritage, preserves culture, and creates the depth of personal understanding. Additionally, all proceeds from the festival benefit the annual Asian Student Achievers' Scholastic Awards meant for encouraging student success and beyond. This responsibility falls on the appreciated, valued, and continued support of event sponsors and vendors alike. It is not the result but the process that creates a whole—in this case, the AAHC Asian Cultural Festival. It is my hope that the annual festival continues to grow in audience attendance as well as sponsor, vendor, and organizational participation. With this, I reflect on Lao Tzu's words: "The journey of a thousand miles begins with a single step."
Photos: Chris Tran, Adrian Lee, Sunny Wong, Shally Wong, and Gary CK Lau (To view the photo albums at www.facebook.com/asiatrend)
Comments