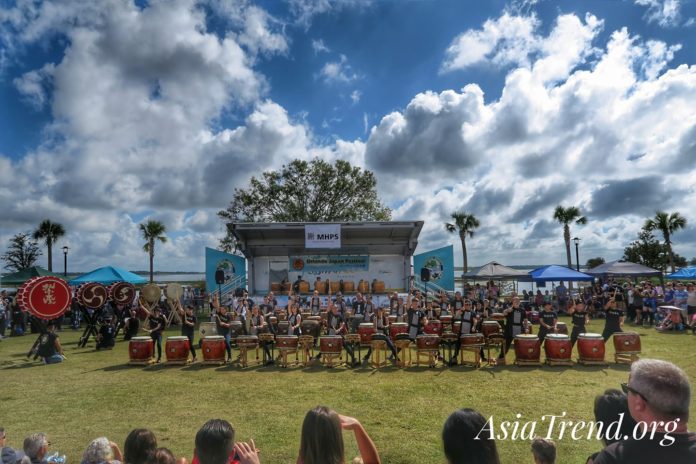 Japan has rich culture and history with myriad customs that are famed for being unique not only in East Asia, but internationally as well! The Orlando Japan Festival showcases these traditions in a festive and welcoming atmosphere that was definitely memorable.
On Sunday November 5, The Japan Association of Orlando held their 17th Annual Japan Festival at Lakeshore Park in Kissimmee. From the powerful beat of the Taiko drums, to the graceful movements of the dancers to the delicious food served at the many stalls, this festival is a community favorite every year!
The festival had no shortage of food vendors, serving favorites like curry, takoyaki, onigiri and various noodle dishes! Of course there were plenty of desserts ranging from the iconic dango to the aesthetically pleasing shaved ice. There were plenty of booths selling various Japanese wares such as traditional goodies as well as anime and manga merchandise.
The festival kicked off in the morning with opening remarks from the Consul General of Japan all the way from Miami with encouraging words to the Japan Festival, the day went on with a diverse range of performances including the Orlando Taiko Dojo's performances, traditional Japanese music on instruments like the Koto and the Shamisen, traditional dances, martial arts demonstrations as well as cosplay. Guests could have also dropped by a few booths to take photos in traditional Japanese clothing, a great memory to have of the festival. There was something to enjoy for people of all ages, meaning everyone was able to walk away with appreciation for Japanese culture regardless of age and interests.
It was great seeing the community come together to appreciate Japanese culture, and it is no secret that everyone is excited for next year's as well!
Photos: Herny Wong, Shally Wong, and C.k. Lau – Asia Trend Magazine (http://AsiaTrend.org/)
Orlando Japan Festival videos at Asia Trend Youtube Channel 
Comments