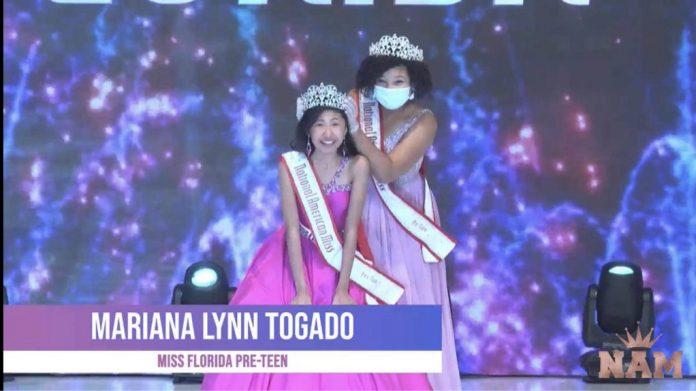 MarianaLynn Togado, 12, proud daughter of Lynn and Francis has captured the prestigious title of the 2020-2021 National American Miss Preteen at the NAM National pageant held in Orlando, Florida during Thanksgiving week. She is the definition of never giving up on her dreams. 
National American Miss (NAM) is dedicated to developing the success of young women across our nation with a program that is designed to be age-appropriate and family-oriented. Pageants are held in each state for girls ages four to eighteen in 5 different age divisions. The National American Miss Pageants are for "Today's Girl" and "Tomorrow's Leaders." The pageant competition includes public speaking, a one-on-one interview with the judges, an evening gown, and on-stage question and answer. Emphasis is placed on the importance of gaining self-confidence, learning new skills, learning good attitudes about competition, and setting and achieving personal goals. The pageant seeks to recognize the accomplishments of each girl while encouraging her to set goals for the future! MarianaLynn is looking forward to a year of traveling across the country and representing NAM and its goals. 
MarianaLynn's remarkable climb to the top of the ladder began at the age of 6 in the Princess (ages 4-6) division. She came home empty-handed on that first try, but instead of deflating her dreams, it energized and challenged her, vowing to herself that she will never give up.  The following year she joined the pageant again and this time she reached the second runner up at the state level. Back in 2015, she wrapped up as NAM All-American National Princess 2nd runner up and in 2019 finished as 1″ runner up to NAM All-American Preteen. Finally, her dream became a reality on November 28, 2020 when she captured All-American the title of National American Miss Preteen.  
She has been on the principal's honor roll list consistently since kindergarten, a member of the National Junior Honor Society, and Gold Presidential service award recipient. She has a strong Involvement in various Filipino organizations, Philippine Performing Arts ("Indak Pambata", Filipino Cultural dance group), church lector, and a sponsor for kids' education in the Philippines through Answering the Cry Of the Poor (ANCOP). Some of her hobbies include competitive dancing. Vocal Intensity singing troupe, and acting as a lead role for various musicals. Along with her community service work with Answering the Cry of the Poor where she sponsors kids' education in the Philippines, Pinellas Hope where she gathers friends to make meals for the homeless, and Keep Pinellas Beautiful where she has environmental stewardship, she was also recognized with the award of "Outstanding Youth Environmental Stewardship" The pandemic has inspired MarianaLynn to turn the negative into positive as she continued achieving her goals by reading books to a kindergarten class via ZOOM, sending books to first responders through Operation Paperback, making hundreds of paracord survival bracelets for Operation Gratitude, sorting nonperishable foods through Feeding Tampa Bay, and packing hand-sanitizer bottles for the children in the Ronald McDonald House. MarianaLynn continues to be inspired in everything she gets involved in because of her unending desire to give back to others. Most of all she hopes to be a role model for all ages with her quote "you are never too young or too old to make a difference in your communities"
Comments