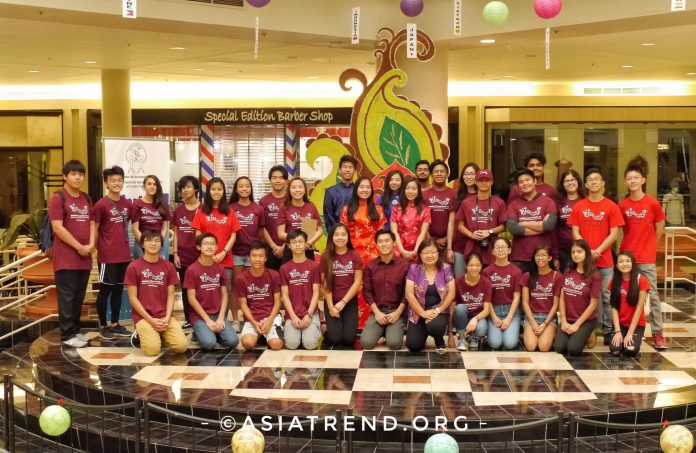 I still remember my first time volunteering with REACH as a seventh grader and trying to sell orchids to fundraise for REACH. Two years later, I was at my first board meeting. Our group of officer was small enough that we could all fit in one room.
Since then, REACH has expanded tremendously, with over ten schools represented by REACH members and officers. As REACH's president for the 2017-2018, I've had the incredible opportunity to serve in this amazing organization and help oversee its growth this year.
At our first major event, the Asian Cultural Festival, we had 67 volunteers who were eager and to fundraise for REACH and assist with the event's setup and teardown. This first event saw the transition into the 2017-2018 board, as well as implementation of digital record keeping and improved volunteer communication.
As REACH continued to expand this past year, we had our inaugural REACH-Out Field Day at Avalon Park. Created to foster a sense of community and unity with REACH officers and recruit new members, this event resembled a "normal" field day with fun games and friendly competition. Since officers from different schools don't typically interact with one another outside of REACH meetings and events, REACH's field day sparked a greater sense of community within the organization.

Another highlight of the term was REACH's participation in the Walgreens International
Dragonboat Festival. Although our dragonboat team has been relatively successful for the past six years, interest in paddling with REACH has continued to rise over the past few years, leading to competitive tryouts. With a good mix of new paddlers wanting to try out dragonboating and experienced paddlers who loved the sport, the team ultimately came together over the course of six practices and hard work. Despite cancelled practices from Hurricane Irma, the team pushed through to win 1 st in the Premier Mixed B Consolation Final and set a new team record!
The Asian Cultural Expo happened that same day, with officers and volunteers partnering with AsiaTrend to educate visitors on Asian culture with interactive exhibits.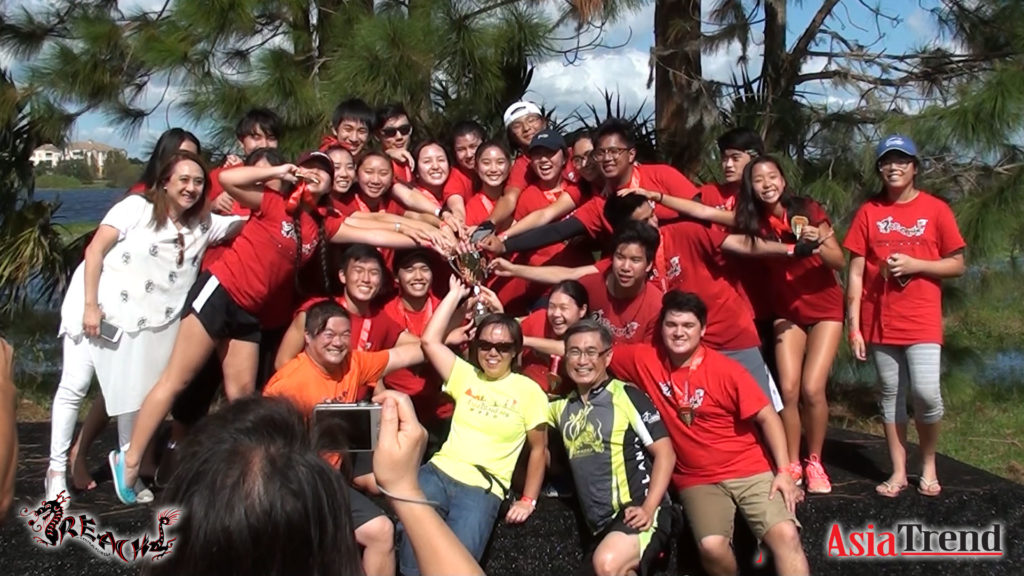 While REACH continued to participate in our core events, we expanded our horizons by
partnering with United Against Poverty Orlando to learn about and combat the impacts of
poverty in Central Florida. In addition to collecting 606 toys and fundraising for UAP in our
annual toy drive, we had the incredible opportunity to get involved with UAP's work by
volunteering at their Christmas Mall program. The Christmas Mall allows low-income families to personally shop for gifts for their children so they can celebrate Christmas by creating meaningful memories and traditions together. Throughout the day, REACH members serenaded the shoppers with Christmas music, assisted with the GroceryShare program, and learned more about UAP through tasks such as repainting and envelope addressing. As we served, we experienced the joy of giving during the holiday season and witnessed the tangible impact our toy drive had on the lives of others.
A few months later, several REACH members joined United Against Poverty's Quack Attack on Poverty 5K to fundraise for UAP. As the REACH team ran & walked the trail with a duck floaty and navigated bubble zones, we experienced a greater sense of community and had fun as we supported a meaningful cause. Our members walked away from both events with a greater sense of community and gratefulness for the abundance we live in, as well as a desire to change the lives of those in poverty. We hope to continue partnering with UAP in the years to come.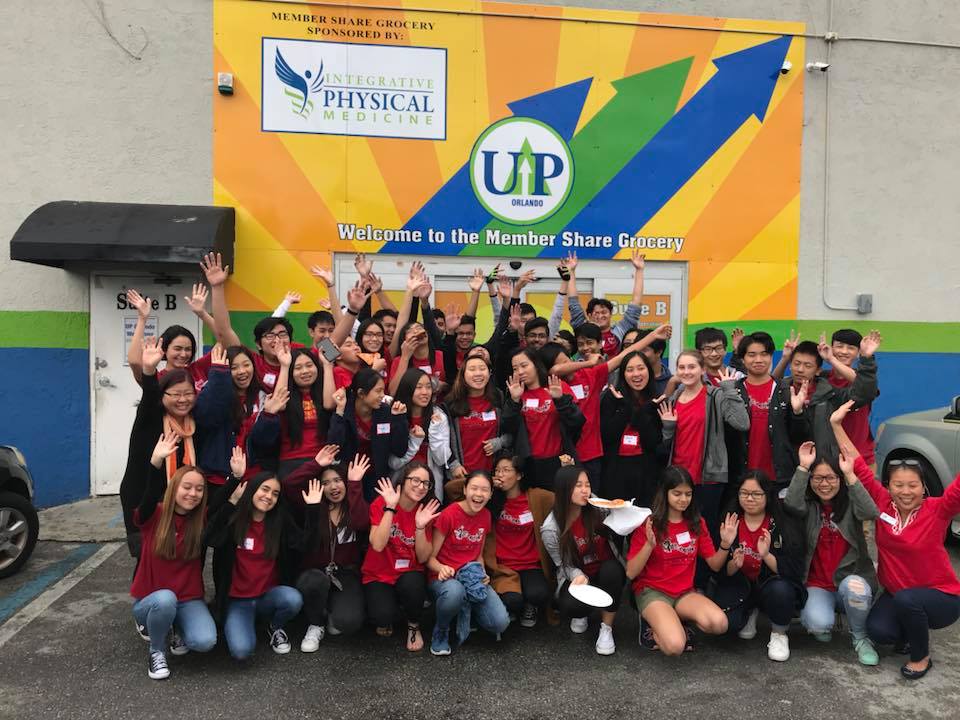 For the first time in a few years, the Central Florida Dragon Parade Lunar New Year Festival
was held outside by Mills50. In addition to fundraising and assisting with elements such as
teardown and stage, REACH members participated in the parade with the REACH banner and flag performances. 65 volunteers came to help us with one of our largest events of the year and celebrate the Lunar New Year.
Along with involvement in REACH's four main events, officers and volunteers participated in
several other events around Central Florida, including paddling in the CAACF Duanwu Festival, volunteering at the AAHC Scholarship Ceremony & Orlando Japan Festival, and cleaning out the YESS Center to prepare for the transition out of Orlando Fashion Square.
With this past term, REACH began to focus more on improved communication with its officers, members, and volunteers. This led to the development of the communications department in the upcoming term, which will include a newsletter, blog, and increased social media presence for our members to stay connected. Other changes included officer reflections for REACH officers to reflect on their goals, growth, and leadership development this past term.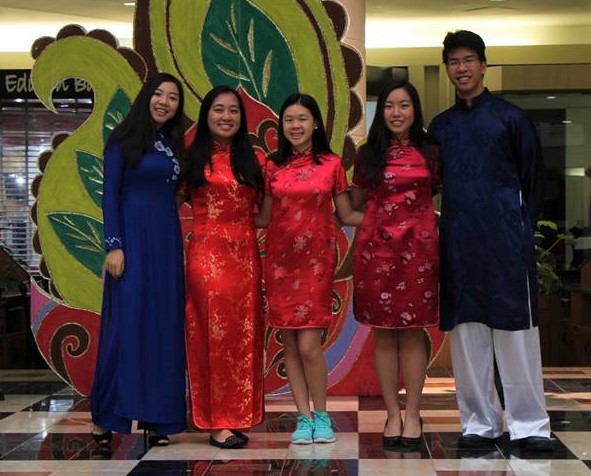 As new schools begin their involvement with REACH, we've educated new officers and
witnessed tremendous growth from new schools such as Freedom High, Hagerty High, and
Seminole High. University High recruited the most REACH volunteers, illustrating the
influence of returning schools on REACH.
While REACH went through many changes this year, with it came growth and an increased
awareness of Asian culture and REACH's goals. Throughout these past four years, REACH has truly taught me to Recognize and Experience my Asian Cultural Heritage in a way that leaves a positive impact on the Central Florida community. As REACH continues to grow, I hope to see this mission carry through in each of our events and interactions with others.
Thanks to REACH's 2017-2018 Executive Board, our chair Pauline Ho, United Against Poverty, our volunteers, and Shally Wong, & C.K. Lau for your commitment and for helping to make this year such an incredible one!
Article by Sarah Joe
Comments