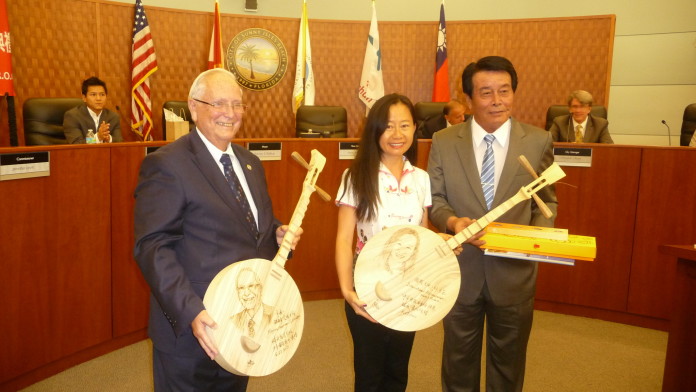 Sunny Isles Beach, Florida has a new Asia Sister City! After becoming sisters with Netanya, Isreal and Taormina, Sicily, Italy, Sunny Isles Beach Mayor Norman S. Edelcup on June 17, 2013 signed the official sister city agreement with Hengchun, Taiwan, ROC! The twin cities were first introduced by Sunny Isles Beach resident as Sunny Isles International Ambassador to Asia, Fang Oliver.
After two years of planning by Mrs. Fang Oliver, two cities finally reached an agreement. Hengchun Mayor Yeh arrived at Fort Lauderdale airport on June 15 with his wife and ten government and tourism delegates.It was their first visit to the USA for each of the Taiwanese delegates. With some jet lag and after check-in at Sole oceanfront resort, the delegates were welcomed by Fang Oliver, Mayor Edelcup, City Commissioners, Taiwanese Chamber of Commerce Miami, Taipei Economic and Cultural Office, Overseas Chinese Affairs Commission and over one hundred leaders from the Asian community to enjoy a traditional Chinese nine course gourmet lunch at Chef Ho & Dim Sum Restaurant, Sunny Isles Beach.
After lunch, the delegation returned to oceanfront suites at Sole resort to clean up before joining the Grand opening of the New Sunny Isles Beach Oceanfront Pier Park, restaurant and fishing Pier. Delegates soon forgot feeling Jet lag as they enjoyed colossal grilled shrimp, tropical fruits and a calypso steel drum band playing for the crowd of over 2,500 from the new pier. Hengchun delegates were seated at VIP guests tables on the beach and invited to join the ribbon cutting grand opening of the pier. All enjoyed assorted entertainers, a fire lighted exotic sand sculpture and a spectacular fireworks display. Mayor Edelcup office also had a nice surprise for Hengchun Mayor: The first sky lanterns release in South Florida! For sure, it was a busy first day for the Hengchun guests.
During the five day visit, Hengchun officials played golf at the legendary Turnberry Isle Country Club and were invited by Florida International University for a tour and lunch to exchange ideas and discuss possibilities of a Taiwan student, professor campus exchange program. Other activities included discussions of tourism and cultural exchange. The group visited Gulfstream Village, Bal Harbour shops, Greynolds Castle Park and the site of the 10th annual Chinese Dragonboat Race Festival at Haulover Intracoastal Waterway Park. Sunny Isles Beach as 2012 title sponsor, entered a team of paddlers from the city and won first place in their division. Can we imagine future Dragonboat race competitions to include international race paddlers from Taiwan?
Since incorporation sixteen years ago, the city of Sunny Isles Beach, has seen increased Asian visitors and city residents.
Sincere appreciation was evident at the official signing ceremony in City Hall where a dozen students from the Coral Springs Chinese school sang the national anthem before the standing room only crowd. Gifts were exchanged including from Hengchun Mayor Yeh, three Moon guitars with burned images of the Mayor Edelcup, Honorable Vice Mayor Thaler, and Ambassador Fang Oliver. A Joy Orchid Magnolia tree was presented to the city by Taiwanese Chamber of Commerce Miami and will be planted in the new four acre Gateway Park and Butterfly Garden located on Rt. 826 & Collins Ave. in Sunny Isles Beach.
After the signing ceremony, New York Empire Szechuan restaurant located only one minute from Sunny Isles Beach provided four dish choices and dumplings while Mary Ann's Chinese Bakery donated pastries for all the community participants in Sunny Isles Beach reception hall. A final breakfast meeting was held oceanfront at the five diamond Acqualina Resort Hotel and Condominium and a spectacular dim sum lunch was enjoyed at the Tropical Chinese restaurant before departing Miami.
As friendships, educational, tourism and cultural exchanges grow, everyone can receive location information from www.FangOliver.com and follow Hengchun on the Sunny Isles Beachwebsite of sister cities. www.sibfl.net
Article: Keith Lawrence
Comments