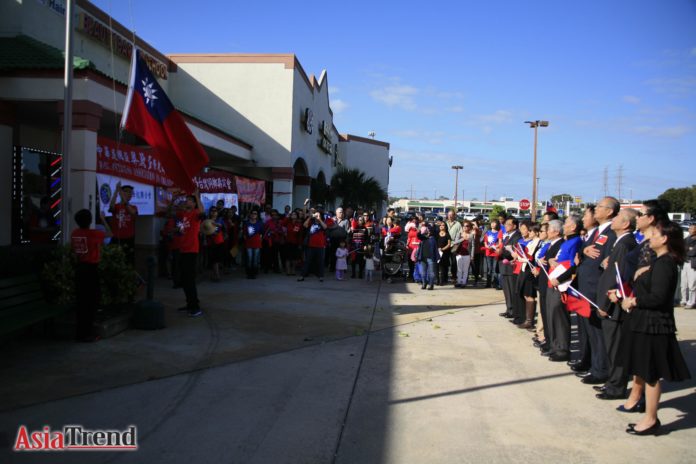 The Taiwanese Associations in Central Florida hosted its annual flag raising ceremony to welcome the year of 2017 with the Taiwanese community. Over five hundreds attended the two Taiwanese American New Year's Day Flag Raising Ceremony on New Year Day.  One located at the Westside Crossing and the second one located at the Chinese Cultural Centre in Florida.  Various cultural entertainments and delicious authentic Taiwanese food was also served.
Westside Crossing New Year Celebration
Westside Crossing event organized by: Taiwanese Chamber of Commerce of Greater Orlando – TCCGO 大奧蘭多台灣商會、佛州奧蘭多台灣同鄉會, R.O.C. Veterans Association in Orlando 佛州奧蘭多榮光聯誼會, Kissimmee American Chinese Center 奇士美華人協會, Space Coast Chinese American Association 甘迺迪角華美協聯會, The Chinese American Scholars & Professionals Association of Florida (CASPAF) 佛州中華學人協會, The Association of Chinese Schools in Florida 佛州中文學校聯會會. 
Photos: C.K. Lau (To view the photo album, visit www.facebook.com/asiatrend)
Event sponsored by: Taipei Economic and Cultural Office in Miami 邁阿密臺北經濟文化辦事處 and Overseas Community Affairs Council (OCAC) 僑務委員會
Photos: C.K. Lau (To view the photo album, visit www.facebook.com/asiatrend)
---
Chinese Cultural Centre in Florida New Year Celebration

Chinese Cultural Centre in Florida organized by: Taiwanese Chamber of Commerce of Greater Orlando 佛州華商總會 and Chinese Cultural Centre in Florida 佛州中華文化活動中心
Event sponsored by: Taipei Economic and Cultural Office in Miami 邁阿密臺北經濟文化辦事處 and Overseas Community Affairs Council (OCAC) 僑務委員會.
Photos: Tony Su
Comments