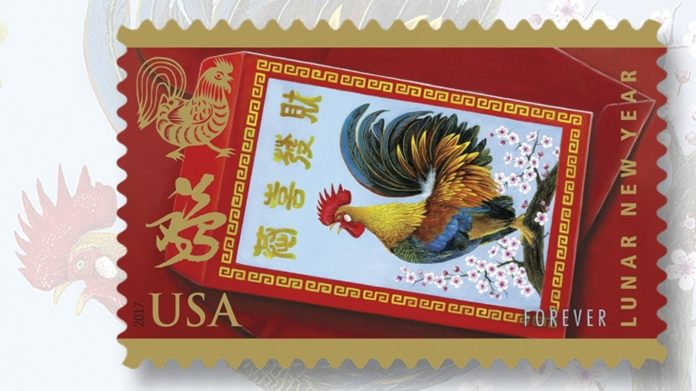 Every year many countries issue Chinese new year stamps featuring one of the 12 Chinese Zodiac sign.  The rooster is the tenth animal in the Chinese zodiac.  Those born in the Year of the Rooster are loyal, trustworthy, observant and keen to offer their opinions to those around them.
Asia Trend brings you all the latest stamps issued to celebrate Year of the Rooster.
USPS Lunar New Year: Year of the Rooster
(Celebrating Lunar New Year series)

Forever 49¢ | Sheet of 12
Around the world, a new year is welcomed with gifts, noise, and celebration! A red envelope (hongbao) featuring a colorful illustration of a rooster highlights the 2017 Lunar New Year: Year of the Rooster stamp from the U.S. Postal Service, tenth in the Celebrating Lunar New Year series. The characters at the top of the envelope form a common Chinese greeting of celebration and wish for prosperity and good fortune, used most frequently during Lunar New Year. The Year of the Rooster begins January 28, 2017, and ends on February 15, 2018.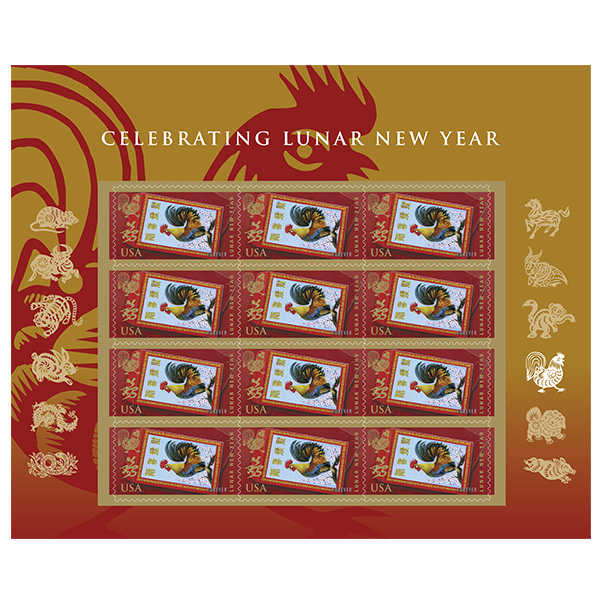 The stamp depicts a rooster emblazoned on a red envelope (hongbao). Parents present red envelopes containing money to children and loved ones during Lunar New Year celebrations. The color red symbolizes luck in Chinese culture, while rooster imagery is often used to ward off evil spirits. Artist Kam Mak created this original painting. Art director and stamp designer Ethel Kessler incorporated elements from the previous series of Lunar New Year stamps — Clarence Lee's intricate cut-paper design of a rooster and the Chinese character for "rooster," drawn in grass-style calligraphy by Lau Bun — to create continuity in the series.
more info at https://store.usps.com/store/browse/productDetailSingleSku.jsp?productId=S_552004
---
Year of the Rooster Stamps in the World
Year of the Rooster Stamps – China


Year of the Rooster Stamps – Canada

Year of the Rooster Stamps – Japan
Year of the Rooster Stamps – Taiwan

Year of the Rooster Stamps – Korea
Year of the Rooster Stamps – Vietnam

Year of the Rooster Stamps – Hong Kong

Year of the Rooster Stamps – Singapore

Year of the Rooster Stamps – Indonesia
Comments