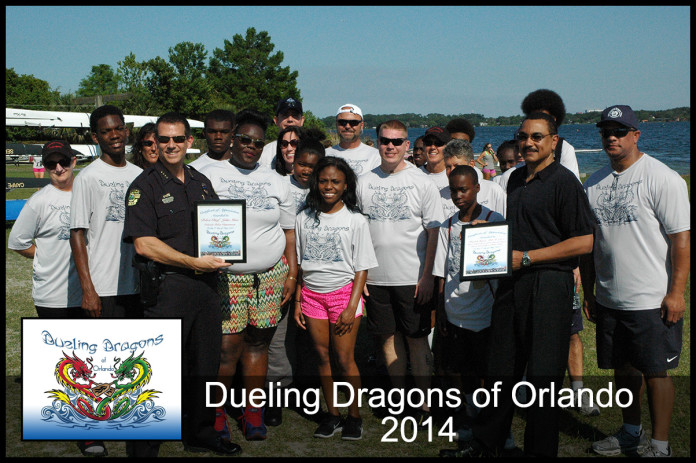 Founded in 2011, The Dueling Dragons of Orlando Dragon Boat Team (aka "Cops and Kids") is an unlikely partnership between at-risk teens and officers from the Orlando Police Department who have joined together to become a one-of-akind, competitive, year-round racing team. The Kids come from the City of Orlando's Operation Positive Direction, Parramore Kidz Zone, and the Orlando Parks and Recreation Department. The Cops and Kids both participate as volunteers, learning teamwork and trust through the ancient sport of Dragon Boating. In the process, stereotypes come down, profiles melt away and lives change for the better.
Inner city youth often have a hard time trusting anyone, especially the police. They have grown up in low-income households, often with broken families and dependent on public assistance just to survive. They are surrounded by violence and crime on a daily basis, and as a result, they also often see the police as the enemy and lack hope for the future.
By its very nature, the sport of dragon boating requires teamwork, trust, leadership, perseverance and dedication in order to succeed. In the dragon boat, the Cops and Kids interact as equals and learn to rely on each other in ways that only teammates can understand. Over time, relationships are built that transcend the dragon boating experience and filter into daily life.
"We have been supportive of Dueling Dragons since 2011, and are so excited that the program has doubled in size this year. When we see our cops and kids coming together to practice and compete, there are no failures because everyone involved learns and wins. Our officers become not only teammates, but role models and mentors for these youth. This program sends the right message at the right time in these kids' lives," said Mayor Buddy Dyer, City of Orlando.
To date, Dueling Dragons has impacted the lives of 49 cops and 46 teen paddlers. Because the Dueling Dragons team of "Cops and Kids" is so unique and has achieved great success in just a short time, Great White North, a well-respected international Dragon Boat Festival event planner, invited the team to compete in the Toronto International Dragon Boat Festival on September 6-8, 2013, which drew 200 teams from around the world to Canada. At the event, the Dueling Dragons raced to a personal best and earned a gold medal in the Premier mixed round. The youth who traveled to Toronto as part of the team came from the year-round program and earned their spots by staying active in school, attending practice regularly, maintaining good behavior/no arrests, mastering the technical skills required for the sport, maintaining a healthy state of physical fitness, and developing respectful, positive relationships with all team members, coaches and mentors. For many, this was their first trip ever on a plane or even away from Orlando. Their goal is to build a second team in 2014 and compete at the Chicago International Dragon Boat Festival on July 26, 2014.
Dueling Dragons is a volunteer-based, privately funded initiative and relies on the generosity of businesses, organizations and individuals throughout the community.
Donations can be made through the following 501 (c)(3) non-profit:
The Orlando Community & Youth Trust, Inc.
(Dueling Dragons) a 501C3
Attention: Lisa Early
595 N. Primrose Street Orlando, FL 32803
www.orlandotrust.org
For more information, please contact Andrea Eliscu via [email protected]
Comments