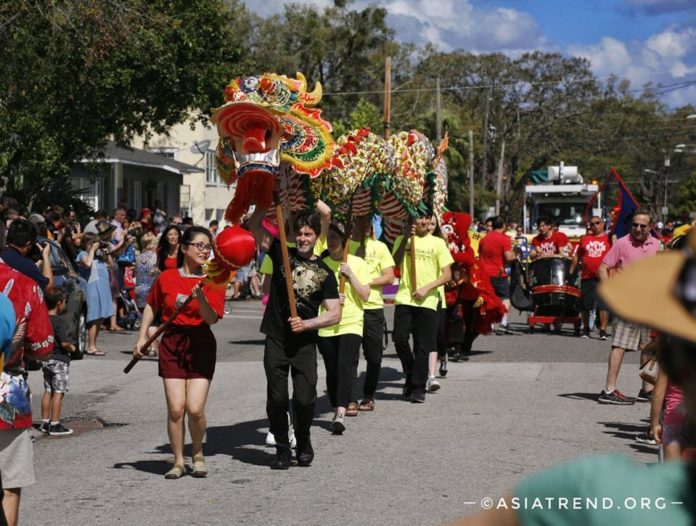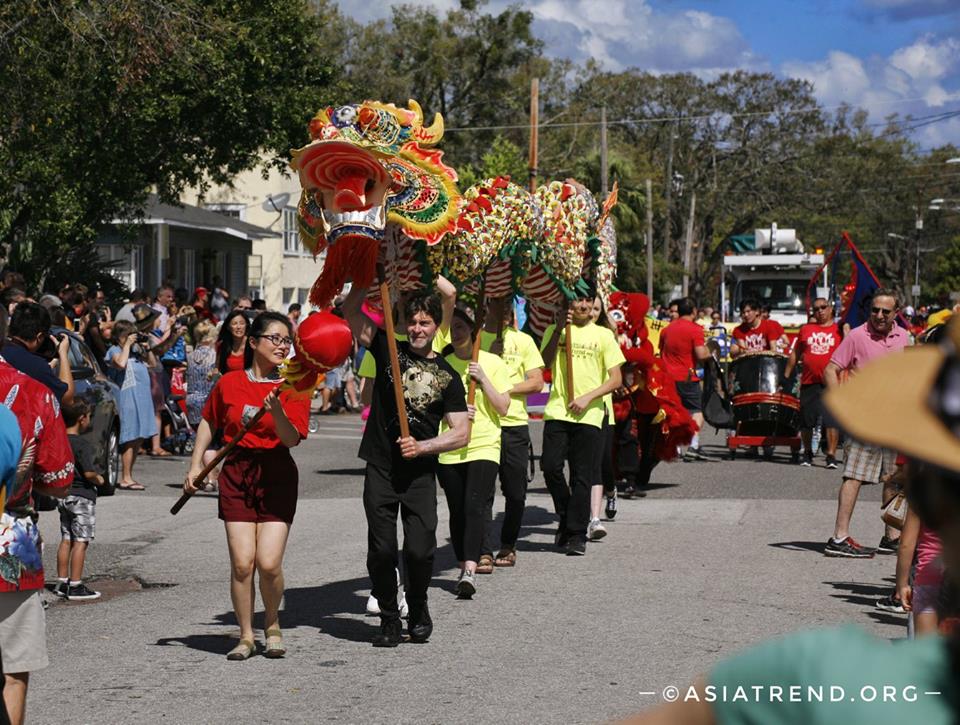 This year, 2018, is the year of the dog! In the Chinese Zodiac, the dog is prized for its loyalty and honesty, traits that are great to have and are definitely worth honoring. In Orlando we are fortunate enough to have the "Dragon Parade Lunar New Year Festival", an annual event put together by Mills 50 –  City of Orlando Mainstreet District, Asia Trend, REACH of Central Florida and YESS.  This year also marked the return of the festival (on Sunday, February 25) to the Mills 50 District, an integral hub for the Central Florida Asian-American community and a hotbed of trendy small businesses and urban art.
Watch the Dragon Parade Lunar New Year Festival videos at Youtube.com/AsiaTrend
The festival kicked off with the Dragon Parade which trailed through the area, with a diverse array of displays from Dragon Dance, Lion Dance, Japanese drums, Vietnamese traditional wear, and much more. After the parade, the festival performances commenced with the eye-dotting ceremony of the lion by the Wah Lum Kung Fu Temple with Orlando Mayor Buddy Dyer, Mayor Dyer even had his dog Sammy tag along with him in lieu of this year's zodiac. After the ceremony, the Post Office unveiled their postage new stamp featuring a dog in honor of the Lunar New Year, after much joy and applause the performances began to roll! 
The day proceeded with cultural and contemporary performances on stage which contributed to the festive ambiance of the street food vendors, food trucks, and business tables. What's great about these festivals is that there's something for everyone, if you're a foodie there are plenty of vendors serving all sorts of food from countries like China, Indonesia, and Thailand (just to name a few), there was even an Asian Food Trivia hosted by TastyChomps' Ricky Ly on stage during the afternoon with prizes for the winners. If you're big on music and dance, the performance stylings came from a vast array of cultures ranging from Russian ballet to Chinese ribbon dancing, there were even some more contemporary performances, but regardless of origin, they were all art forms that could be appreciated. In addition to this, these festivals are great for networking simply due to the large turnout and the strong presence of local businesses and organizations, you never know who you could meet and what potential avenues you could end up exploring.
Photo:  Gian Lao, Minh Tran, Sung Chiu, Andy Shiau,  and C.K. Lau (To view the photo album, visit www.facebook.com/Orlando.Dragon.Parade)
The event turnout was great, and it was very heartwarming to see our community come together to celebrate different cultures, for me this is what makes Orlando home. Our city upholds and honors our diversity, and we draw inspiration and unity from it which makes us strong. It was empowering to see local officials, businesses and community members from all sorts of backgrounds and walks of life come together to celebrate the year of the dog. While I'd like to make the most of this year, I'm already looking forward to next year's festival's pomp and uplifting ambiance.
This year event's sponsors included OUC, Florida Hospital, Universal Studios, Payas Payas Payas, Chan's Chinese Cuisine, Taiwanese Chamber of Commerce of Greater Orlando, 1st Oriental Supermarket and Chinese Merchant Association Orlando Chapter. The participating elected officials and overseas representative included Orlando's Mayor Buddy Dyer, City Commissioner Patty Sheehan, City Commissioner Robert Stuart, Director General of the Taipei Economic and Cultural Office of Miami Philip Wang, Orange County Sheriff Jerry Demings, Orlando Police Chief John Mina, Orange County Commissioner Emily Bonilla, City of Orlando Fire Chief Roderick Williams, Orange County Property Appraiser Rick Singh, Orange County Soil and Water Conservation Chairman Eric Rollings, Orange County Soil & Water Conservation Supervisor Daisy Morales,  Orange County School Board District 6 Nancy Robbinson.
Over 5000+ patrons came out and enjoyed cultural performances, arts and crafts, as well as, exotic food and other exhibitions.
Visit www.centralfloridadragonparade.org and www.youtube.com/AsiaTrend for more photos and videos.  You can also LIKE www.facebook.com/Orlando.Dragon.Parade to get the updates for next year!
Comments