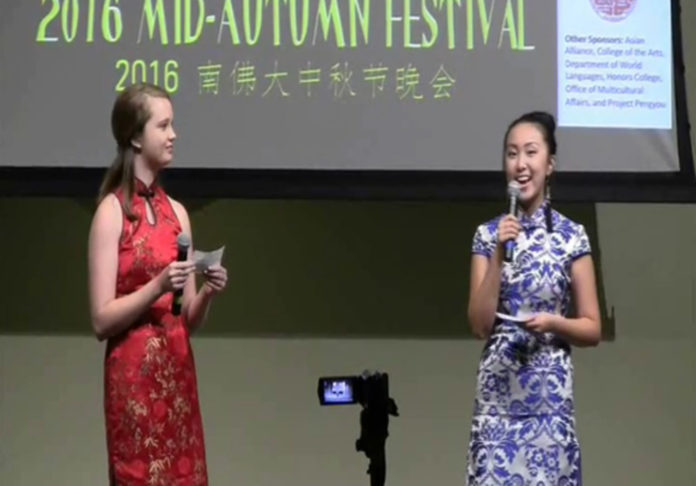 With a full moon rising Thursday night, Fall came early for everyone celebrating the Chinese Mid-Autumn Moon Festival at the University of South Florida in Tampa on Thursday night.  The Suncoast Association of Chinese Americans, Chinese American Association of Tampa Bay, the Confucius Institute at USF and the university community sponsored the festival with free moon cakes, a holiday-lighted dragon-lion and cultural performances at the Marshall Student Center.

0:15  Kun Shi, Director, Confucius Institute at the University of South Florida
1:08  Ning, USF graduate and Festival Volunteer
"We're going to have 13 performance  items tonight…As you can see, we have an illuminated lion from SACA. Also we have student performances, professional performers. It's so wonderful. We're expecting 1,700 people tonight and 800 moon cakes" said Kun Shi, USF's Director of the Confucius Institute Thursday night.

A  time for families to gather and enjoy moon cakes. A sweet way for a husband
who missed his wife and made a moon cake each day for her while she was away
from home, according to a Chinese folk story.
Last night's festival and tonight's concert with music and instruments from China are part of Chinese Culture Week at USF.
Friday's concert "East Meets West" on Sept. 16th is from 7:30 p.m. – 9 p.m. at the USF Music Concert Hall.  The public is invited. Admission is free. Metered or paid parking is available on campus for the public.
For more information, contact Kun Shi at kshi@usf.edu or Carol Kim at Chinese@usf.edu
Comments