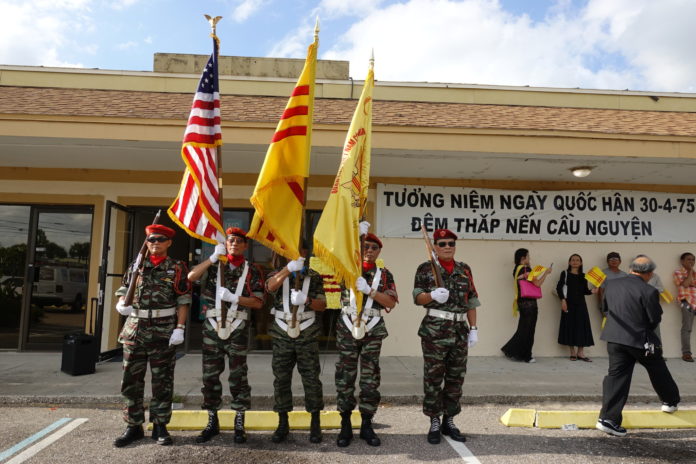 On April 30th, 2017, The Vietnamese Community of Central Florida hosted an annual Black April Commemoration ceremony for those military officers sacrificed they lives for the freedom of Vietnam.  The ceremony crucially  important to the Vietnamese American community abroad, and every Vietnamese communities must hosted their own events to tribute for millions of innocent Vietnamese died during Vietnam War.
The ceremony started out with traditional Republic of South Vietnam Military flag, Republic of South Vietnam National Flag, United States of America Flag presented by the Military Alliance Group.  The Republic of South Vietnam and  American National Anthem songs were play and ended with a moment of silence to commemorate those sacrificed.
The Commemoration Ceremony of Central Florida Association performed traditional ceremony by light up candles and incense to those seven major and general killed themselves to avoid capture by enemies.
The commemoration ceremony ended with Mr. Nguyen Quoc Hung – President of the Vietnamese Community of Central Florida along with many guests such as Father Giuse Nguyen Thanh Chau from Saint Phillippe Phan Van Minh catholic church, The Most Venerable Thich Nhat Tri from Phap Vu Temple and Reverend Nguyen Thanh Ngoc from Co Doc Church and Major General Tran Ba Di  to come forward and tribute their incenses.
 After the ceremony, everyone gathered around with American and Republic of South Vietnam flags preparing for the protest.  The protest mainly to voice our concerns about the Vietnamese Communist regime.  Condemned the Communist Regime for lack of freedom, lack of religious practice, and need to protect Vietnam sovereignty.  We want total democracy for Vietnam.
Once again, after the speech, everyone gathered and listen to local leaders provided their thoughts and experienced during the Vietnam War and
April
30th, 1975 – The Collapse of Saigon.  Everyone lit up the candles and prayed together for the democracy of Vietnam and peace for the country.
Comments