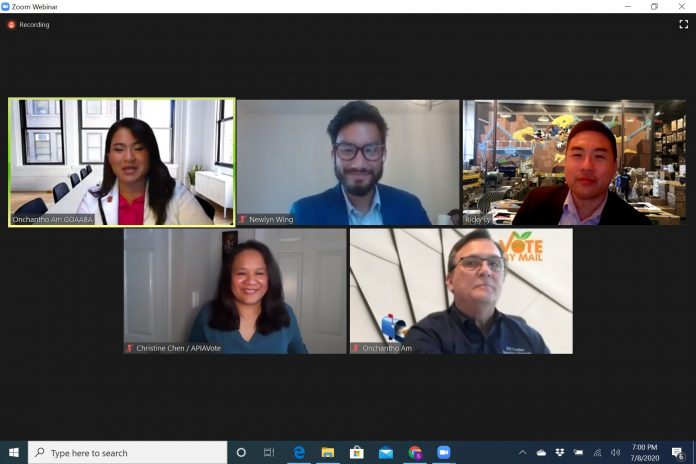 We are less than four months away from Election Day 2020, but early voting has already begun. Voters in Florida began casting their ballots on mid-July. In the upcoming weeks, total 32 states and the District of Columbia allow early voting with a few restrictions, including key battle ground states like Ohio, Florida, and Colorado. Some potential tipping point states, like New Hampshire and Virginia, do not allow for early voting.
If you're not already registered to vote, you can do so online at RegisterToVoteFlorida.gov. The deadline to register in order to be able to vote in the primary is July 20. You can also register to vote by mail or in person. Registrations by mail must be postmarked by July 20.
Understanding Elections: Primary Elections – Voting 101
On July 8, Primary Elections – Voting 101 was a successful & informative webinar! Speakers Christine Chen at Asian Pacific Islander American Vote (APIAVote) presented the Florida voters numbers and percentage in the past, and Bill Cowles at Orange County, FL Supervisor of Elections presented the information of first time voter guide: Election rights, rules, & regulations.
Virtual event organized by Greater Orlando Asian American Bar Association (GOAABA), and co-host NAAAP Orlando – National Association of Asian American Professionals. Moderator Ricky Ly – Tasty Chomps: A Local's Culinary Guide, Guest Speaker Florida House of Representative Anna V. Eskamani.
Event sponsored by The Florida Bar Young Lawyers Division, Rockstar Axe Throwing, Dochi
Event community partners for sharing this event: Asia Trend, Asian Student Association at UCF, Orange County Asian Committee, AAFF – Asian American Federation of FL, Florida Asian American Student Union.
Greater Orlando Asian American Bar Association (GOAABA) upcoming virtual events:
July 22, 2020, 7-8:30PM Judicial Town Hall
August 5, 2020, 7-8PM Orange County Sheriff Candidate Forum
September 9, 2020, 7-8PM General Elections – Voting 101
#MyVoiceMyVote #BridgeToTheFuture
Comments