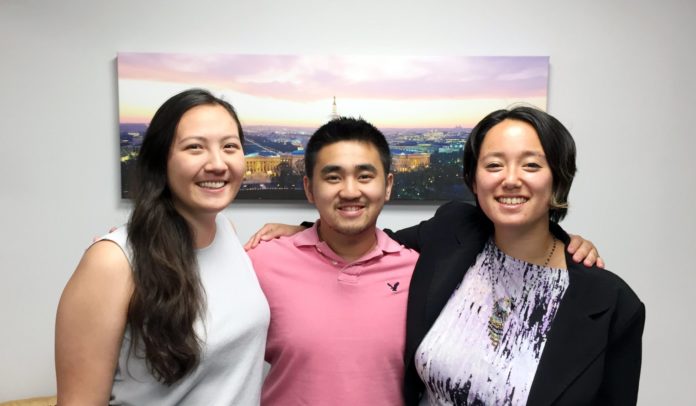 APIAVote welcomes our three interns to the APIAVote team this summer! Learn more about them below, and support young AAPI leaders by contributing to APIAVote's internship program.
Apisra Annie Srivanich Raper
Annie is a recent Thai American graduate with an International Political Economy degree and minors in Asian Studies, Journalism, and Natural Sciences. She was also involved with student government, student ambassadors, Model UN, ballroom dancing, and choir. She has studied abroad in Thailand and directly learned about those affected by mining, dams, land rights, and agricultural issues. She has been awarded Senator of the Year and was apart of the first student cohort to visit Myanmar in an Asia Study Trip. She's excited to get to work and passionate about this summer.
What do you want to get out of your internship in DC this summer?:
I want to learn about the identity, struggles, and power of the AAPI community. Where I grew up, there was little diversity or acknowledgement of AAPI history and culture. I understand this is not unique, and that other communities like the African and Latino American communities have faced this as well. I hope to change the status quo and empower the AAPI community and other unheard voices. This internship has already enabled me to discover AAPI leaders, why it is so important the Voting Rights Act is restored, and the challenges the AAPI community faces—such as harder education access, language barriers, and the model minority myth, topics I had never engaged with before.
Why do you care about amplifying AAPI voices? 
As I learn each week, the AAPI community often gets overlooked or misrepresented by mainstream politics, education, and pop culture. I was surprised to learn that APIAVote's Asian American Voter Surveys are the first of its kind, in asking Asian American voters what issues they care about and which way they tend to lean. I want to enable the APIA community to act, whether it comes to voting or other types of civic engagement, to increase awareness of APIA issues in and outside of the community, and to help APIAs be visible across all levels of society.
ChueHue Vang
ChueHue is a 4th year undergraduate student attending the University of Wisconsin – Eau Claire studying Sociology with a topical minor in Hmong Studies. He is a Hmong-American born in Saint Paul, Minnesota. At UW-Eau Claire, ChueHue has been involved in many Hmong organizations to support collective action for Hmong students and students of color. He currently is the President of the Hmong Student Association, which strives to support and maintain a safe space for Hmong students at UW-Eau Claire. He has worked at the Eau Claire Hmong Mutual Assistance Association for two years as the Youth Coordinator for the Building Bridges youth program in which works to offer tools of empowerment to Hmong youth in the community. His passion to better the world now and in the future is a dream he hopes to continue pursing.
What do you want to get out of your internship in DC this summer?
Experiences that will better myself so I can help better the world.
Why do you care about amplifying AAPI voices?
AAPI voices have been silenced and marginalized through the Chinese Exclusion Act, Vincent Chin, Dylan Yang, the model minority stereotype—and the list goes on. To be heard, one has to amplify not just your own voice, but others' as well.
If you want to go fast, go alone, if you want to go far, go together. Amplifying AAPI voices is going to take the entire community and we must continue to encourage and develop our communities to speak out for injustice so our voices are validated.
Tian Weinberg
Tian Weinberg is a student at Barnard College studying mathematical economics and film studies. Having grown up in a family of union leaders, environmental activists and other civil servants, she has always been interested in the mechanics behind politics and policymaking. After completing a series of internships with campaigns and government officials, she thought the next appropriate step would be to leave the New York concrete-humidity for the DC swamp-humidity and join APIAVote as a summer intern.
What do you want to get out of your internship in DC this summer?
Having worked on campaigns at a local grassroots level, I'm excited to gain a national perspective on the foundations of voter outreach. I hope to connect with the AAPI community in DC and diversify my own understanding of what it means to be Asian American. I'm also anxious to learn from the people who have laid the groundwork for the AAPI pipeline, and understand the history of their political engagement. Most importantly, I wants to meet my twin—Tian Tian, the giant panda at the National Zoo!
Why do you care about amplifying AAPI voices?
After taking a class in high school about Asian American literature, I became increasingly interested in the distinction between mainstream and "ethnic" literature and other studies. Through looking at films and books, I realized there is no value contrast between them — they revolve around the same central themes. As I want to go into campaign management in the future, I hopes to bridge these socially-constructed gaps in tandem with learning about the AAPI political voice. In order to best connect with the community, I hopes to connect this cultural interest with her prior interest in government, and empower the AAPI community through its vote.
Join APIAVote at the Democratic and Republican National Conventions!
At both the RNC and DNC, APIAVote is hosting a briefing on the AAPI electorate and a Convention Kick-Off reception celebrating AAPI leaders. Our events are all open and free to the public—register now to join us!
At the 2016 Democratic National Convention, APIAVote's briefing on the AAPI electorate will begin at 12:30PM, followed by the reception celebrating AAPI leaders at 3PM on Monday, July 25. Both events will be held at:
Hilton Philadelphia at Penn's Landing
201 S Christopher Columbus Blvd. Philadelphia, PA 19106
At the 2016 Republican National Convention, APIAVote's briefing on the AAPI electorate begins at 4PM, with the reception celebrating AAPI leaders following at 5PM on Monday, July 18. Both events will take place at:
FirstEnergy Powerhouse
2000 Sycamore St. Cleveland, OH 44113
Comments