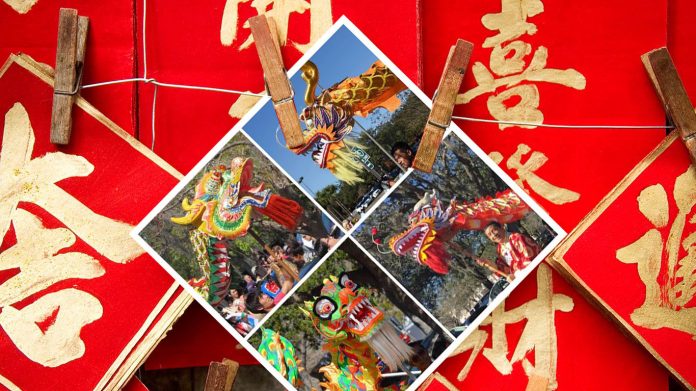 In accordance with the Lunar Calendar, the Year of the Tiger begins on February 1, 2022 and ends on January 21, 2023. You can enrich your festival experience with the Central Florida Lunar New Year Celebrations. These Lunar New Year festivals feature cultural performances, festival decorations, foods and craft activities, and much more!
Orlando Chinese Professionals Association (OCPA) will host the annual Chinese New Year Dinner on Saturday, January 23, 3:30-6pm at Baldwin Park Grace Hopper Hall.

The in-person dinner is for members and guests only.

OCPA's New Year Virtual Gala on Saturday, January 23, 7:30 pm-9 pm(Zoom: 487 451 7618, EST 7:30 pm-9 pm).

Join the Zoom virtual gala is free, and there is a chance to win multiple awards prizes. Join the Zoom Meeting https://us02web.zoom.us/j/4874517618

---
The Chinese American Association of Central Florida (CAACF) Chinese American Association of Central Florida (CAACF) Board of Directors cordially invites you to celebrate the 2022 Chinese Lunar New Year with us online!

CAACF will celebrate the Chinese Lunar New Year with CAACF Dance Troupe, CHARGE, singing, and dancing. We will also prepare riddles, gift card raffles, and all kinds of fun activities.

Date: Saturday, January 29th, 2022
Time: 10 AM to 11:30 AM
Event link will be sent to guests via email.
Please fill out the Google Form to RSVP.
https://bit.ly/3A1XiAQ"RSVP deadline by January 28th, 5 pm"
---
Lake Nona Social's Lunar New Year Festival will be held on Saturday, January 29, 2022 at Nona Adventure Park (14086 Centerline Drive, Orlando, FL 32827). This cultural event will feature Lion dancing, music, Tai Chi demonstration, a traditional gown fashion show, great Asian food, kung fu performers and lots more!
Some participating vendors include: Meng's Kitchen Orlando], @dingteaorlando, @uncle.dendogs, @phohaven, @amysmooncakes, @nonastreetbistro, @citystreetkitchen, @tncphillystyle, @sweetshibagift, and Mr.J's Hand-Pulled Ramen!
Come and bring your family! There will be different activities for your youngest to oldest and performances for all. Come see entertainment representing many Asian countries and cuisine from businesses all around the city.
Tickets start at $8.00
---
恭禧發財Gong Hey Fat Choy! Chinese New Year is almost upon us and it is the Year of the Rat!
Wah Lum Orlando will be performing traditional Lion Dance shows during the celebration. Check the 2022 schedule, please.

---
January 29, 2022 in the Student Union – Key West Ballroom as we celebrate! This year, MSC is partnering with the Asian Pacific American Coalition (APAC) to bring you an event to celebrate this most auspicious holiday.





---
Vietnamese Tết Lunar New Year Festival (Hội Tết Về Nguồn), hosted by Giáo Xứ Thánh Philipphê Phan Văn Minh (Saint Philipphê Phan Văn Minh Catholic Church) at Central Florida Fairgrounds in Orlando






---
Mei's Supermarket will host the 2022 Lunar New Year Celebration on Saturday, Feb 5, 1 to 3pm.
Entertainment included: Wah Lum Lion Dance, Orlando Taiko Dojo Japanese Taiko Drumming, Orlando HanQing Tai Chi Culture and Art Center Tai Chi Demonstration, Thuyen May Productions Vietnamese Dance, Devyani School of Cultural Arts Indian Dance, Live Music, and Lucky Draw
---
Suncoast Association of Chinese Americans ( SACA) & Chinese American Association of Tampa Bay host Lunar New Year Celebration on Feb 6, Sunday 12:00 pm to 3:00 pm Tampa Water Works Park 1701 N Highland Ave, Tampa FL 33602
Cultural Performance, Food Vendors, Dragon Dance Family Activities and more
Free Admission All Welcome


---
The Year of the Tiger marks the 10th annual Central Florida Dragon Parade Lunar New Year held in Orlando, Florida. This event has received overwhelming response from local and distant communities alike.   Asia Trend Magazine is partnering with Mills 50 (an Orlando Main Street District), R.E.A.C.H. (Recognizing, Experiencing Asian Cultural Heritage) and Y.E.S.S. (Youth Enrichment and Senior Services) to host the Dragon Parade Lunar New Year 2022 on Sunday, February 13 from 11:00am to 12:00pm
The festival parade starts at the corner of Lake Highland Dr. and N. Mills Ave, and ends at N. Thornton Ave and Colonial Drive (728 N. Thornton Ave., Orlando, FL 32803). The City of Orlando and the Orange County officials will lead this community parade along with representatives of numerous Asian organizations.
Unity and Harmony – Celebration of Diversity
For more parade information, please visit http://www.centralfloridadragonparade.org
---
Saturday, February 19 and Sunday, February 20 – Vietnamese Community Association of Central Florida's Tết Lunar New Year Festival, Night Dance, and Miss Vietnam Florida pageant next to Enchanted Nights Banquet Hall in 7059 S Orange Blossom Trl, Orlando, FL 32809
Comments