14th Annual Taste of Thailand Food Festival
Oct 11, 2015 @ 10:00 am

-

3:00 pm

$12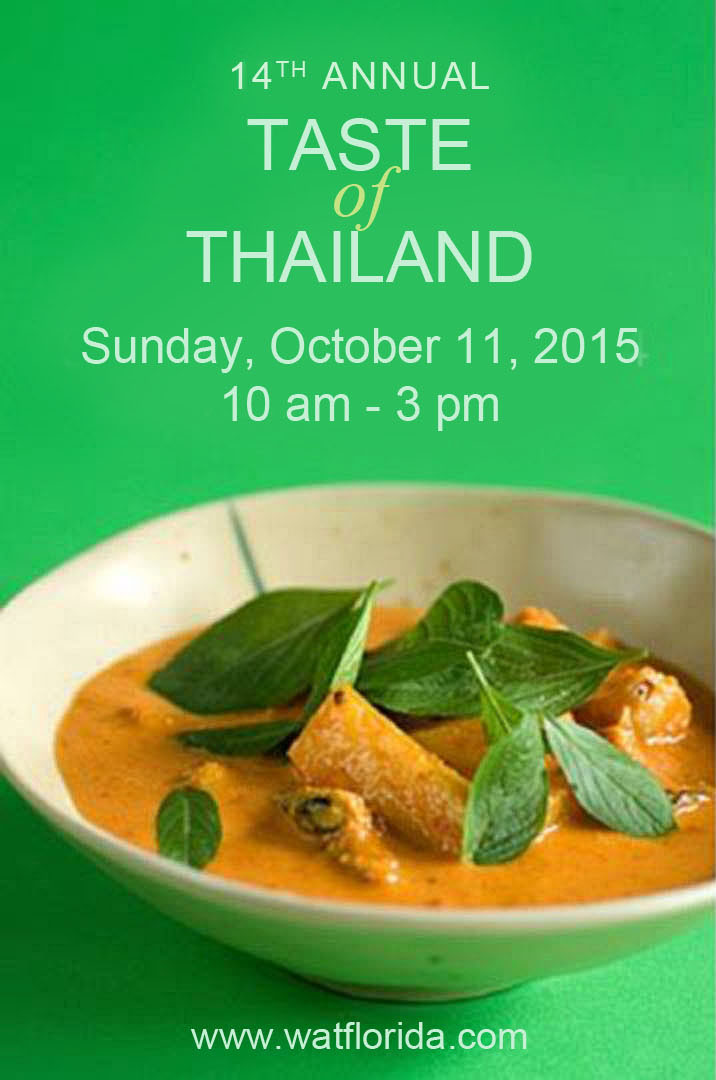 October 11th 2015 The Wat Florida Dhammaram Buddhist Meditation Center will be hosting it's 14th Annual Taste of Thailand Food Festival 2015 in Kissimmee, Florida and we Invite you to come and Join us for another Splendid Celebration full of fun and Laughter, Entertainment and of course Yummy Thai Food, there will be also be Display's of Thai Culture, Costumes and Traditional Thai Music all happening Live the same Day. So we Welcome You to come and take Part of this Once in a Lifetime Experience so Bring your friends, Family, Coworkers or even your Boss as everyone and Anyone is Welcome to Attend this Beautiful Event that happens once a year at the Wat Florida Dhammaram Be Sure also Bring your Camera's for Photo Opportunities.
This Event is cost $12 Dollars at the Gate and Kids Six are $6 Dollars
Soda and Water and Sugarcane Juice and Sweet Thai Iced Tea and Thai Coffee will be for sale and we also will be selling Gits from Thailand as well..
Directions:
we are Directly across from the Wal-Mart across the Road if your coming from the Opposite side just follow the road that goes up towards the WaWa Gas Station which would be on your Right Hand side and your Left hand there will be an Aldi Store but your coming from Vineland Road we are the same road as the Nike Factory outlet Store just follow up the Road and the Wat Florida Dhammaram will be on your Left hand side can't miss it
: Parking is Free :
2421 Old Vineland Road,  Kissimmee, FL 34746
We Hope to see you there for our 14th Annual Taste of Thailand Food Festival 2015.
Please visit us online at www.watflorida.com for more Information.