11th Annual Vietnamese Cultural Mid Autumn Moon Festival @ UCF
Oct 11, 2015 @ 6:00 pm

-

9:00 pm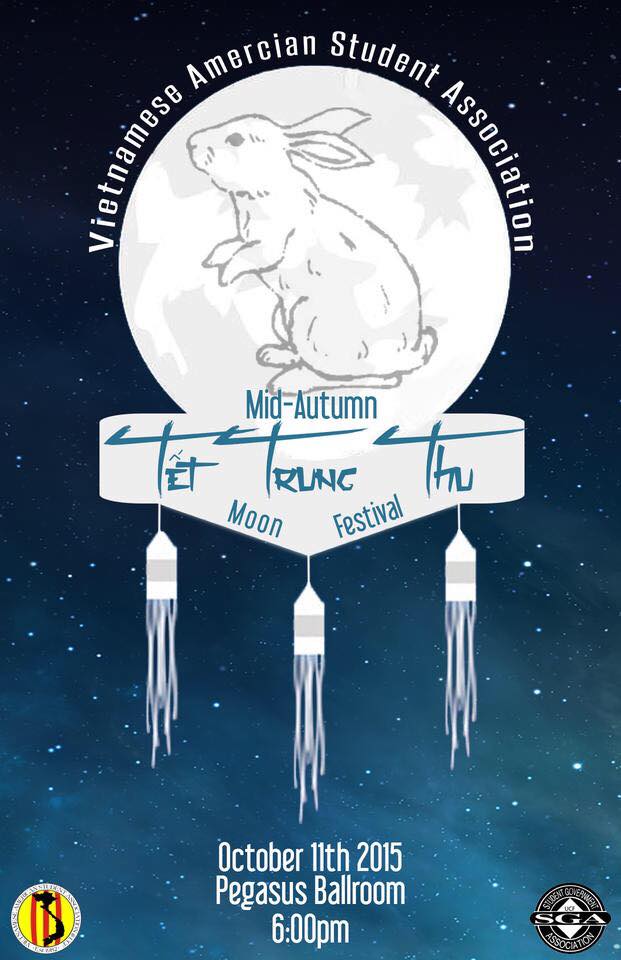 Lion dances, student cultural dances, songs, performances put on by the Vietnamese American Student Association (VASA). There should be about 400 attendees and over 15 acts.
Mid Autumn Moon Festival presented by VASA at UCF 
Time:

October 11, 2015 at 6pm
Location: Pegasus Ballroom, UCF Student Union
The Mid-Autumn festival is named "Tết Trung Thu" in Vietnamese. It is also known as Children's Festival because of the event's emphasis on children.  In olden times, the Vietnamese believed that children, being innocent and pure, had the closest connection to the sacred and natural world. The festival was a time to enjoy the successful reaping of rice and wheat with food offerings made in honor of the moon. Today, it is still an occasion for outdoor reunions among friends and relatives to eat mooncakes and watch the moon, a symbol of harmony and unity
One important event before and during the festival are lion dances. Dances are performed by both non-professional children's groups and trained professional groups. Lion dance groups perform on the streets, going to houses asking for permission to perform for them. If the host consents, the "lion" will come in and start dancing as a blessing of luck and fortune for the home. In return, the host gives lucky money to show their gratitude.
We invite students to come to learn more about Vietnamese culture and appreciation for diversity and inclusiveness at UCF.
The Vietnamese American Student Association was founded in 1982 at UCF by students who were refugees from the Vietnam war and immigrated to America after the fall of Saigon in 1975. Now, 40 years later, we continue to preserve our culture and share it with the community and provide a positive space for all students in learning about the Vietnamese American identity and culture.
CONTACT INFO
Steven Ho
President
Vietnamese American Student Association at UCF
Phone (954)551-7260